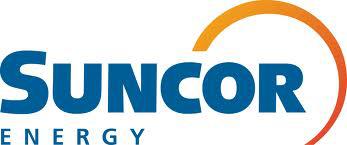 Some big investors have recently established large new stakes in Suncor Energy (NYSE:SU). T. Boone Pickens' BP Capital Management purchased 225,000 shares of Suncor in Q2 for an average price of $29.48. Suncor now represents 6.5% of BP Capital's portfolio. Berkshire Hathaway's (NYSE:BRK.A) latest 13F filing showed Warren Buffet's company established a new position of 17,769,457 shares in Suncor at a cost of $524,021,000 for an average price of $29.49. Why are these big investors placing such large bets on Suncor Energy? Three main reasons:
Reason #1: Takeaway Issues Resolved
Investors have been concerned about takeaway capacity for Suncor. The well publicized bottleneck of inland crude oil due to increased production of mid-continent oil stretching from the Eagle Ford and Permian basins in Texas, to the Bakken in North Dakota, to the oil sands of Canada led to a glut of oil in Cushing and a resulting deep discount of WTI to Brent. Many investors believed the Keystone-XL pipeline was the key solution in solving the problem. However, as explained in the article Keystone-XL Pipeline: Delayed So Long It No Longer Matters?, other pipelines and a huge build out of rail infrastructure have resolved takeaway capacity constraints. On Suncor's Q2 conference call, CEO Steve Williams was quite adamant the takeaway capacity issue is not a problem:
For Suncor, access to markets is simply not an issue. We have ample market access to handle current production and future growth.
Williams repeated the statement twice for emphasis. Proof has come in a dramatic narrowing of the Brent/WTI spread this year: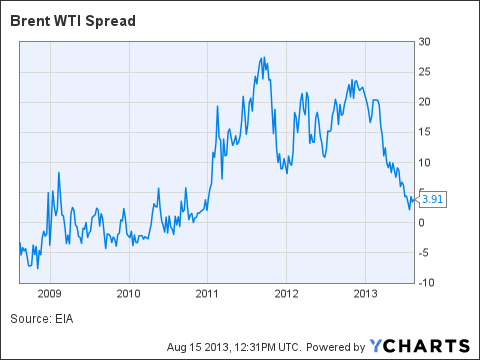 Brent WTI Spread data by YCharts
Reason #2: Bullish 2nd Half Production Outlook
The Q2 conference call also unveiled a very upbeat production outlook: Suncor Energy Issues A Very Bullish 2nd Half Outlook.
SU's production for the first two quarters of 2013 were as follows:
Q1 596,100 boe/d
Q2 500,100 boe/d
If SU is to hit the middle of its 2013 total production guidance (595,000 boe/day), it would have to average 641,950 boe/d in Q3 and Q4. That would be up ~141,000 boe/day over Q2 production: an increase of 28%, and an increase of 7.6% over Q1.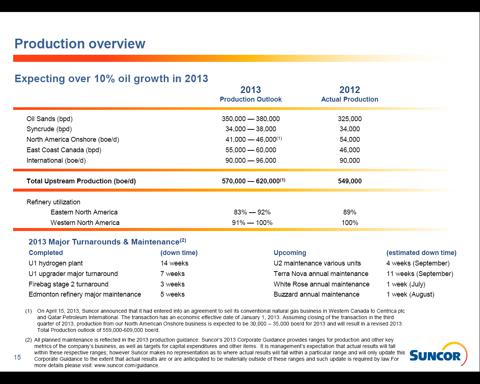 Reason #3: New Management's Focus On The Shareholder
Under the pragmatic leadership of relatively new CEO Steve Williams, Suncor is no longer simply growing production at all costs. The company is much more focused on profitable growth and total shareholder returns. Earlier this year, Suncor rewarded shareholders with a substantial increase in the dividend ($0.20/quarter) and amended its common share repurchase program by an additional $2 billion. These moves show how confident the company is of its future.
Summary and Conclusion
After years of underperformance and a lack of investor interest, the outlook is bright for Suncor Energy. As a result, some big investors like Warren Buffet and Boone Pickens are piling into the stock. Exit capacity issues have been resolved, the company is growing production, and management is focused on profitable growth and shareholder returns. Suncor is a low-risk value play with a dividend yield of 2.4%. Suncor is a BUY.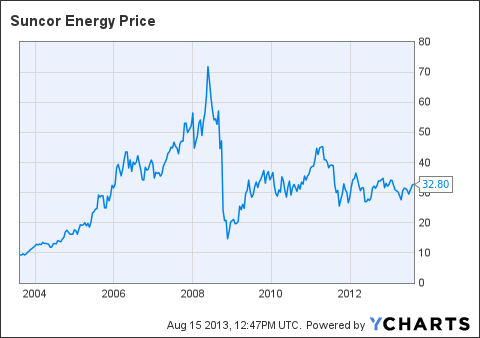 Disclosure: I am long SU. I wrote this article myself, and it expresses my own opinions. I am not receiving compensation for it (other than from Seeking Alpha). I have no business relationship with any company whose stock is mentioned in this article.
Additional disclosure: I am an engineer, not a CFA. The information and data presented in this article was obtained from company documents and/or sources believed to be reliable, but has not been independently verified. Therefore, the author cannot guarantee its accuracy. Please do your own research and contact a qualified investment advisor. I am not responsible for investment decisions you make. Thanks for reading and good luck!