To this day I remember the first time I entered a McDonald's Corporation (NYSE:MCD) restaurant. The extremely bright yellow and red interior filled with loud noise, coming from customers' voices resonating against the tile floors and the easy to clean furniture. That was placed strategically to create as many seats as possible. I could smell a faint smell of beef coming towards me from the kitchen.
My senses were overwhelmed but from there it was all so straightforward. Walk up to the counter. Order and receive your food while waiting just a short time. Sit down and satisfy your appetite.
At first glance it is curious McDonald's is so successful with its tacky restaurants but its success only reinforces the thesis that it is getting the important things right.
You are most likely familiar with their concept of affordable food that is prepared for you at remarkable speed. There is no doubt in my mind that McDonald's changed our society's perception of what acceptable waiting times for food are.
Here are five things I like a lot about the stock.
1. Market Leadership
McDonald's is a market leader in almost every country in which it has branches, except the big one: China. They still have a large number of restaurants there.
2. Catering To Changing Needs
The iconic restaurant chain is proving to be able to cater to changing needs of the market. I've recently noticed more interesting market campaigns (although this is entirely a subjective experience) more in tune with the younger generations, in addition McDonald's has extended opening hours, offers free WiFi and is using these features to put the restaurants in a fresh perspective in the minds of the modern consumers.
3. Solid Stable Cashflow
McDonald's is able to generate solid cash flows even going through terrible crises like we are currently experiencing worldwide. This is a trait I love and as long as McDonald's will be moving along to meet current needs of consumers they will be able to keep this up.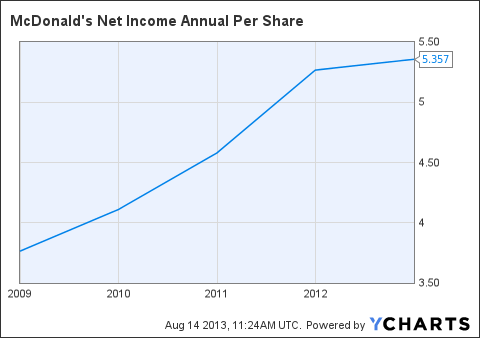 MCD Net Income Annual Per Share data by YCharts
4. McDonald's Real Estate and Franchise System
Then there are two things that I feel conflicted about. McDonald's actually owns more than 40% of the land and about 70% of the buildings for its restaurants. I'm not particularly excited about this ownership. I expect this to be a drag on return on equity.
Which makes it all the more commendable that McDonald's has been able to realize the current excellent returns.
On the other hand McDonald's has its powerful franchise system which goes a long way to provide them with a stable income stream.
In addition this allows it to generate growth with little capital investments and even when it is bootstrapped for cash. This is what makes the company truly exciting as long as its franchise is sufficiently protected.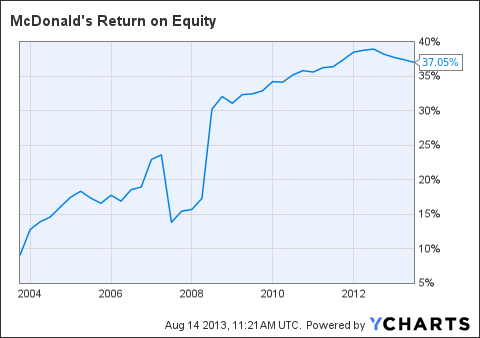 MCD Return on Equity data by YCharts
5. Defensible Strategic Position
According to Bruce Greenwald of Columbia Business School in his book Competition Demistyfied (which is a great read for fundamental investors): "economy of scale" is one of the true competitive advantages a company can sustain.
As market leader in most of the countries it operates in, McDonald's is able to enjoy this advantage over competitors. This in combination with its strong brand name gives it a defensible strategic position, a stronghold that will prove to be hard to break for incumbents.
Risks McDonald's Faces
I like to balance my articles and include some of the major risks threatening the price of a stock I write about. In this case there are several threats. If these headwinds start blowing they will depress the stock price.
High raw material and energy costs
When the costs of ingredients skyrocket, McDonald's might not be able to pass these costs on to consumers fully. This will result in margin pressure and undermine profitability. High energy costs can also be hard to pass on to consumers immediately or when they are volatile in nature.
Competition
Wendy's Co (NYSE:WEN) and Burger King Worldwide Inc (BKW) are aggressively going after market share at the expense of profitability.
This is hurting McDonald's ability to generate profits as it is forced to follow price cuts or lose market share. Neither of which is an appealing outcome. On the bright side, price wars can last a long time but they are rarely a permanent condition. Read more about McDonald's situation in this Chicago Business article.
Opportunities like this (temporary depressions in price because of events that will pass) are what the value investor is looking for.
Variant View
There is only one recent article on Seeking Alpha that's negative on McDonald's, by Valuentum. You may want to read it to expand your knowledge.
Price and valuation
McDonald's is rarely a steal when looking at the classic valuation multiples like P/E value. The brand name and the growth rate add such obvious value that the raw P/E number is unlikely to go down to the level where the value investor usually becomes excited. But it is also because of that growth rate and brand name that McDonald's is attractively valued even at a P/E of 17+. This becomes more clear when we use a DCF calculation to value it.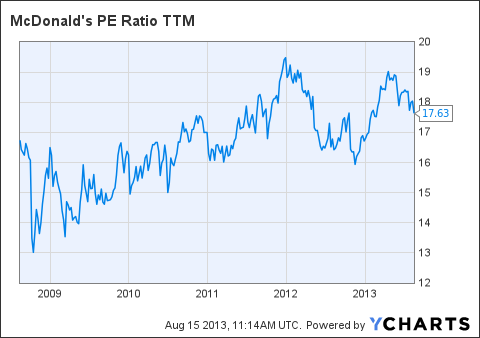 MCD PE Ratio TTM data by YCharts
A share of McDonald's is currently going for $96. I did a DCF calculation based on earnings over the past ten years. In this model I assumed a growth rate for McDonald's based on the growth rate over the last ten years but dialed down because McDonald's is larger now. Larger companies tend to grow slower. Performing this calculation I value McDonald's shares at $106.
Admittedly this is an inexact way to evaluate what a stock is worth and wrong assumptions can become inflated by projecting them into the future.
The Future and the Bottom line
The future is notorious for being unpredictable. But McDonald's fortified competitive advantage combined with their ability to cater to changing needs of the consumer give me the confidence the company will come through over the long haul. It is equipped to deal with almost any flood of challenges the future might give rise to; for sure it's on equal ground with its major competitors and perhaps on higher ground.
The bottom line is that buying McDonald's at this level will result in a slight outperformance of the market. Perhaps with less risk because of the stable franchise income. Buying into outperformance with less volatility is not a bad thing.
Disclosure: I have no positions in any stocks mentioned, and no plans to initiate any positions within the next 72 hours. I wrote this article myself, and it expresses my own opinions. I am not receiving compensation for it (other than from Seeking Alpha). I have no business relationship with any company whose stock is mentioned in this article.