In just a couple of days, it's already kind of become "old news". On Tuesday of this week, Carl Icahn, billionaire investor and generally agitated old person, revealed that he has taken a "large position" in Apple (NASDAQ:AAPL).
"We currently have a large position in Apple. We believe the company to be extremely undervalued. Spoke to Tim Cook today. More to come," Icahn said on Twitter.
So far, it's looking like Icahn, who has a notorious history of being a pest to CEO's, is making nice with current Apple CEO Tim Cook.
Forbes reported on the size of Icahn's investment:
Icahn calls his investment in Apple large. Bloomberg reported that his investment is more than $1 billion. A billion dollars is nothing to sneeze at, but it should be looked at in the context of the market capitalization of Apple which stands at about $445 billion. The point is that the size of the investment by itself does not carry enough weight but Icahn's name as a successful activist investor is to be reckoned with, especially by the Apple Board of Directors. Icahn's investment will become a catalyst for change at Apple. So far the investment seems friendly.
On the news, Apple has soared, currently trading above $500 for the first time in months. This is the news that has catalyzed the Apple breakout that a lot of investors have been waiting for over the last six or so months.
Investors that bought in three months ago have already yielded about 17% as of today's current trading price. Apple investors that have been in for the last year, however, are still suffering from a 21% drop in price.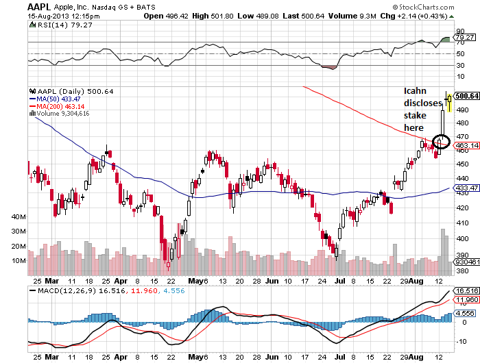 Right #1 : The Technicals - The technical picture above is extremely important to potential investors. Although I'm not a big "chart guy", there's some significant action here that's worth noting. The stock has, in the last couple of weeks, eclipsed both it's 50 day and 200 day moving averages - this is a tremendous bullish signal both to chartists and to algorithm based trading systems that analyze more information and execute more trades in 30 seconds than you've done in your entire life.
The next major technical indicator, aside from the general breakout shown below, is going to come when the 50 day average moves up and crosses the 200 day average, again registering a technical bullish signal on radars across trading desks worldwide.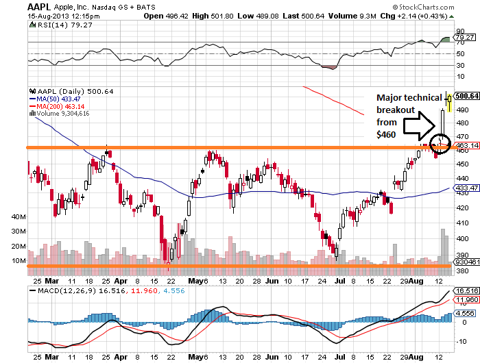 Right #2 - Making Nice with Cook - Icahn is right not to make a mess of things here regarding his relationship with Tim Cook and the executives - especially right off the bat. Icahn needs to realize that the best relationship that he can have with the company (for his benefit and other shareholders' benefit) is a relationship where he supports management and continues to tout Apple's growth and extremely strong fundamentals.
Wrong #1 - Pushing Another Buyback - Asking for a bigger buyback immediately after Apple announced the biggest stock buyback in market history isn't really a great move right off the bat. It's nice that Carl wants more shareholder value from the company, but with Apple recently taking on its debt position and offering a buyback with increased dividend, the company shouldn't feel pressured to tend to Icahn's requests immediately and shareholders might be disappointed when Apple chooses not to honor Icahn's somewhat greedy request immediately.
Wrong #2 - Icahn's Max Price Target - Icahn's been quoted with price targets for Apple anywhere from $625 to $700, depending on Apple's shareholder incentives. This investor that is bullish on Apple for the very long term argues that those two targets do not do this company justice. I'd contend that Apple can easily be an $800-$900 stock in the coming couple years based solely on their continued growth and general inflation (with the caveat that the macro market stays stable and steady as it has).
From Forbes:
Icahn is projecting a target of about $700 for Apple or about a 40% upside from here. Icahn is basing the target on a $150 billion buyback and earnings increase at the rate of 10% without any change in the price earnings multiple.

An earnings increase at the rate of 10% for the foreseeable future is not a safe assumption. If innovation at Apple does not accelerate from its current pace, in my analysis, Apple's earnings will decline. Icahn figures that even without earnings growth, Apple should be worth $625.
Conclusion
As a tried and true Apple bull, it's nice for shareholders to have Icahn on board. Furthermore, I'm now two to one in favor of his recent market moves, having vehemently disagreed with his Herbalife (NYSE:HLF) stake, but supportive of his fight over Dell.
Apple is clearly at the beginning of a technical based breakout to the upside, so I'm still very bullish on the company. Smart money rides with other smart money, and Icahn didn't become a billionaire by making the wrong calls. I'm still bullish Apple here and wish all investors the best of luck.
Disclosure: I have no positions in any stocks mentioned, and no plans to initiate any positions within the next 72 hours. I wrote this article myself, and it expresses my own opinions. I am not receiving compensation for it (other than from Seeking Alpha). I have no business relationship with any company whose stock is mentioned in this article.