Value is often found where few are looking. Newcastle REIT (NCT) is such an investment. Covered by only a handful of brokers the stock remains mainly uncovered by the masses. Newcastle is a REIT that is opportunistically investing in commercial real estate debt and senior housing properties. Spinning off New Residential (NYSE:NRZ) in May, an entity that deals in mortgage-backed securities, Newcastle is now focusing on building a senior housing property portfolio. Senior housing is probably one of the best long-term investment opportunities in developed countries as people live longer and demand increasing levels of nursing care.
Here are five reasons why Newcastle is a bargain at $5.68 a share and, correspondingly, is part of my income-oriented portfolio:
1. Newcastle faces favorable industry conditions. The Senior Housing market is fragmented and characterized by limited supply and increasing demand conditions with above average projected growth rates for the 75+ US population.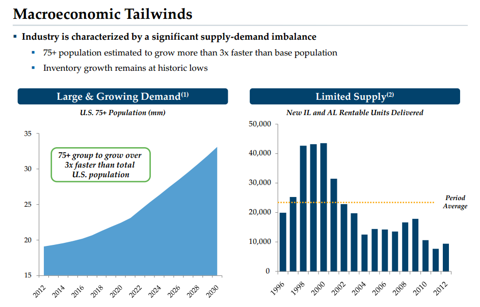 The CRE (Counselors of real estate) highlights the increasing relevance of advanced age cohorts. Specifically, they conclude:
Demographic Trends:

The share of the population age 65 and older has been steadily increasing since 2000, with more than a half million people joining that cohort each year. The U.S. Census Bureau projects that the senior population will account for approximately 20 percent of the U.S. population by 2030, up from less than 13 percent today. It is projected that within five years, the population of persons age 65 and older will increase from 16 million today to about 40 million. Thereafter, the senior population will be the only major age cohort to gain share in the overall U.S. population.
The US census bureau further provides a breakdown of age cohorts and their projected compound annual growth rate, which is further highlighting the need for senior housing:

Limited supply and increasing demand should translate into pricing power and levered returns for Newcastle.
2. Investing in Newcastle REIT allows investors to gain exposure to senior housing. New Residential, NCT's recent spin-off, invests in mortgages, servicing rights consumer loans and will be a levered bet on the US economy and housing market specifically. Newcastle investors on the other hand get a stronger exposure to both real estate and the attractive senior care market. The underlying value of the REIT will mostly be derived from its property portfolio and be less obscured by debt obligations. I assume that legacy CDOs over time will be liquidated to capitalize on rising senior housing demand.
3. Management invested $86 million in the acquisition of seventeen senior living assets in the last year and is committed to continue to deploy cash in order to increase portfolio size and property cash flows. This will ultimately be reflected in a higher distribution stream. Management also has a track record to increase vacancy, revenues and returns.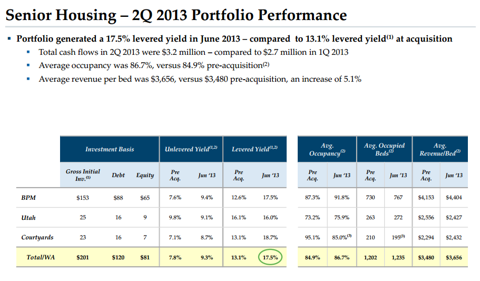 Key performance indicators such as revenue per bed are up 5% and underpin the strong performance of Newcastle in the last financial year: Net income increased 43% from $36.6 million in Q1 2012 to $52.3 million in Q2 2013. For the same period diluted EPS is also up: a 33% increase to $0.2 per share.
4. Dividend investors are pocketing a staggering 11.8% dividend yield that is backed by recurring cash flow.
5. Investors purchase Newcastle at a 7.7% earnings yield (P/E ratio of 13 based on 2014 earnings).
Conclusion
Newcastle is a REIT with a market cap of $1.5 billion giving management room to grow its equity value through the acquisition of cash flow accretive properties. Management has a track record of increasing revenues and returns. The market segment of senior housing is growing and profitable.
Investors can still buy Newcastle on the cheap. A P/E ratio of only 13 remains cheap in comparison to an industry average of 15.6. With a cash flow backed dividend yield of almost 12% Newcastle REIT remains a steal at $5.68 per share.
Disclosure: I am long NCT. I wrote this article myself, and it expresses my own opinions. I am not receiving compensation for it (other than from Seeking Alpha). I have no business relationship with any company whose stock is mentioned in this article.