Overview
Crocs, (CROX) the footwear manufacturer that is (in)famous for its fluorescent clogs, saw its shares drop by 23% a few weeks ago on a significant earnings miss. The stock is infamous with investors for its parabolic descent from $75 to $0.79 in a single year. Although many investors still consider the company untouchable, Crocs shows strength in its earnings, balance sheet, growth and management, and investors should not rule out investing in the company. The company appears to be significantly undervalued by the markets, and does not have any structural risk.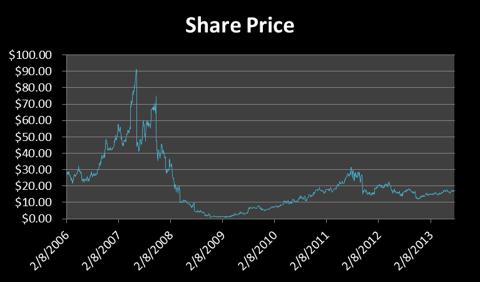 Crocs was founded in 2002 in Niwot, Colorado by a trio which had acquired the design from a Quebec company. The design was originally intended for a spa shoe, but eventually took off as a beach shoe. In 2004, Crocs purchased Foam Creations in order to obtain exclusive rights to the patented Crocslite material of which its shoes are made. By 2006, the design had taken off and the clogs became a fad. In 2007, growth projections slowed and the shares dropped drastically, from $75 to $40 in just six months. In 2008, low earnings guidance caused the shares to plummet further as consumer discretionary spending evaporated in the credit crisis. For the past three years, the shares have bounced around in the $15 range, but dropped to $13.50 as a result of last quarter's earnings miss.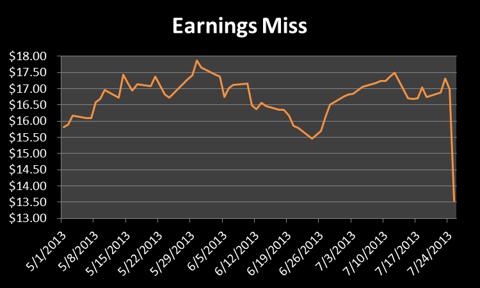 Operations
While starting with just a single line of clogs in six colors, Crocs has expanded its product line to include a diverse range of products ranging from flip-flops to golf shoes. Current offerings include over 300 four-season styles of footwear. The company sells 57.5% of its volume through wholesale channels, and 33.4% through consumer direct channels. Crocs operates 537 stores, with 182 in the United States and Canada, 241 in Asia and 97 in Europe. The company is expanding its retail footprint, and intends on increasing its operations to 600 stores by year-end. The remaining 9.1% of sales occur online via 42 company-operated web-stores.
Crocs is shifting from store-in-stores and kiosks to full company stores. The company closed 97 of the smaller stores in 2012, while opening 201 other stores for a net of 107 openings.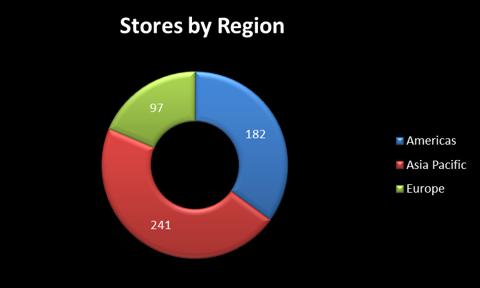 Revenues from the Americas accounted for 44.1% of sales in 2012, with 40.7% and 15.1% coming from Asia and Europe respectively.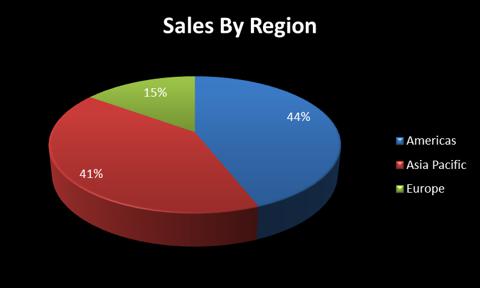 The perception of Crocs in the United States is divergent from views in the European and Asian markets. In the United States, Crocs were originally marketed as a beach product, and thus, sales rise during the summer months. Although Crocs introduced a plethora of all-season footwear, including a fur-lined winter line-up, the American perception has not shifted and the company operates with cyclicality. Looking towards Russia, a strong growth market for Crocs, since Crocs is known as a general footwear brand, and not for those flamboyant clogs, the fur-lined boots sell quite well there, and sales trend higher during the winter holiday season. While the company is increasing capacity to keep up with growth international markets, at the end of fiscal 2012, backlog stood at $354.3 million.
In the short term, Crocs expects to fully implement SAP software by 2014. While costs related to this implementation has dampened earnings for the past few quarters, the company is at the stage where efficiency can help the company grow, and this investment should pay off down the road. With the SAP improvements, investors may see higher gross margins due to lower SG&A costs, better supply-chain management, and overall waste reduction.
Asia
Asia should also continue to drive growth for Crocs. The rising middle class along with the shift towards consumer economies generates a strong demand for reasonably priced branded products. Crocs' Chinese footprint is growing and the company intends on adding 150+ store locations in joint with the company's retail partners in greater China. To add some numbers to the equation it's helpful to look at the parabolic rise of disposable household income.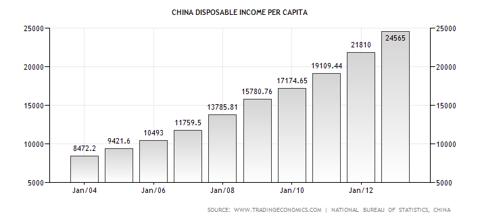 While the rising middle class cannot afford luxury brands, Crocs, at $25-65 are affordable for these consumers. By 2022, estimates predict that this middle class will include 630 million individuals, far outnumbering the American middle class. If Crocs could penetrate the market in China even remotely as well as the company has in Japan, investors are likely to see strong growth for the next decade in Asia. The Chinese government, while quite lax in defense of the intellectual property of numerous American companies, and while even purportedly acting complicity to steal data, has taken a strong stand in protection of Crocs. While I am not sure as to why exactly Crocs is different than any other US firm, the fact is that the government has imposed severe sentences on Crocs counterfeiters.
Financial Performance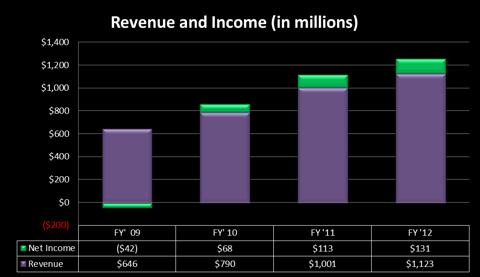 Revenue and earnings have grown consistently every year over the past four years.
Growth has been excellent in both Asia and the Americas, and has weathered the European crisis quite well. Note that using constant currency instead of raw numbers, growth is 14% and not 12.2%.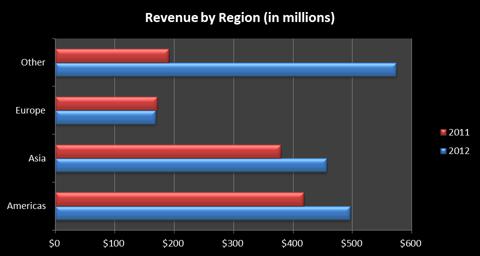 Crocs has steadily increased cash flows over the past few years. The company does not pay a dividend, but reinvests significant sums in store-openings. The company also has a share repurchase program which is executed quite efficiently. In the fourth quarter of 2012 the company was able to repurchase roughly 1.9 million shares on the open market for $25 million. Effectively, even at today's prices, the company has created significant value, with the average repurchase price equaling $13.27. The repurchases continued during the current quarter, where 834,000 shares were bought for $12.5 million, or for $14.99 per share.
Crocs has increased cash flow sequentially for five years, and continues to do so. The company maintains a strong balance sheet with $289 million in cash and under $7 million in long-term debt at the end of the most recent quarter.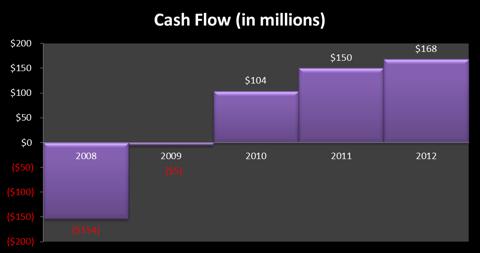 Earnings Analysis
And finally we arrive at the opportunity at hand. The reason why the shares plummeted by over 20% in a single day was due to second quarter income of only $0.40, while the lower end of guidance was $0.60. On paper that is a huge discrepancy, but looking at continued operations, there were $0.17 in one-time charges which impacted earnings this quarter, mainly due to a Brazilian tax liability.
Secondly, weather in many regions was colder than average this year, which impacted sales significantly. Crocs management decided to offer numerous promotions in order to move merchandise and clean out inventories. While this decision did increase revenues to a record $364 million, or 12.5% on a constant-currency basis, this impacted the average sale price for merchandise and lowered gross margins from 59.3% to 55.2%. CEO John McCarvel noted that with the improving weather throughout the quarter, the company did see a strong pickup in sales.
Japanese same-store sale comps were also down by 20%. Outside of Japan, Asia-Pacific sales comps were up by 8.5%. Crocs saw comp rises in the Americas and Europe as well, and totaled a 4.4% increase across all regions combined.
Crocs also faced a tax rate of 29% as opposed to the forecasted 21%. Management expects the full-year rate to fall between 22-25%.
Essentially, what happened to Crocs this quarter appears to be immaterial to the business on a continuing basis. Organic growth continued, strongly throughout the quarter to the exclusion of the Japanese segments. The company's diversification away from clogs has worked, and clogs accounted 44% of unit sales this quarter, down from 46% year over year. The company expects solid third quarter revenues of $300-310 million and EPS of $0.20-0.23.
Throughout the earnings call, analysts tried to pry any negative information which they could out of Crocs management. By the end of the call, management still had not given much in terms of negative outlook. The analysts on the street were burned by their high predictions and took some aggravation out on William Kent, the Senior Director of Investor Relations. In reality, due diligence in terms of channel checks could have saved the analysts a lot of heartache. In fact, a simple trip or two to a Crocs store would paint a clear picture of activity throughout the quarter. It appears as if Sam Poser (A Sterne Agee analyst) came down hard on management's predictions in order to save his own skin. None of the analysts mentioned channel checks in their research notes, and therefore were in the dark when earnings season came around.
While management may have been guilty of inflated earnings estimates in prior years, this year's estimates were relatively accurate, in line with other weather dependent companies, and generally reasonable. In fact, Poser was wrong in calling for more conservative estimates from Crocs management. Estimates should not be sandbagged in order set a low bar for the company. Giving an accurate range of projections allows for negative events while not setting a low bar and thereby misleading potential investors.
Valuation
Crocs currently trades at a forward PE of just 8.4 and at an EV/EBITDA of 6.8. For a company growing sales at over 14% annually, those numbers are far too low. Subtract out the strong cash position, you are left with a company with both growth and a lucrative free cash flow yield of 7.8%.
Assuming Crocs can sustainably grow revenues at 11% as it has in the past few years, and that the company can generate free cash flows as 12% of revenues (SAP implementation may increase this number starting in 2014) we arrive at an implied share value of just over $20 assuming an exit PE of 13. Keep in mind that not a single competitor has such low multiples, and PE expansion to 17 is not unlikely. Dialing down earnings for slower global economic growth will also decrease the expected WACC and does not affect the value significantly. Taking a more conservative approach where growth is only 7.5%, lower than what we've seen for the past five years, the shares are fairly valued assuming no multiple expansion.
The PE of 13 builds a margin of safety into the model. Looking at some comparative analysis, we see Crocs' peer group trading at a strong premium to Crocs across virtually every single metric. (numbers sourced from Capital IQ and Reuters)
| | | | | | |
| --- | --- | --- | --- | --- | --- |
| Company | Profit Margin | PE Ratio | PEG | EV/EBITDA | Price/Sales |
| Crocs | 11.7% | 9.3 | 0.8 | 6.8 | 1.4 |
| Deckers (DECK) | 9.1% | 17.2 | 1.4 | 8.7 | 1.4 |
| Steven Madden (SHOO) | 9.8% | 18.4 | 1.7 | 10.9 | 1.8 |
| Skechers (SKX) | 0.6% | 68.3 | 1.7 | 11.4 | 0.7 |
| Wolverine (WWW) | 4.9% | 37.6 | 1.3 | 15.8 | 1.7 |
Conclusion
To sum it up, Crocs' future appears to be as bright as their trademark clogs. Weather's impact on operations should be flattened out when projecting future cash flows since there will be years where the weather gives the company a boost in sales as well. We've witnessed prudent management over this quarter in their decision to discount merchandise in order to clear inventories. The company should be able to leverage its stellar balance sheet and cash flows in order to invest in the company and build the brand in Asian and European markets, where there is still plenty of room for penetration. Lastly, although I chose not to go into it in depth, the company appears to be a good takeover target due to its low multiples and steady cash flows. If the share price stays this depressed for a while, I would not be surprised to see bids coming from the larger brands.
Disclosure: I am long CROX. I wrote this article myself, and it expresses my own opinions. I am not receiving compensation for it (other than from Seeking Alpha). I have no business relationship with any company whose stock is mentioned in this article.
Additional disclosure: I may expand my position in CROX in the near future.