In this article, I will introduce a small-cap energy company that focuses its activities on exploring, developing and producing light oil. After introducing the company, I will take a look at its activities located mostly in Canada. Then, I will examine its financials and future outlook. Finally, the upsides and associated risks will be identified to have a better idea of the potential that the company has to offer.
Renegade Petroleum (RPTTF.PK)
Headquartered in Calgary, Alberta, Renegade is a light oil focused company with assets located in Saskatchewan, Alberta, Manitoba and North Dakota. Renegade's goal is focused on creating sustainable, value-added growth in reserves, production and cash flow through the execution of management's integrated strategy of acquiring, exploiting and developing high-quality, long-life, light oil properties.
The company is also deploying a new focus on assets within its portfolio that have stable and low decline production profiles with strong capital efficiencies and free cash flow that fit well with Renegade's income plus-growth dividend model.
Light Oil Assets
Assets From The Williston Basin
The company has 145 net sections of undeveloped land in the Williston Basin. The deposit is a large basin in eastern Montana, western North and South Dakota, and southern Saskatchewan, known for its rich deposits of petroleum and potash. The basin extends approximately 475 miles North-South and 300 miles East-West.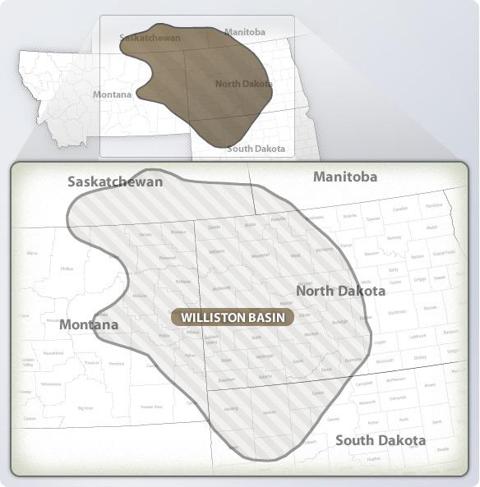 Click to enlarge
The long history of sedimentary deposition in the Williston Basin included deposition of rocks well-suited to serve as hydrocarbon source and reservoir rocks. The basin oil and gas fields are found in a wide range of geologic ages.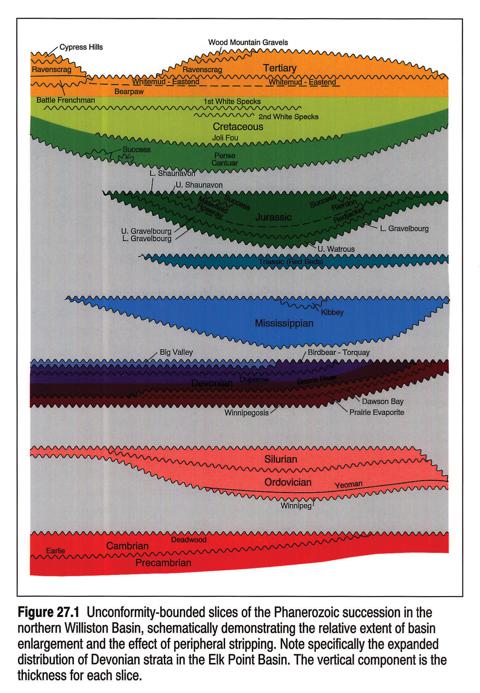 Click to enlarge
Source: Alberta Geological Survey
Oil was first found in the Williston Basin along the Cedar Creek Anticline in southeastern Montana, in the 1920s and 1930s. The basin did not become a major oil deposit until the 1950s when large fields were discovered in North Dakota.
Production peaked in 1986, but in the early 2000s, significant increases in production began because of application of horizontal drilling techniques. The cumulative basin production totals about 3.8 billion barrels of oil and 470 billion cubic feet of natural gas.
Renegade owns 359 net locations where dual leg horizontals has been built to improve the economics and production. The following map shows Renegade's land positions as well as its facilities.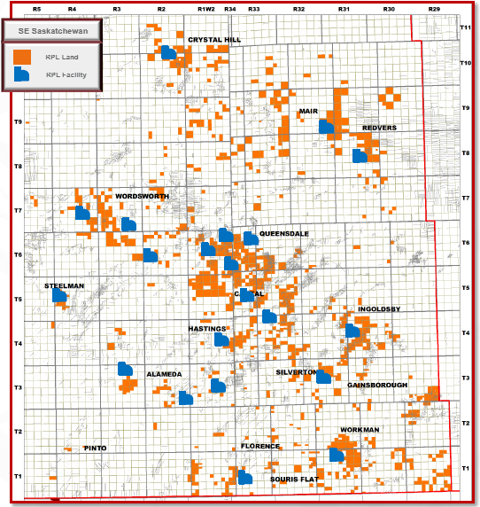 Click to enlarge
Source: Renegade Petroleum's Corporate Presentation
The company is continuing to increase net acreage of the area from time to time when possible. Renegade identified primary light oil targets within the land: the Souris Valley, Frobisher and Alida along subcrop trends (Kisbey and Tilston secondary trends).
Renegade's current production is approximately 7,400Boe/d (barrels of oil per day), up 92% from the same period in 2012. Production consisted of 94% light oil and 6% natural gas and NGLs (natural gas liquids), while the producer confirmed its previously announced 2013 average production guidance of 7,400Boe/d to 7,700Boe/d.
The first southeast Saskatchewan well in the Crystal Hill area was brought on-stream in late June while the remaining two wells in the Queensdale area were completed and placed on production in July.
At Crystal Hill, according to its Q2 of 2013 financial results, Renegade drilled 1 gross (0.5 net) well and achieved a 30-day IP rate of 170Bls/d. In addition, the company has now drilled and completed the first two gross (1.3 net) wells on the Queensdale trend. The first well has been on production for 25 days and has a 25-day IP rate of 237Bls/d. The second well has been on production for 15 days and has a 15-day IP rate of 320Bls/d. Both wells are expected to have significant optimization potential, as the rates are currently being restricted since casing pressure is rising.
Assets From The Viking Formation
The Viking Formation is an established oil play that has produced oil and gas from conventional reservoirs since the 1950s. From a geological point of view, the play has been delineated by more than 8,000 vertical wells. The deposit represents a low-risk light oil play with large amounts of original oil in place that is second only to the Cardium play and has one of the lowest recoveries, estimated at about 4%. The deposit covers a large part of western Canada and extends over most of Saskatchewan. It is mostly gas bearing with oil production restricted to West-Central Saskatchewan in the Kindersley-Dodsland area.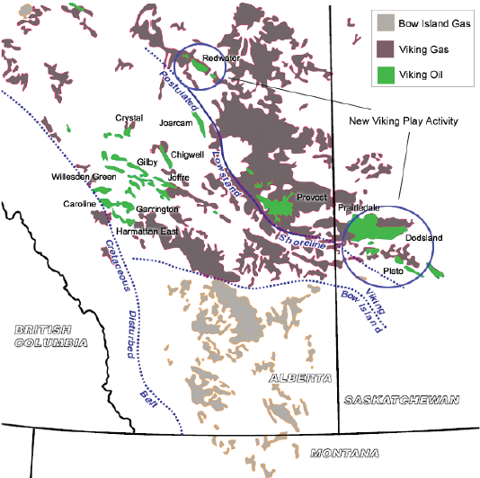 Click to enlarge
Source: Canadianoilstocks.ca
The Viking Formation consists mainly of fine to coarse grained sandstone comprised between two marine shales. It is divided into two zones: an upper zone that ranges from 6-9 feet in thickness where oil has been produced from vertical wells and a lower zone of 9-30 feet thick, which has been uneconomic to produce from until the advent of new technology.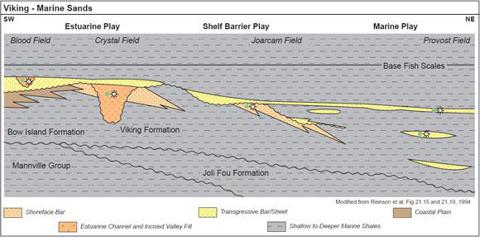 Click to enlarge
Source: Alberta Geological Survey
Government estimates for the upper zone suggest 2 billion barrels of exploitable OOIP (oil originally in place) with vertical drilling. However, the Viking oil pools have been widened with the advent of horizontal drilling and multistage fracking completion, the industry estimating up to 6 billion barrels of OOIP as a result of tapping into the previously uneconomic lower compartmentalized zone. Horizontal development has unlocked massive oil reserves and is expected to increase recovery factors up to 12% potentially, exceeding 20% through secondary recovery techniques such as putting Viking oil pools under waterflood.
Notably, Saskatchewan offers an attractive royalty system whereby Viking horizontal wells qualify for a 2.5% royalty rate on crown lands and 0% production tax on freehold lands for the first 37,700 barrels of cumulative oil production. This would equate to about half of the expected ultimate recovery of some producers.
Attractive royalty rates coupled with low production costs would likely result in extremely attractive netbacks. At $95 per barrel, Viking oil producers can net between $64 and $68 in profit per barrel, which means an excellent recycle ratio for each dollar. Furthermore, a Viking oil well's production may contain from 0-25% of natural gas. Estimated ultimate recoveries would range between 45,000-75,000 barrels per well, depending on the area and the completion method.
Renegade has Viking rights on 26.5 gross sections and owns an inventory of 335 gross or 298 net locations. The company began its Viking drilling program in West-Central Saskatchewan in early July. The producer improved its production performance by increasing by 22% the IP30 on its 2013 drilling program as well as maintaining its costs to $950,000 per well.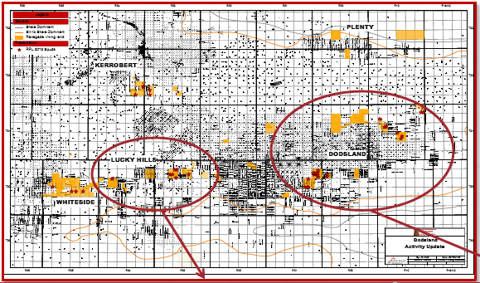 Click to enlarge
Source: Renegade Petroleum's Corporate Presentation
According to its Q2 of 2013 financial results, Renegade has recently completed a summer program that included the drilling of 14 gross (13.5 net) wells and has fracture stimulated 5.5 net wells that are at various stages of being brought on production.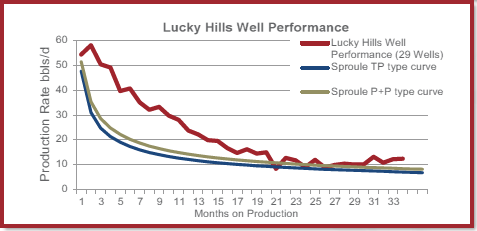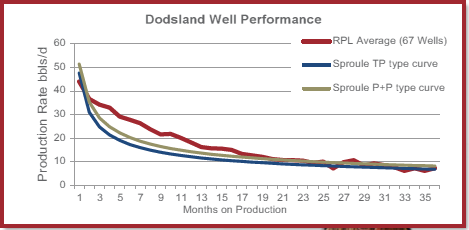 Source: Renegade Petroleum's Corporate Presentation
The company plans to have all 13.5 net wells on-stream within Q3. Early results show that these wells are in line with management's expectations.
Financials At A Glance
Renegade reported for its Q2 of 2013, cash flow of $22.2 million or $0.11/share. However, this quarter's cash flow represents a rise of 56.3% from $14.2 million achieved in Q2 of 2012. As seen on the chart below, since the beginning of the year, cash from operations steadily rose to amount $21.52 million.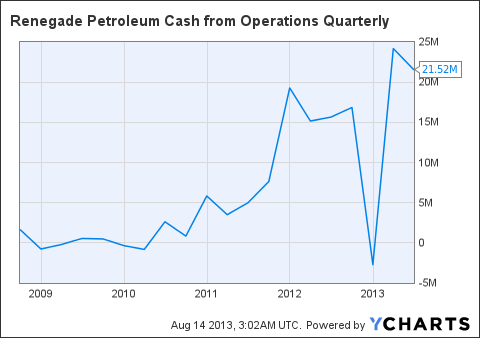 Notably, the company had a net loss of $4.08 million for the last three months, a drop of 151% from $8.04 million of net income generated for the same period last year.
The producer achieved, for the last three months, an average operating netback of $48.64/Boe, a drop of 4.7% from $51.03/Boe for the same period in 2012.
Operating costs were $18.41/Boe in conjunction with lower volumes. Notably, net debt rose to $292 million. The total debt to equity ratio is currently at 58.15, too high to be comfortably manageable. However, Renegade's recently executed $19 million non‐core asset disposition has provided it with some breathing room on its $335 million bank line.
Renegade's gross margin for the TTM (trailing twelve months) is at 59%, better than its industry's average of 46.99%.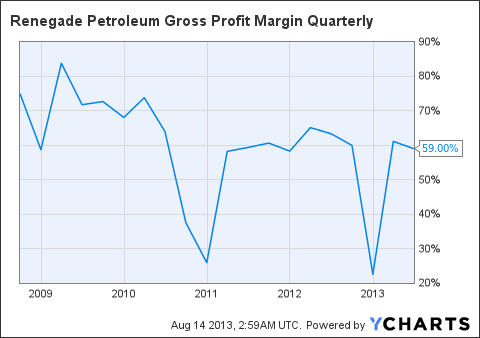 However, with a TTM net profit margin of -30.92%, obviously, there is room for improvement. The producer will have to find a way to cut into its supply costs in order to maximize every barrel it produces or to quickly rise its production level by commissioning new wells in order to drop its cost per barrel.
Future Outlook
Renegade plans to remain active in southeast Saskatchewan and will have one rig operating in the area throughout the third and fourth quarter. The remaining wells in the 2013 drilling program will continue to be focused along the Queensdale trend and its analog pools in Silverton and Gainsborough.
In addition, through its two core areas in southeast Saskatchewan and the Viking region, Renegade has the flexibility to adjust its drilling program according to the market fluctuations and with its cash flow on hand.
Renegade continues to implement its disciplined WTI hedging strategy to provide increased certainty over cash flow and dividends. The company hedged approximately 71% and 59% of its expected oil production, net of royalty interest, for the balance of 2013 and 2014, respectively.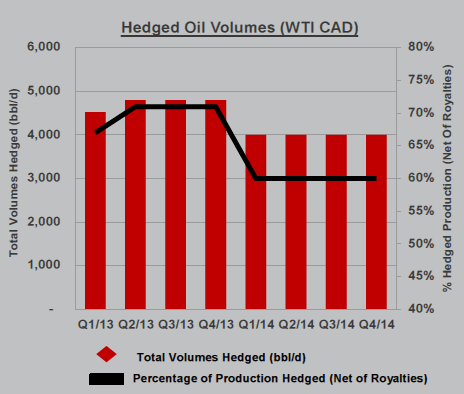 Source: Renegade Petroleum's Corporate Presentation
Average WTI hedge prices range from $93.94 per barrel for the remainder of 2013, to $92.46 per barrel in 2014.
As of December 2012, estimated proved plus probable reserves totaled 33.7Mmboe (million barrels of oil equivalent), weighted 94% to light-oil and NGLs. Notably, the production reserve life index has been assessed at 11.6 years by the reputed Sproule consulting firm.
Bottom Line
As of August 10, 2013, according to the markets' data of the Financial Times, the consensus forecast amongst 9 polled investment analysts covering Renegade, advised that the company will outperform the market. This has been the consensus forecast since the sentiment of investment analysts deteriorated on November 19, 2012. The previous consensus forecast advised investors to purchase equity in the company.
I believe that Renegade Petroleum represents a great opportunity to get involved in the light oil play that the Williston Basin and the Viking region has to offer: enormous potential to benefit from the growing value of this company's shares, within a year. It is worth noting that Sproule has assessed the net asset value per share of Renegade at $2.58 while it assessed Renegade's reserves. The stock currently trades between $1.04 and $1.14.
Finally, Renegade offers a hefty and generous 8.7% in dividend yield for its stock, compared to the industry's average of 1.61%. However, higher dividend yield often rhymes with higher risks, which is probably the case here. Several challenges are facing a junior producer and Renegade isn't any different from the others.
However, as discussed earlier, most of the producer's current assets are in development and no timeline has been determined by the company for the completion and the start-up of its upcoming projects. Moreover, profitability has not yet been reached and an estimated schedule for future realization of profit is difficult to assess at this time. Patience will be key whether any position is taken on the stock.
In conclusion, here are the upsides that I identified for a potential investment in Renegade Petroleum:
Quality land positions with lots of potential
Active hedging program to mitigate the volatility of the commodity's prices
Significant growth potential of its share value
However, here are the discussed downsides that cannot be overlooked:
Balance sheet needs to improve
Liquidity is running thin
A prolonged weak commodity price environment could put pressure on already high operating costs and heavy total debt
Disclosure: I have no positions in any stocks mentioned, and no plans to initiate any positions within the next 72 hours. I wrote this article myself, and it expresses my own opinions. I am not receiving compensation for it (other than from Seeking Alpha). I have no business relationship with any company whose stock is mentioned in this article.