It seems that the vast majority of articles written about the market and stock these days are contrarian in nature. They are making the case for buying down and out stocks, mainly because they are cheap and out of favor.
For instance, today I see an article titled "10 Reasons for Buying BHP," which is BHP Billiton (NYSE:BHP), a mega-cap company headquartered down under in Australia.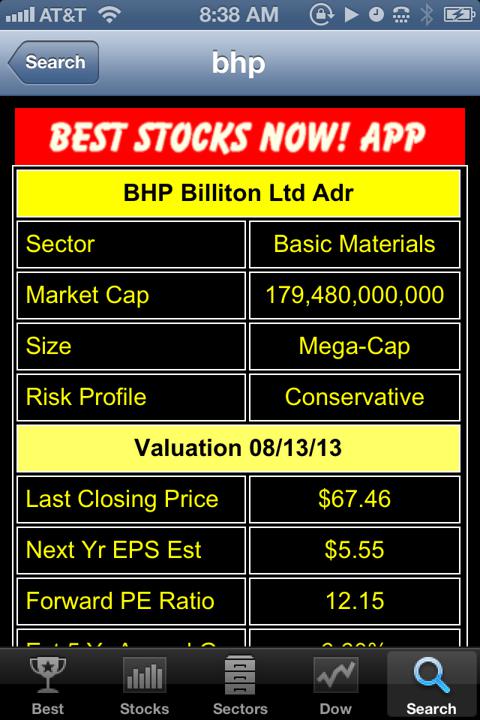 Data from Best Stocks Now App
There was a time several years ago when world and market conditions favored a stock like BHP.
In fact, it was one of the 53 stocks that I wrote about in my book, Best Stocks Now. At the time, it was a "Best Stock Now." It was hitting new highs back in 2011 when I wrote the book. It was benefiting from a huge boom in China. The stock was also undervalued and was a top performing stock.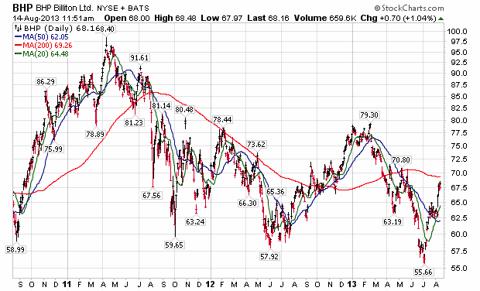 BH Billiton is engaged in the mining of metallurgical coal, energy coal, iron ore, oil, gas, diamonds and base metals, in other words, commodities. Commodities had a huge run in 2009, 2010 and 2011 but they came to a screeching halt in late 2011 when the U.S. dollar started to strengthen and as China started to slow down.
No longer was China stockpiling commodities. It seemed at the time that China was buying up all the natural resources and commodities in the world to sustain, what seemed to be, never ending growth. And as you looked out over the skyline of China, you'd see mega-buildings being built, and cranes everywhere putting up these buildings. Of course they needed cement, iron ore, steel girders, galvanized pipe for electricity, copper and on, and on.
Commodity stocks were big time in favor at that time. Had you been buying into commodity stocks in 2009-2011, you were buying into strength and you were making money in them. But there was also a time to SELL commodity related stocks. That time was in the summer of 2011.
Now flash forward to 2013. Is it time to get back into stock like BHP and commodity stocks in general? The dollar remains relatively strong, there's no hint of inflation, and China continues to slow down. That's not a good recipe for commodity stocks. Commodity stocks are still at the bottom of the asset class ladder.
In fact of the 45 asset classes that I rank on a daily basis, commodities still come in at number eight overall. I'm usually only interested the top five to ten asset classes at any given point in time. More on the current leaders in a moment.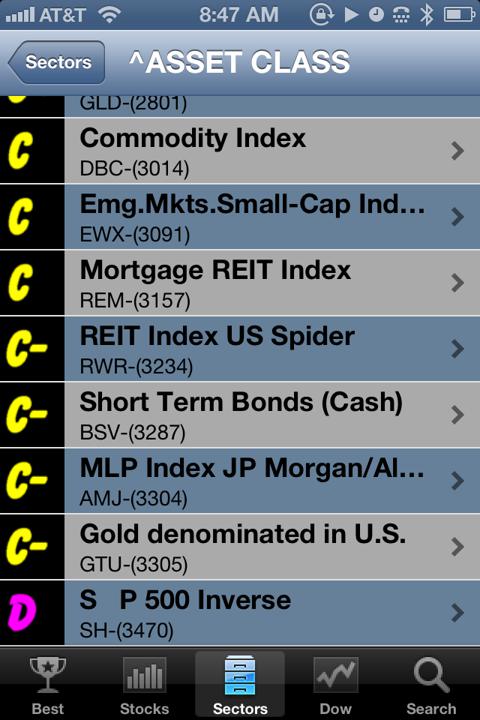 Data from Best Stocks Now App
Also notice that being short the market, invested in precious metals, emerging markets or bonds is also not the place to be invested right now. In fact this current trend has been in place for well over one year. Sorry contrarians. You can argue with the market all you want, but in the end the market is always right. Just for your information, here are the top eight ranked asset classes right now. It is all about domestic equities, more particularly small and mid-cap stocks.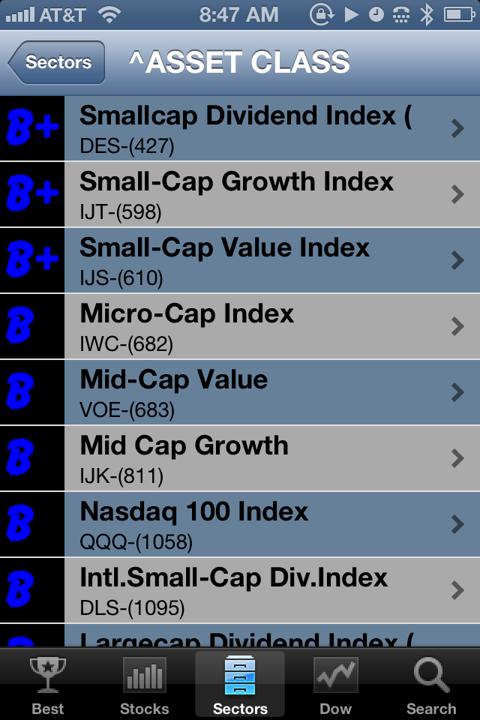 Data from Best Stocks Now App
Just for fun let's see if we can make a case for BHP at the current time. When I analyze a stock I look at valuation, performance and the stock chart. Let's begin with the valuation.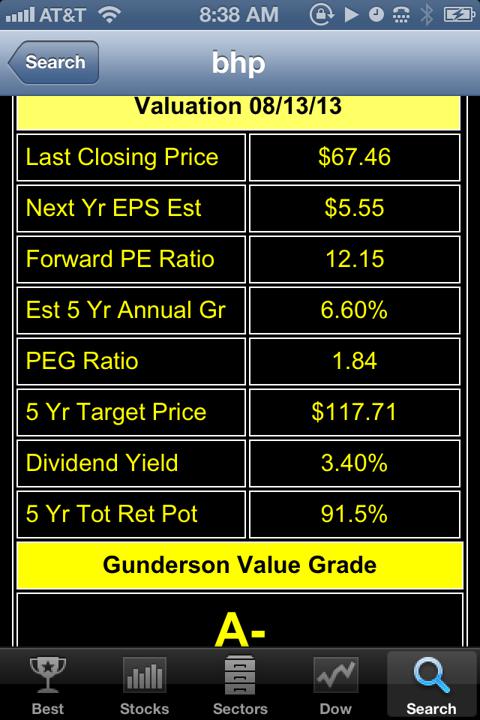 Data from Best Stocks Now App
The stock is currently trading at 12.2X forward earnings and they are expected to grow those earnings by 6.6% per year over the next five years. I take current EPS estimates and extrapolate them out by 6.6% over the next five years. I then apply a multiple that I think is appropriate for a commodity stock like BHP. I come up with five year target price of just over $117. This gives the stock 91.5% upside potential over the next five years.
As a professional money manager looking to buy stocks for my clients, I require at least 80% or more upside potential in the stocks that I buy. That is just one of my requirements, however. BHP currently meets my valuation criteria, but I still require strong performance and a healthy stock chart. Let's next look at the performance of the shares.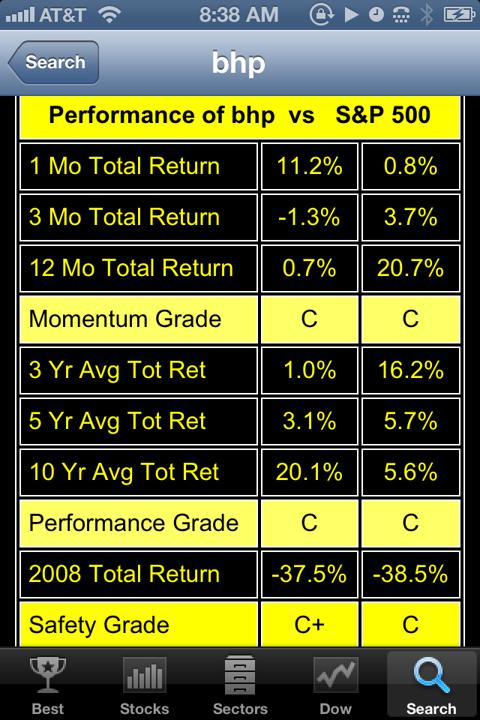 Data from Best Stocks Now App
While BHP has greatly outperformed the market over the last ten years, it has severely underperformed the market over the last one, three and five years. These factors combined only result in an overall performance grade of "C" when I compare the performance against the other 3,400 plus stocks in my database.
The current momentum grade of the stock is also a very tepid "C." You would certainly be buying into weakness and not strength here. A contrarian's dream stock?
Let's next look at a one-year chart of the stock.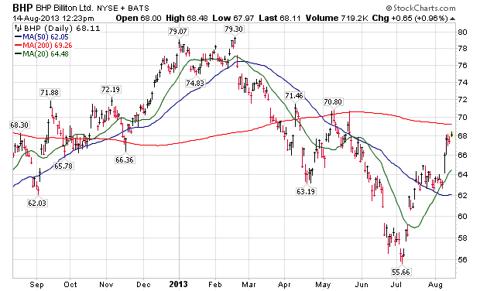 Not exactly a technicians dream. Let's compare BHP's chart with a good chart: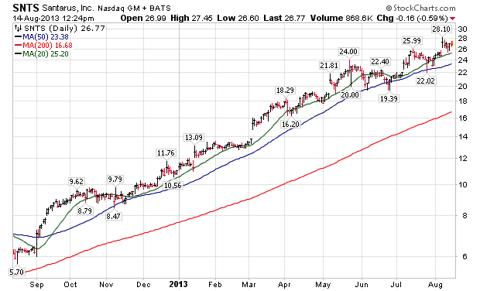 Now there, that looks a lot better. Santarus (NASDAQ:SNTS) is stock that I bought back on January 18th of this year for my aggressive growth clients. The stock has since doubled. I bought into strength, not weakness.
When all is said and done, BHP gets an overall grade of B- and ranks at number 1,486 out of 3,494 different investments in my database. I want the top 25-30 stocks in my portfolio at any given point in time. These stocks have value, performance and healthy stock charts. BHP only has one out of these three requirements.
I know that the contrarians out there are going to argue with me, but then that is what contrarianism is all about.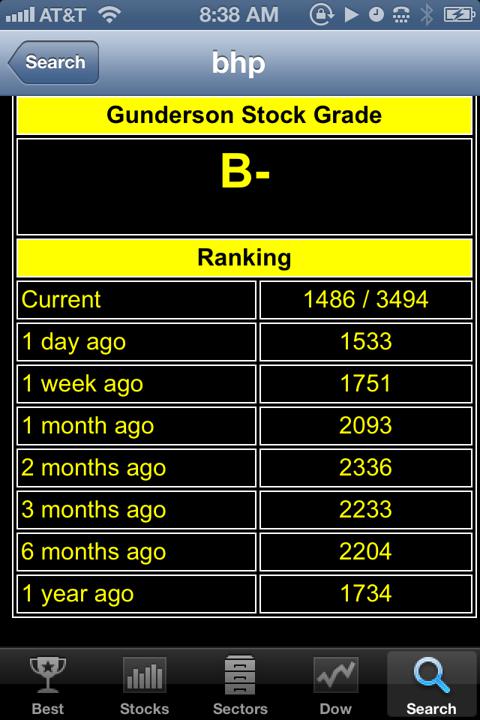 Data from Best Stocks Now App
Disclosure: I am long SNTS. I wrote this article myself, and it expresses my own opinions. I am not receiving compensation for it. I have no business relationship with any company whose stock is mentioned in this article.