By David Urani
One piece of data we got Thursday that was actually good was the NAHB's Housing Market Index, the monthly measure of homebuilder confidence. The August reading came in at 59, which was up from 56 in July and above the 56 consensus. The index hasn't been this high since 2005. The six-month outlook remains the strongest aspect, while the measure of present conditions rose three points to its highest level since January 2006.
And this is all quite interesting, because it seems home builders are as optimistic as they've been since the bubble days. Yet those builders' own stock prices are behaving quite differently. Below we can see how the Housing Market Index has diverged from housing stocks (as measured by the Dow Jones US Home Construction Index).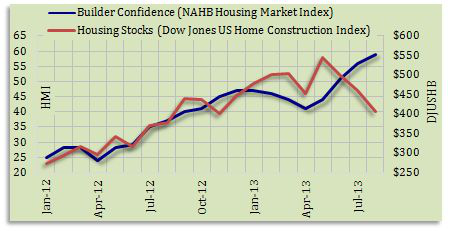 We've been pointing out a lot in the past couple of months that the market has a large sense of panic over rising interest rates, particularly with respect to mortgages. That fear is taking homebuilder equities by storm and it seems any news, no matter how good, has not been enough to stem the tide. Well at least for Thursday the market was listening as the Dow Jones US Home Construction Index, which had been down as much as 3% after the opening bell, made a reversal on the data and traded up 1.7% mid-day.