By Sumit Roy
Natural gas was last trading up by more than 2% to $3.40/mmbtu after the Energy Information Administration reported that operators injected 65 billion cubic feet into storage last week, below the 67 bcf to 72 bcf build most analysts were expecting. However, the build was above last year's build of 20 bcf and the five-year average build of 44 bcf.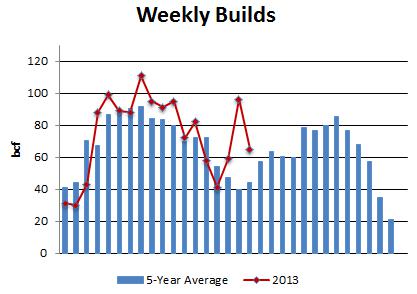 In turn, inventories now stand at 3,006 bcf, which is 255 bcf below the year-ago level and 46 bcf above the five-year average (calculated using a slightly different methodology than the EIA).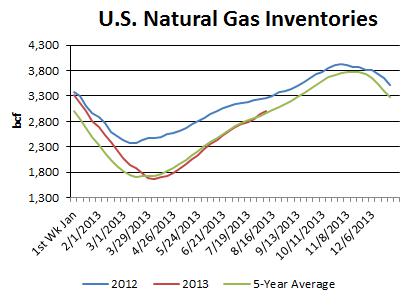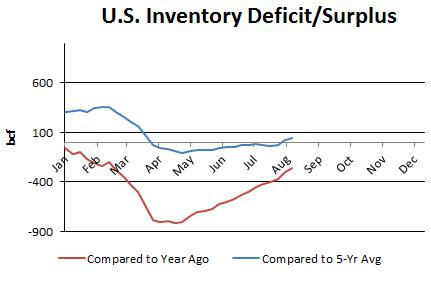 The weather last week was cooler than seasonal norms and cooler at this same time last year. The Edison Electric Institute said that utilities generated 85,974 GWh in the week ending Aug. 10, which was 6.1% below the same week a year ago.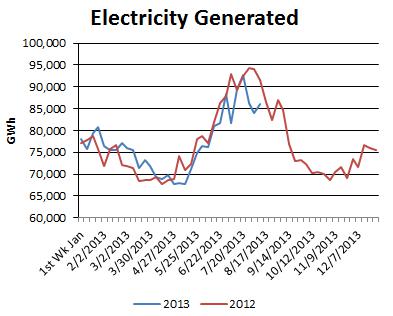 Looking forward, the NOAA's six- to 10-day outlook is calling for warmer-than-normal weather across much of the country in the second half of August.

NOAA Six- to 10-Day Outlook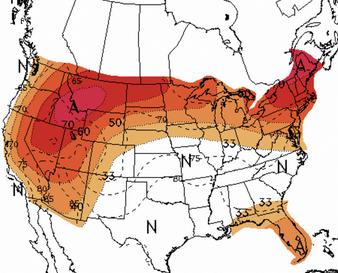 Meanwhile, the number of rigs drilling for natural gas in the U.S. fell by two to 386 last week.

Natural Gas Rig Count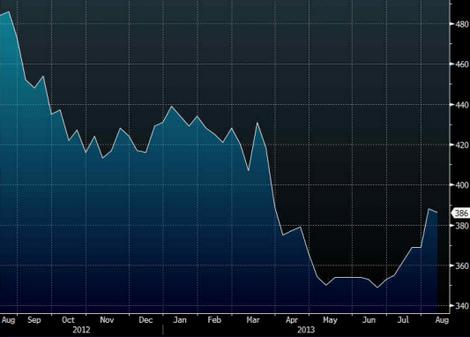 Natural Gas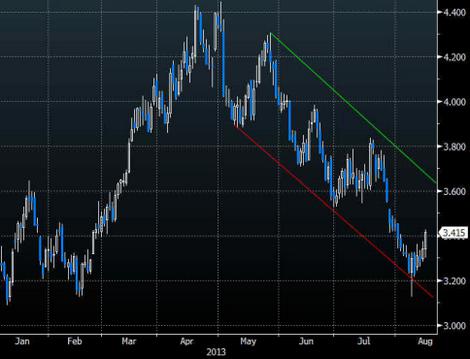 Bottom line: The latest inventory data from the EIA were bearish, as surplus against the five-year average climbed from 25 bcf to 46 bcf. Of course, relative to expectations the build was bullish and, along with forecasts for warmer-than-normal temperatures, is the reason gas is rallying today. Nevertheless, we see this move as merely a technical bounce off the lower trendline. Prices may reach as high as $3.60/mmbtu, but we do not believe the seasonal low has been put in yet. We continue to see the likelihood of another leg lower in September, as traders price-in the potential for record inventories come November.