On Thursday, Intel (NASDAQ:INTC) shares broke through two key levels. The first level was a key technical indicator, and I'll have more on that later. But the more important number, the one I really want to focus on, is the 4% dividend yield. Despite Intel not raising its dividend a few weeks ago as most were expecting, the dividend yield has risen back above 4%. That means that the stock has fallen, and on Thursday, it was due to a negative note from one analyst, along with the market's fall. Today, I'll break down the latest news on Intel, and focus on the key dividend level.
The key downgrade:
On Thursday, Intel shares were downgraded from outperform to neutral at Baird. The analyst, in what may not be a surprise, cited a weak PC market, and provided the following analysis:
Total PC units are now expected to decline in the teens this year, worse than our expectations entering the year; Tier-one PC OEMs have reduced 3Q forecasts very recently; Consumer PC could remain under pressure next year, notably as larger-size tablets are being introduced while touchscreen adoption in notebooks is slower than expected due to weight and cost issues.
It was also reported that Intel's price target was cut from $26 to $23 along with the downgrade. Intel wasn't the only name targeted with a downgrade from Baird, which went after Micron Technology (NASDAQ:MU) as well. Micron's rating was cut in a similar fashion, with its price target maintained at $17. The analyst echoed this theme:
DRAM inventory replenishment at PC OEMs is now over, after ramping steadily since the beginning of this year; DRAM pricing is likely close to a peak for the year, with supply likely exceeding demand this second half; Mobile DRAM pricing declined in July, impacted by weakening mobile demand.
On a normal market day, these downgrades may not have had too much impact on these stocks. But with a big down day in US markets, both Intel and Micron were hit. Micron shares finished down $0.69 to $14.13, a loss of 4.66%, while Intel shares declined by $0.54, or 2.39%, to $22.03. Micron shares are now about a dollar off their 52-week high, which was set on Wednesday. It is noteworthy that the respective above price targets from this analyst on these names still represent roughly 20.3% upside for Micron, but just 4.4% for Intel.
Rise in the dividend yield:
Intel's decline obviously means that with the dividend still being paid at a $0.90 annual rate, the dividend yield has gone up. This was the first significant move over 4.00% in the yield that we have seen in several months, as you can see in the chart below. Now I understand that Intel did close at or just above a 4.00% yield in the past couple of days, but Thursday's close was at a 4.09% yield. It was the first close above 4.01%, 4.05%, even 4.08%, since the middle of April.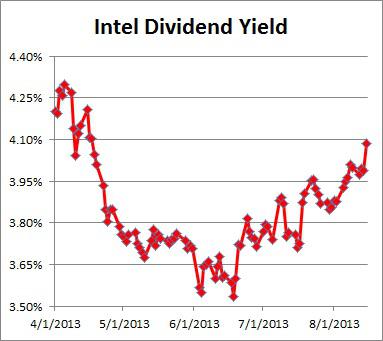 Intel shares are going the wrong way. While you can blame the market coming off its highs for some of it, the biggest culprit was Intel's second quarter earnings report, at which point the company cut its yearly revenue forecast. Intel shares were already coming off their highs into that report, as some like myself were expecting a cut, but the confirmation from the company was not welcomed. A cut in gross margins also spooked some. The lack of dividend raise also seemed to worry investors, and that helped to push Intel's short interest to another new high at the end of July.
Intel's rising yield has made the name even more of a dividend play than any other large cap technology name. Those that have read my articles know that I have compared Intel's yield to that of Apple (NASDAQ:AAPL), Cisco Systems (NASDAQ:CSCO), and Microsoft (NASDAQ:MSFT). All four of these names have dividend yields of 2.45% or greater, and market caps over $100 billion. No other tech names can say that, although if Intel shares continue lower, the $100 billion market cap level could be broken. The following chart shows a comparison of these four yields.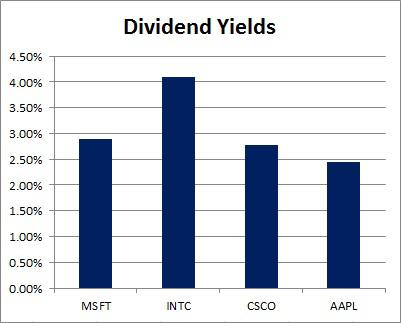 Intel has a monster advantage in terms of yield, which shouldn't surprise you since it has been that way for a while. But look at the advantage Intel now has, and the changes since my last update just a few weeks ago:
119 basis points over Microsoft, 20 bps increase. Intel's yield is 41.17% higher than that of Microsoft.
131 basis points over Cisco Systems, 3 bps increase. Intel's yield is 47.13% higher than that of Cisco.
164 basis points over Apple, 40 bps increase. Intel's yield is 66.73% higher than that of Apple.
Cisco's increase would have been greater if not for a 7.17% fall in shares of that name after its earnings disappointment. Put Cisco back at Wednesday's close, and you would have seen a 23 basis point increase for Intel's advantage over Cisco. Apple has seen its dividend yield shrink with a great rally in that stock, especially after it was announced that Carl Icahn had taken a position in Apple. Apple shares are up more than $43 this week alone, pushing its yield down by 23 basis points. That explains more than half of the increase in yield (from Intel's yield to Apple's) right there, with Intel's decline also helping.
A key technical indicator:
I don't use a lot of technical analysis in my writing, but I throw it in when I feel it is important. As Forbes pointed out Thursday afternoon, Intel crossed below (and closed below) its 200-day moving average on Thursday. Generally speaking, it's a bearish sign to break through this average on the down side. Intel investors are hoping this is not a sign of things to come. As you can see in the two-year chart below, the last time Intel broke below the 200-day, the next few months were extremely painful for investors.
Click to enlarge
(Source: Yahoo! Finance)
Strangely enough, the opposite recently happened to Apple. Apple had been trading below its 200-day moving average, but broke above it in a substantial way, as you can see below. Right now, Apple and Intel are certainly moving in opposite directions.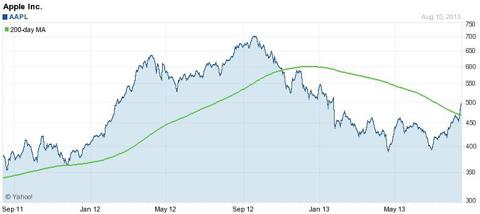 Click to enlarge
(Source: Yahoo! Finance)
Final Thoughts:
Intel broke through the 4.00% annual dividend yield level on Thursday, thanks to a big down day for US markets and an analyst downgrade. Shares of the chip giant finished the day barely above $22, yielding 4.09% at the close. What yield points are next up? Well, you can find them in the table below, showing yields to prices at the current dividend rate of 90 cents per year.

Right now, Intel is yielding about 30 basis points more than a 30-Year US Treasury bond. Most expect interest rates to continue higher in the future, so the question is which would be a riskier investment? Intel generates a fair amount of cash flow, allowing the above dividend and stock buyback, so that is nice. There could be more downside for Intel shares, but bonds seem to have more potential downside. You would figure that the PC market will turn eventually, and Intel's foray into mobile will certainly help going forward. Intel's turn will depend on your view of Intel's prospects and the PC/mobile market in general. It might not be time to buy Intel just yet, even with a nearly 4.10% annual dividend yield, but once Intel crossed 4.00%, it became a name for investors to keep on their dividend radar.
Disclosure: I have no positions in any stocks mentioned, and no plans to initiate any positions within the next 72 hours. I wrote this article myself, and it expresses my own opinions. I am not receiving compensation for it (other than from Seeking Alpha). I have no business relationship with any company whose stock is mentioned in this article.
Additional disclosure: Investors are always reminded that before making any investment, you should do your own proper due diligence on any name directly or indirectly mentioned in this article. Investors should also consider seeking advice from a broker or financial adviser before making any investment decisions. Any material in this article should be considered general information, and not relied on as a formal investment recommendation.