Consumer products producer Procter & Gamble (NYSE:PG) reported strong fourth quarter results. Revenue increased 2% (+4% excluding currency) year-over-year to $20.7 billion, exceeding consensus expectations. Core earnings per share fell 4% year-over-year to $0.79, which was still better than consensus estimates. For the full year, the firm posted core earnings per share of $4.05 (up 5% year-over-year) and revenue of $84.2 billion (up 1% year-over-year). Free cash flow totaled $10.8 billion for fiscal year 2013, equal to 13% of total revenue and 17% higher than fiscal year 2012.
Though fourth quarter results were decent, performance was not the most relevant story for P&G. New and old CEO A.G. Lafley took time to reveal his new strategy for the company. The fourth quarter conference call was chock full of insight, some of which were predictable but there was also much that revealed what may change about a company that has recently been viewed as stagnating under the tenure of Bob McDonald.
Lafley is largely known for his focus on product innovation and growing the top line, but we also heard Lafley stress the importance of accelerating cost-savings and productivity improvements. The new CEO mentioned that P&G has gone back to the drawing board with respect to its global supply chain, and it won't rule out any changes that can boost the firm's operating margin.
Some of what Lafley said is far from revolutionary, but it certainly represents a change in strategy from the trajectory of McDonald's reign. Over the past few years, we've seen P&G raise prices on some of its core products, and surprisingly, brand power didn't seem nearly as strong as many assumed. Detergent price increases mostly backfired, and P&G had to roll back the price increases to recapture market share.
Lafley seems to understand this issue, and he acknowledged that for P&G to drive top-line acceleration, the firm will need to move into more attractive businesses and markets, saying on the conference call:
"We need to accelerate growth into faster growing, higher margin, more structurally attractive. That means less capital intensive, less competitively concentrated industries, and we need to extend into emerging markets."
While obvious, we think this change in thinking could lead to P&G pursuing some possible acquisitions or product invention, either of which could materially drive top-line growth. Lafley also told a story about P&G's entry into cosmetics during the late 1990's/early 2000's and how the firm was able to drive enormous revenue growth. If we can see a similar story evolve in the coming years, P&G should see strong revenue and earnings expansion.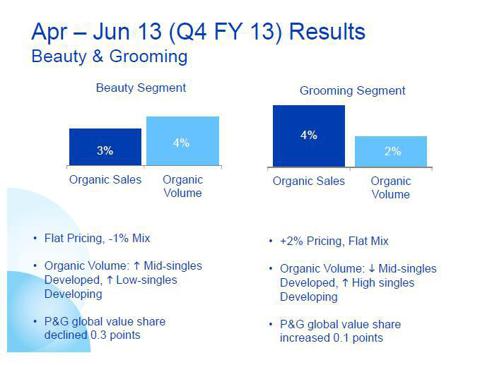 Image Source: PG 4Q FY2013 Investor Presentation
With respect to the firm's quarterly results, we saw solid performance from the 'Beauty' & 'Grooming' segments, where organic revenue increased 3% and 4% year-over-year, respectively. After-tax earnings increased 6% and 1% year-over-year for each segment, respectively, with profit advances driven largely by productivity cost savings. We were pleased to hear the firm maintained value share in the US male razor blade category, an area we've seen come under competitive pressures.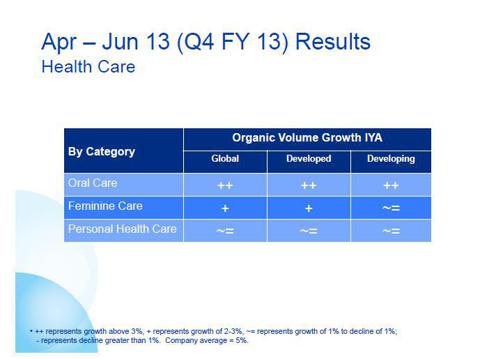 Image Source: PG 4Q FY2013 Investor Presentation
Organic sales at P&G's 'Health Care' segment increased 7% year-over-year on an organic basis and after-tax earnings jumped 15% year-over-year. Oral care growth was particularly strong across the board, which may be a bit of a surprise after competitor Colgate-Palmolive's (NYSE:CL) strong second quarter growth. It appears that, instead of abrupt market share shifts, the overall market for oral care products is experiencing solid growth. Though Colgate is still the number one brand in several important markets, P&G is doing a good job of driving growth in the segment.
P&G's other core segments, 'Fabric & Home Care' as well as 'Baby & Family', experienced very solid top-line expansion during the fourth quarter. 'Fabric & Home Care' organic sales increased 5% year-over-year driven largely by value share performance in Western Europe (resulting from higher levels of promotional activity). Unfortunately, after-tax earnings fell 2% year-over-year during the quarter.
'Baby & Family' organic revenue grew 4% year-over-year while after-tax profits decreased 5% year-over-year as the firm spent money on start-up costs as well as experienced unfavorable product and geographic mixes.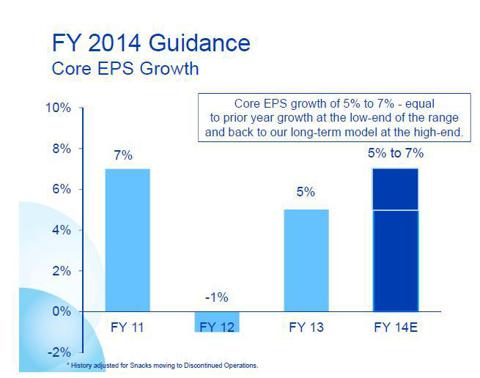 Image Source: PG 4Q FY2013 Investor Presentation
Looking ahead, Lafley wants to get the firm back to its long-term earnings-per-share growth potential of 5-7% during fiscal year 2014 (as the firm's earnings growth has been lackluster in prior years). P&G believes it can grow the top-line 3-4% in fiscal year 2014, roughly in-line with its expectations for broader market growth.
Valuentum's Take
Many thought former CEO Bob McDonald would have continued what Lafley accomplished at P&G, but McDonald went in a different, and perhaps a more frustrating direction. Now that Lafley is back on top, the firm will once again be focused on creating another large core product category, but this time around, Lafley wants to improve the supply chain in order to drive profitability increases.
We continue to hold shares of Procter & Gamble in the portfolio of our Dividend Growth Newsletter. Even if top-line revenue growth isn't robust in fiscal year 2014, we think cost savings and productivity improvements will lift cash flow generation and the firm's dividend.
Disclosure: I have no positions in any stocks mentioned, and no plans to initiate any positions within the next 72 hours. I wrote this article myself, and it expresses my own opinions. I am not receiving compensation for it (other than from Seeking Alpha). I have no business relationship with any company whose stock is mentioned in this article.
Additional disclosure: PG is included in our Dividend Growth Newsletter.