Aflac (NYSE:AFL) is the leading provider of supplemental insurance, which provides help with expenses not covered by a policyholder's major medical plan. The company is a market leader in both the United States and Japan as the number one provider of guaranteed-renewable insurance in both markets, and it continues to widen its moat by expanding product offerings to key customers in these markets. It is my belief that Aflac is one steal of a deal at today's current stock price.
Aflac has quietly increased earnings per share for the last 10 years at about a 13% annual clip. It has also increased its dividend for 29 consecutive years. What makes this possible is a durable competitive advantage that Aflac has created for itself by becoming a rare combination of differentiator (Aflac is pretty much the only insurance company worth speaking of in the supplemental individual insurance game) and low-cost producer, as evidenced by its high operating and net margins.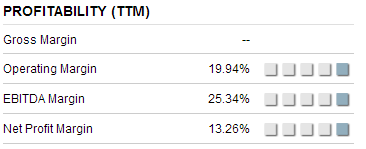 If you're going to try to improve margins, you either increase prices or cut costs - or both. Aflac has been able to do both by building brand recognition (the duck), cultivating prosperous business relationships, and building an expansive agency/location network in Japan and the U.S. without much overhead involved (especially in Japan, where its policies are sold out of banks and post offices).
Japan
Aflac garners most of its revenues (77%) from its business in Japan. Aflac Japan has burrowed itself into the Japanese economy by selling insurance policies and products out of 90% of all banks in Japan (the vast majority; no other competitor comes close), post offices, and other agencies. Banks and post offices are popular places to purchase insurance products in Japan. There are some great opportunities for growth in Japan, discussed below:
Japan Growth Catalysts
A recent announcement reveals that Aflac will extend its distribution at Japan Post offices, increasing from 1,000 to 20,000 locations. There is no timeline for this, nor is there any way to quantify how much that will increase insurance sales since it doesn't report that information in its SEC filings, however it is nevertheless growth, and I'll take it.
Japan is similar to the U.S. in that it has an aging population. Along with continuing cost pressure on Japan's healthcare system (similar to the U.S.), more costs are being shifted to consumers. These consumers will search for insurance products to help them manage these costs. Rising healthcare costs + aging population + consumers looking for insurance solutions to these problems = profits for Aflac. Aflac has already seen this and has created insurance products that fit these customers' needs.
3,200 agencies were added to the existing 18k agencies in Japan. If Aflac Japan can continue to add anywhere close to the 20% increase in the number of agencies that it added last year, this will provide additional outlets for revenues in the future.
USA Business and Moat
As touched on above, Aflac has differentiated itself in the marketplace as the go-to insurance provider for supplemental insurance. "It won't hurt to miss work," and "they pay you cash, which is just as good as money" are only a couple of the many memorable lines from recent ad campaigns. A couple of other tailwinds for the U.S. business are as follows:
Rising interest rates, which will help its interest income spread
Aflac is venturing into the group insurance market, with the acquisition of Continental American Insurance Company in 2009. Group insurance is a growth area for Aflac.
Another noteworthy point is that Aflac has been de-risking its investment portfolio over the last 5 years and has significantly reduced European exposure. Take a look at this paragraph from its latest 10-k:
At the start of 2008, sovereign and financial investments in peripheral eurozone countries of $3.3 billion comprised 5.9% of total investment and cash, declining to $1.1 billion, or 1.0% of total investments and cash by the end of 2012. At the start of 2008, investments in perpetual securities of $8.3 billion comprised 14.7% of total investments and cash, declining to $4.2 billion, or3.7% of total investments and cash by the end of 2012.
Valuation
Now for the valuation. In 2007 and 2008, Aflac's stock traded at highs of around $68 per share (albeit with a couple of drastic hiccups along the way). Aflac's current price is around $60, so it has basically remained flat and even dipped a little from those highs. But how has the underlying business performed since those years, and does it warrant the lag in stock price performance? Earnings per share have more than doubled from $2.62 in '08 to $6.11 in '12. That's a 24% annual increase in earnings power, without a move in stock price. Tangible book value has increased at about the same annual rate (25% per year), from $13.78 a share to $34.16 per share. The quality of Aflac's investment holdings have improved as well, resulting from its de-risking efforts. Aflac has emerged a stronger, more profitable company since 2008, yet the market is still assigning bearish multiples to the stock (P/E of 8.4 currently). It is clearly illogical to assign a higher multiple to a riskier stock (average P/E of 19 in 2008) and then a bearish multiple to a better company, yet the market has bestowed this gift to us.
If we assign a more reasonable multiple of 15 to next year's EPS, we arrive at a value of around $97 per share. Back out the net debt of around ($9) per share, and the stock value is $88/share. This is a very reasonable valuation for a company with a durable competitive advantage that earns high returns on capital (24% TTM Return on Equity) and grows its earnings at 13% per year. It also offers a nice Margin of Safety, presenting an upside of 44% to today's current stock price.
Conclusion
So, in the last 4-5 years, Aflac has improved its balance sheet, grown its tangible book value, grown its earnings, grown its dividend, opened new agencies in both the U.S. and Japan, expanded its product offerings in existing markets, ventured into new markets (group insurance) while maintaining focus on its core business, and made plans to further extend revenue outlets. And the stock has done nothing! There's really no reason to expect a huge move in stock price soon, but while I wait for the market to change its mind about Aflac, I'm happy to submerge this beach ball and watch the water level start to rise, because I know that in the long term, price will follow value. In the meantime, I'll be scooping up shares.
Disclosure: I am long AFL. I wrote this article myself, and it expresses my own opinions. I am not receiving compensation for it (other than from Seeking Alpha). I have no business relationship with any company whose stock is mentioned in this article.