There has been some talk in the market regarding the "Hindenburg Omen" which is a technical indicator signaling a potential market crash or at least a severe correction. Obviously there have been five Omens triggered out of the last few trading days. It's extremely rare to see as many Omens occurring together as we've seen over the past 50 days. The last time was prior to the bear market in 2007. The time before that was prior to the bear market in 2000.
There aren't only technical signals but also strong doubts from well known market observes about a potential correction. Jim Cramer fears there could be a "giant reset" in the market unless the strong macroeconomic data flows into the bottom line and eventually into the pockets of the consumer. Dan Seiver a professor of finance at San Diego State University runs a long-term valuation model which he said has shown statistically to have predictive value of where the market is headed. Professor Seiver just recently told in CNBC's "Squawk on the Street" that right now the number is relatively low and down in the range that is was in 2007, just prior to the financial crisis. I think it's absolutely appropriate to consider the market somehow ahead of itself. Can we really expect profit margins to improve from current record levels? Well, sure if companies still cut their costs which is mainly possible if they cut their workforce. But cutting workforce would dampen private consumption and negatively impact GDP. I fully understand that the man on the street calls this rally "the most hated stock-market rally in years" because there are only a handful of beneficiary such as the financial industry and the most wealthiest private investors. On the other side, the man on the street must fear to lose his job, has to endure salary reductions etc. While wealth, statistically correct, has improved only few people benefited. In my opinion the FED is completely wrong in their approach to artificially lift asset prices to generated a wealth multiplicator that slowly trickles into the consumers' pocket and stimulates more consumption. The FED does stimulated the next major market crash because fundamentals (without training wheels) do not reflect the current optimism in the stock market.
I think it's wise to reduce exposure to risk-assets such as preferred shares, equities and high-yield bonds. Even though I predicted correctly some correction in subordinated bonds and preferred shares back in May, the market has recovered and does at best look fairly priced. Usually, bond markets which function mostly rationally are ahead of equity markets. The spike in yields and therefore severe correction in US Treasuries has run its course. I expect that US Treasuries are very close to a bottom and share Bill Gross or Jeff Gundlach's view that yields will go down again. From that perspective I would recommend to slowly start buying US Treasuries, preferable iShares US Treasuries 20+ Year ETF (NYSEARCA:TLT). TLT does look oversold and close to a strong support level at its 200 day moving average at approx. USD 102.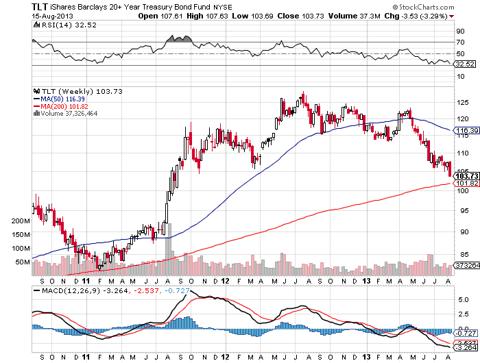 Additionally, I'm very much aware of some escalation in Egypt which would lead to a spike in oil (in case the Suez Canal would be closed) and a surge in gold. This morning we had a 5% intraday spike in China from 2321 to 2423, the stock exchange explained there was no technical issue. Within minutes the entire gains evaporated and the market even turned red.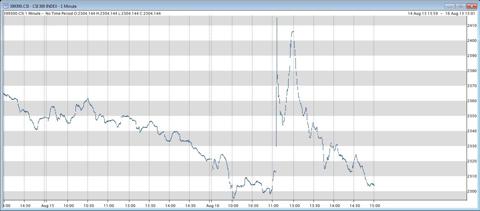 Does this look trustworthy? I'm actually very much unsettled about such trading patterns and would for sure start to decrease risk in my portfolios.
In the light of an Egyptian escalation, high stock valuations and too much optimism and very likely over-leverage in risk-assets, I would buy protection in the way of TLT, gold (NYSEARCA:GLD) and be long USD vs. EUR for the time being.
Disclosure: I have no positions in any stocks mentioned, but may initiate a long position in TLT, GLD over the next 72 hours. I wrote this article myself, and it expresses my own opinions. I am not receiving compensation for it. I have no business relationship with any company whose stock is mentioned in this article.