GLD: More Volatility Yet to Come
The massive declines and the attempted recoveries in the SPDR Gold Trust ETF (NYSEARCA:GLD) have made up one of the most significant market stories of the year. But with all of these extreme moves, some investors might be lulled into a false sense of security, suggesting that a period of consolidation is warranted as markets reassess sentiment and appropriate valuations. But recent policy changes in some of the world's largest markets have been expansive, far-reaching and continue to be revised in ways that are more restrictive from an import perspective. These policy changes also create widespread potential for increased black market activities that will undermine the market control traditionally enjoyed by established sales outlets, and lead to more erratic price activity into the latter parts of this year.
Specifically, India has chosen to focus on gold markets as a means for reducing its current account deficit multiple times this year. It is not a total surprise that this is the strategy that would be employed by the Reserve Bank of India (RBI), as the country has no choice but to import nearly all of its crude oil and gold materials. To be sure, the situation in India has reached an extreme that has become overtly problematic, with the rupee hitting all-time lows. India was the world's largest gold consumer last year and while China is expected to overtake this title next near, surging demand is expected in India as the country prepares for its festival and wedding seasons over the next few months (and into the end of the year).
Comparative Scenarios
For these reasons, we are unlikely to see any significant reductions in demand and when we look at the import figures already seen in anticipation of the RBI's policy changes, this becomes even more obvious. Cheaper gold prices in the earlier parts of the year led to a surge in buying, as gold bargain hunters in India bought 87% more bullion (383 metric tons) in the four months ending in July. So, when we look at the broader trends in conjunction with the true intentions of the RBI, the potential for volatility becomes even more apparent.
From a comparative perspective, 475 gold tons were shipped to India in the last six months of 2012. When we factor in the intentions of the RBI, this figure could fall to 150 tons for the same period. But are these reductions likely to meet the demand seen in markets? The spreads here are significant, and given our proximity to the festival and wedding seasons (where massive gold purchases are made to give as gifts and to be used as parts of ceremonies), the RBI's expectations start to look highly realistic. A much more likely scenario is that this excess demand will be satisfied by alternative (read: unofficial) trade channels, and this will only serve to create an environment where appropriate market valuations are much more difficult to discern.
In addition to this, we have seasonal periods typically characterized by enhanced demand at a time when significant outflows have been seen in the SPDR Gold Trust. Specifically, Paulson & Co. reduced holdings to 10.2M shares (cutting 50% of its stake) in the second quarter. This follows activities seen at George Soros and Daniel Loeb funds, which cut their entire positions during the same period. What does all of this point to? More volatility in GLD. To be sure, the commodities story of 2013 has not yet run its course, and the current environment suggests that some of the most erratic trading periods are still in store for us.
GLD Chart Perspective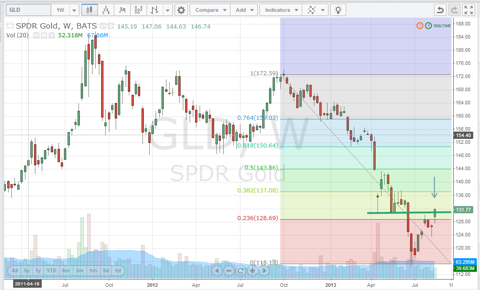 While the fundamental picture suggests some erratic price activity in GLD, some of the same can be seen from the technical perspective, as well. Recent price moves are suggestive of elevated ranges as support turned resistance at 130.90 has now seen a clear break. This puts the next technical target at 137.20, which is the 38.2% Fib retracement of the bear move from 174.
Disclosure: I have no positions in any stocks mentioned, and no plans to initiate any positions within the next 72 hours. I wrote this article myself, and it expresses my own opinions. I am not receiving compensation for it (other than from Seeking Alpha). I have no business relationship with any company whose stock is mentioned in this article.