Accenture (NYSE:ACN) is one of the leading organizations providing management consulting, information technology and outsourcing services around the world; last fiscal year it made $29.77 billion dollars in net revenue, and got a decent 13.06% of solid cash after capital expenditures, or $3.89 billions of owner earnings as W. Buffett calls it.
ACN gets its revenue from five big operating segments:
Communications, media and technology (20% of net revenue), financial services (22%), health and public service (16%), products (24%) and resources (18%).
Geographically, 48% of total revenue comes from the Americas, 39% from Europe, Africa and Middle East (EAME), and the remaining 13% comes from Asia. The consulting business represents 56% of net revenue, while outsourcing business has the other 44%.
In the next section, I will analyze the company and its fundamentals using information available on its SEC filings.
Profit margins.
The following graphic shows a history of ACN's profit margins for the past five years and last quarter of 2013.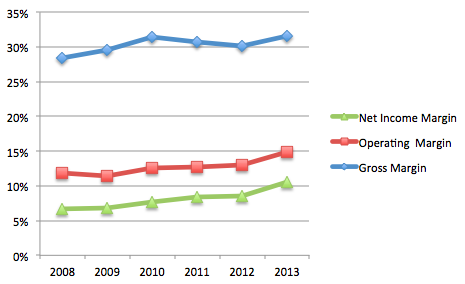 As the picture shows, ACN is constantly improving its margins, especially net income, which has jumped from 6.7% to 10.5% in the past 5 years.
Income Statement.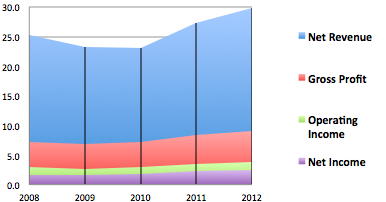 For the last 5 years, revenue has grown at a modest rate of 4.1% annually. As a result of profit margins improvement, net income has grown at a faster rate of 11.2%, getting from $1.7 billions to $2.6 billions in the 2008-2012 period.
For 2013's quarterly results, revenue has behaved almost flat, as you can see in the next picture from MSN money shows.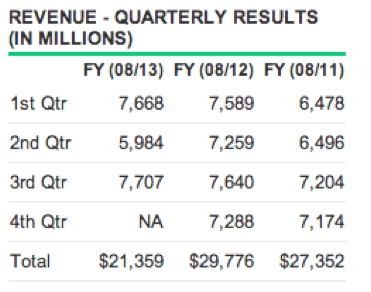 In its most recent 10-Q management explains that net revenues coming from the Americas increased 8% in local currency, driven by growth in the United States, partially offset by a decline in Brazil's.
EMEA net revenues decreased 1% in local currency. They also explain that Finland experienced a significant decline, as well as declines in Spain, Sweden and Norway. These declines were partially offset by growth in most countries across the remainder of the region, led by Switzerland, the Netherlands, the United Kingdom, Germany, South Africa and Italy.
Net revenue coming from Asia was flat in local currency, as growth in China and India was offset by declines in Australia and Japan.
Even though revenue has been slowed down due to macro economic factors, earnings per share have increased substantially faster.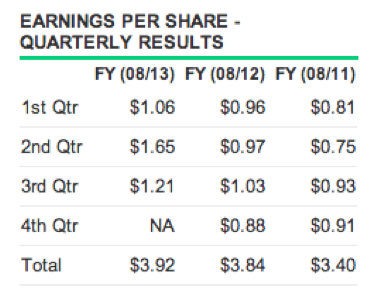 As you can appreciate, EPS is growing pretty fast; for the last 3 quarters, it has grown at an average rate of 48.5% (year over year comparison).
Balance Sheet.
As shown in its most recent balance sheet, ACN holds $5.9 billions in cash and equivalents and have $4.8 billions in receivables, making 90% of current assets.
In the liabilities section, it has $7.6 billion for current and $3.5 billion for non-current liabilities.
According to the quick ratio, it has $1.58 dollars of current asset for every dollar of current liabilities.
They can even handle total liabilities with its current assets; ACN has 7.8% more of current assents than total liabilities, a test that not many companies pass.
Another aspect worthwhile noticing, is that it carries no debt, it has liabilities on the balance sheet which most of them are accrued expenses (34% of total liabilities), but not borrowed money.
Cash Flow Statement.
The cash from operating activities has grown at a rate of 11% over the last 5 years; in that same period, only about 12% of earnings were used in investing activities, which reflects its business is not very capital intensive, and it doesn't need to do a lot of investing to generate cash or remain competitive, it may also reflects the slow growing revenues that we have seen.
The remaining 88% of its earnings has been used to improve the financial position of the company and benefit the shareholder; ACN keeps cash in hand, buys back shares and pays dividends to the common shareholder.
Its share's buy-back program has continued uninterrupted for 8 years, it used $1.64 billions last year. For the dividends, it has paid cash to shareholders for 7 years; in 2012 they paid a total of $950 millions, showing an increase of 47% with the prior year.
Risks.
Consulting and outsourcing services are in a highly competitive industry; this could lead to a decline in revenues, which also relies heavily on macro economic trends.
The majority of the net revenues come from currencies other than the U.S. dollar, unfavorable fluctuations in foreign currency exchange rates could have an adverse effect on the results of operations.
It's also important to note that many of its consulting contracts are less than 12 months in duration, and these contracts typically permit a client to terminate the agreement with as little as 30 days, therefore, it's very important to maintain its service's quality and competitive fees.
Valuation.
Right now, the price of the shares is fluctuating around $72 USD, it's P/E ratio is about 16 or 6% earnings yield; its pays a dividend yield of about 2.2%.
Using a discounted cash flow valuation, the fair price of a share comes up to be in the range of $75 and $81 dollars per share.
Conclusion.
Accenture is a well-known name in business consulting and services around the world, it also seems to have a good long-term outlook especially in the information technology business, which could lead to an increase in future revenues as management discuses in their 2013 vision.
As far as I can tell, the management team has done a pretty descent job improving the company's profitability and growing earnings per share at an attractive rate; people at ACN are also good cash flow managers, they maintain a very strong balance sheet and benefit their shareholders constantly.
I'm confident on its business model and reputation, since it is one of the leading companies in this attractive growing (around 27% annually) industry.
This growth stock with lower than average volatility (beta=0.9), seems to be slightly undervalued at $73 dollars, I would recommend, to conservative investors who have a moderate diversified growth portfolio, to start taking a long position on this stock due to its safety, stability and attractive upside potential.
Disclosure: I have no positions in any stocks mentioned, and no plans to initiate any positions within the next 72 hours. I wrote this article myself, and it expresses my own opinions. I am not receiving compensation for it. I have no business relationship with any company whose stock is mentioned in this article.