Just weeks ago, The Street's energy expert, Dan Dicker, made a bold call proclaiming to buy Sandridge Energy Inc. (NYSE:SD) under $5/share. Since, shares have appreciated almost 10%.
Mr Dicker's newest pick, BP plc (NYSE:BP), is supposedly undervalued relative to assets, dividend and cash flow projections, perhaps because of the infamous ongoing Gulf litigation. Dan disclosed he's long shares and proclaims the stock is a "screaming" buy at around $41/share, as it trades at a discount to asset value:
After watching this quick video I decided to investigate BP's underlying business to determine if it is indeed masked by the Gulf spill and looming litigation.
BP's estimates call for a ~36% increase of energy consumption over the next 20 years, driven by increased population.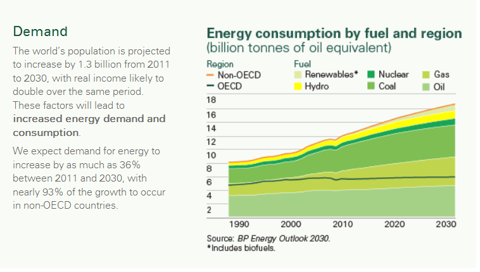 BP's asset base has grown tremendously over the recent past, averaging a CAGR of 5% since 2005: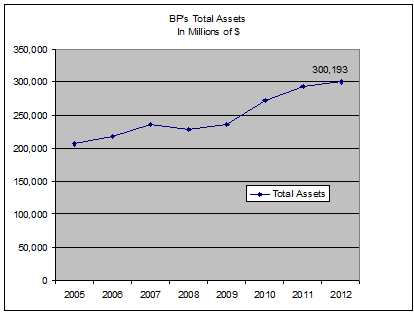 BP's assets include almost every aspect of energy production, including renewables, like 16 US wind farms totaling over 1,500 MW for example. In 2012 alone, BP acquired 26,250 sq. miles of new acreage in Brazil, Canada, Egypt, Namibia, Uruguay and the US for exploratory purposes. However, BP has several crown jewels that clearly stand out from the rest.
1. Rosneft Russia:
The sale of 50% in TNK-BP to Rosneft, and the settlement of outstanding disputes with partners have reduced uncertainty associated with this asset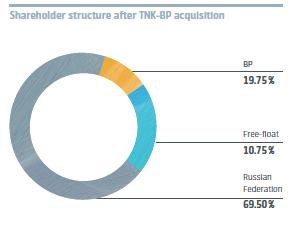 . As a result of the sale, BP will have a 19.75% share of the biggest publically traded oil company in the world in terms of oil production and reserves. In 2012, Rosneft's production reached 4 M BOE/day, or roughly 5% of total global output. Rosneft has total proved hydrocarbon reserves of 39.4 bln BOE, over 2,400 refilling stations, and 11 refining operations across Russia and Germany.
BP received nearly $11.8B in net cash from the transaction, as well as exposure to cash flows from all of Rosneft's assets via shares. BP's share of Rosneft generated $218 M for Q2 2013 and 945,000 BOE per day. No dividend was paid by Rosneft for Q2 2013, however on June 20th Rosneft management approved a dividend of 8 roubles/share. At current exchange rates, BP expects to receive $460 M in Rosnfelt dividends this August as a result.
As of Q1 2013 slide 19 estimate based on 2012 data, Rosneft's production was 27% of BP's total, and proved reserves were 33% of BP's total.

2. India:
Back in May of 2013, BP and partners announced a significant gas and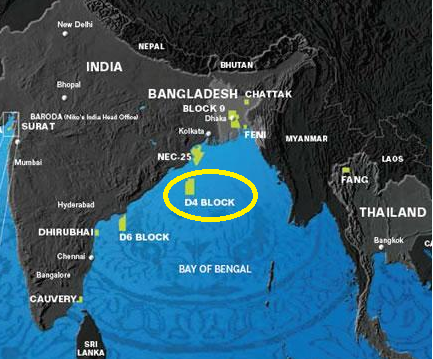 condensate discovery in the KG D6 block off the eastern coast of India. The "KGD6-MJ1 well" reached a depth of 4,509 meters - to explore the prospectivity of a Mesozoic Synrift Clastic reservoir lying over 2,000 meters below the already producing reservoirs in the D1-D3 gas fields. The evaluation well flowed 30.6 million standard cubic feet per day (mmscf/d) and liquid rate of 2,121 barrels/day with a choke of 36/64" with a flowing bottom hole pressure of 8,461 psia which suggests good flow potential. BP has a 30% share in this deep water asset, and a full scale appraisal program is currently underway to determine the extent of value associated with the discovery.
3. Angola LNG: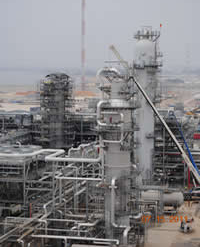 Angola LNG is a major LNG producer with operations in Angola, and is owned by big names in oil, including Sonangol (22.8%) and affiliates of Chevron (NYSE:CVX) (36.4%), Total (NYSE:TOT) (13.6%), BP (13.6%) and ENI (NYSE:E) (13.6%). Angola LNG has the potential to produce 1B cubic feet of clean gas per day for domestic and international markets. The facility will be supplied by the over 10 T cubic feet of gas reserves, with a capacity of 5.2 M tons (6.8 Bcm) per year, 360,000 cm of full containment LNG storage/condensate storage, with a loading jetty sized to accommodate large ships. The first LNG shipment was confirmed in June of 2013 by Petrobras (PBR). The shipment of 160,000 m³ of LNG, equivalent to 96 million m³ of natural gas, left the port of Soyo, Angola, bound for Brazil.
4. Atlantis Oil Field:
The third largest oil deposit in the Gulf of Mexico, Atlantis is estimated to hold 600 million barrels of oil. BP owns 56% of the deposit while BHP Billiton (NYSE:BHP) holds the remaining portion. Atlantis is capable of producing over 200,000 barrels of oil and 180 million cubic feet of gas per day, and the field has just recently restarted production in the recent quarter following improvements. BP is focused on further expanding the project by upgrading equipment used in this deep water environment.
Experts estimate BP currently trades for 4.2x cash flow and at a 25% discount to NAV. However I would argue the true price for all of BP's assets is almost impossible to determine given their enormous scope. BP currently sports a 5.2% yield and is expected to grow cash flow by 50% from 2011 levels through 2014, to $30 B. I should also add the yield is safe at these EPS levels. BP's $8 B share buy back program is also a positive for shareholders. $2 B worth of shares were already repurchased in 1 H 2013, most likely in the high 30s, already proving to be a smart investment. BP currently sports a P/E of 5.3x ttm, which is a huge discount to peers.
My Opinion:
I have been long BP shares since after the GOM incident, and have been anxiously awaiting litigation resolution, which probably won't come for another year or so. Until then, I'm reinvesting the lavish dividend and watching BP fine tune operations, particularly the upstream portfolio. The company is divesting non-core assets to raise cash and streamline the business, so it can focus on higher margin opportunities and groom its more lucrative projects.
I think BP is a great buy as it improves operations and increases cash flows, as well as executes a "progressive" dividend policy. I haven't analyzed the Gulf resolution here, but I can tell you it should be a huge positive catalyst for the stock, as almost any result will provide investor clarity and lift the shroud which has anchored the stock.
In regards to Dan Dicker, I think his bullish call on BP is appropriate as the company has many enormous projects well underway, and trades around 29% discount to NAV, according to estimates by Deutsche Bank. CEO Bob Dudley has stated "next year is when things really start moving," meaning 2014 could be a turning point for some of these bigger projects I've briefly mentioned. If BP's valuable assets do in fact start to take shape, now is the time to buy BP.
Disclosure: I am long BP, SD. I wrote this article myself, and it expresses my own opinions. I am not receiving compensation for it (other than from Seeking Alpha). I have no business relationship with any company whose stock is mentioned in this article.
Additional disclosure: I have been long CVX in the past year.