The AFG 50 is an actively managed model portfolio of 50 stocks created by The Applied Finance Group, designed to outperform its benchmark, the S&P 500.

Launched on June 10, 2004 at AFG's inaugural client conference, the AFG 50 was created with the goal in mind of consistently beating the S&P 500. Through September 29, 2009, the AFG 50 has enjoyed the following performance in comparison to its benchmark:

Price Returns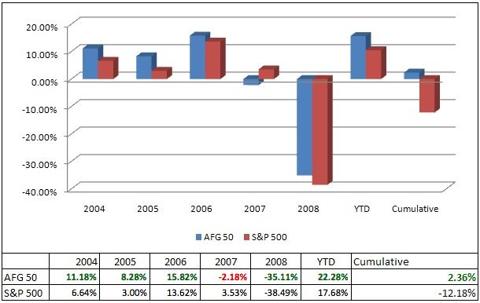 Click to enlarge

The AFG 50 has outperformed its benchmark 4 of the 5 years since its inception.

Sector Neutrality

Weighted equally to the S&P 500, the AFG 50 remains sector neutral. Not making sector bet's can make it harder for portfolios to perform well in comparison to the S&P 500, however, by picking the best stocks in each sector, the AFG 50 has still managed to outperform it's benchmark.

The AFG 50 Portfolio has outperformed the S&P 500 by over 1400 basis points in the last two years with less than 15% turnover.

With a model portfolio like the AFG 50, there are also many different benefits such as:
Consistent Methodology - Since it was created in 1999, AFG's framework has never changed, meaning all quantitative variables provided are derived through live data without bias.

Time Saving Research - Saving you time and effort by researching for you with frequent updated, the AFG 50 allows you to spend less time on daily due diligence activities and spend more time on harvesting new business.

Cost Efficient - The AFG 50 allows you to get the most out of your dollar. By using the AFG 50, you are provided with the research of an entire research team, which is less costly than hiring a personal analyst, let alone an entire analyst team.

Immediate Notification - Any time a change is made to the AFG 50, including new stocks, change of recommendation or adjustments to the model, every AFG 50 client will instantly be notified.

Complete Analyst Team - Backed by AFG's own team of analysts, the AFG 50 provides in-depth research reports on each update of the portfolio. AFG's analyst team monitors each major economic sector with the intent of providing every AFG 50 client with actionable buy idea's backed by extensive research and due diligence.

Outsourced Research Team - The AFG 50 is meant to be used as an outsourced research team, providing AFG 50 clients with recommendations pushed by detailed models, company reports, live data updates and a back-up list for possible replacements within each sector.
Example Report

Example Report

Below is a sample of a recent report issued by our analyst team highlighting a new addition to the AFG 50 portfolio on Murphy Oil Corp.
Murphy Oil (NYSE: MUR) Summary

Murphy Oil is an integrated oil company with worldwide oil & gas production and oil refining operations in the United States and the United Kingdom. The Exploration & Production (E&P) segment produces crude oil and natural gas with about 40% conducted in North America and almost 60% in international regions, most of which is in Malaysia.

The Refining & Marketing (R&M) segment consists of two crude oil refineries in the U.S. (in Meraux, LA and Superior, WI), one in England (Milford Haven, Wales) and 1,036 owned and operated gasoline stations, most of which are located in Wal-Mart Supercenter parking lots.

A relatively small integrated oil company, MUR continues to focus on what it does well: produce oil and its derivatives profitably. In the R&M segment, the company reported a gain in operations, while many industry peers reported losses.