We now have the 9th week of sales data on Arena Pharmaceuticals (NASDAQ:ARNA) anti-obesity drug Belviq. I have made a couple of changes this week. The first notable change is that I have removed the more linear path to $150 million in sales by the end of 2013. The removal of this data set is due to the fact that after 8 weeks it was abundantly clear that the sales figures would not emulate this model at all because the sales pace is well below any of those points. The second notable change is the addition of the Symphony data. The Symphony line will trail by 1 week because typically the Symphony data is not available when this article series is submitted for publication. The Arena stock price moves and reacts on the IMS data that hits the news flow first.
The data used is from IMS Healthcare (orange). This company reports numbers each Friday.
I adjust the IMS data up 30% to account for any under-estimates that can arise for a number of reasons.
Another company, Symphony Health, also tracks sales data. It typically comes out later in the day, and after the sales data from IMS has carried its impact on the markets. I track Symphony data, and I adjust it up by 20%. I am adding a Symphony data line (in green), though it will be 1 week trailing due to the timing.
The tracking blue path is a model on how Eisai (OTCPK:ESALY) can arrive at $150 million in gross sales by the end of the year. More realistically, in my opinion, sales are pacing toward between $60 million and $70 million (gross) by the end of 2013 and the $150 million goal will not be met. Analysts like Leerink Swan and Jefferies (yellow line) are likely in the right neighborhood on their respective gross sales expectations. The wild card is what the average script price is and how much revenue Arena can generate per script. The only way the $150 million is attainable at this point is via a hockey stick growth pattern. It is important to understand that gross sales is the sales number prior to discounts and adjustments. The blue lines track Eisai's "hopeful aspirations" goal, not Arena's goals.
The charts have an "analysts' expectations" line (depicted in Yellow). This line now tracks to $68 million in gross sales by the end of the year. In theory, $68 million in gross sales will pay out about $10 million in "royalties" (percentage of net sales) to Arena. I use an average net script price of $100 (down from $125). In the most recent quarter the average was $82. I am adjusting upward because the weight of free trials should improve as the next 6 months pass. The analyst line represents what sales would have to track to get to the $12 price target that they have established.
The orange line depicts my 30% adjusted IMS sales. It is currently pacing just above the blue hockey stick model and the yellow analysts' model.
The green line depicts my 20% adjusted Symphony sales. It is currently pacing above all lines.
I have not stated that the company will track to any particular line.
This week the IMS scripts came in at 3,135. Last week the number was 3,168. Week over week growth was -1%. As stated, I adjust that number up by 30%. My adjusted IMS script number is 4,076. The chart below is a 12 week blow-up of the larger 30 week chart. As you can see, the current adjusted script pace is just above the yellow analyst line that would, in theory, generate a $12 price target. Scripts are also pacing just above the blue hockey stick model that would pace Arena to $150 million in gross sales by the end of this year.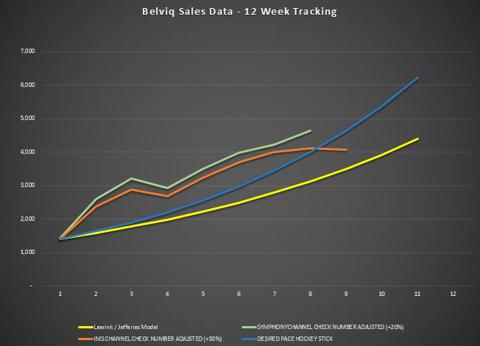 The 30-week chart below outlines the overall pace and projected paths through the end of 2013. The current pace for script sales is pointing toward $60 to $70 million in gross sales. It would now take roughly $68 million in gross sales to garner Arena the $10+ million analysts are looking for in $12 per share valuation targets.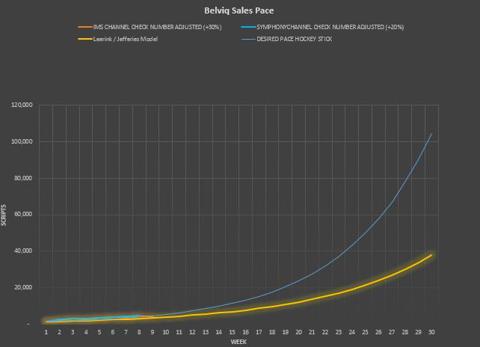 We are now seeing growth in script numbers flattening out a bit. While it is tempting to attribute this impact to seasonality, that argument loses weight when you consider that the competitor Vivus (NASDAQ:VVUS) saw scripts increase by 9% in the same period. More likely what we are seeing with Belviq is the churn effect taking shape. Not every patient that tries a drug will respond. Thus, there will be a point in time when people begin to "fall off of the roles." In theory, the Eisai reps are visiting more doctors and new doctors each week. In theory the word of mouth spread of Belviq is happening. Essentially, this week, the new influx was not enough to offset the churn. This is expected. There will be flat spots in the process.
What investors need to do now is take stock in their expectations for Belviq sales. Yes, they will increase. Yes, the drug has potential. Yes, advertising and more doctors will help. No, this is not taking off like a rocket. Eisai has now stated that $150 million in gross sales is "hopeful aspirations." With the IMS number cutting below the hockey stick line that represents "exponential growth" and "hopeful aspirations," it's now time to begin to assess the situation.
I have often stated that we will have a much clearer picture between weeks 12 and 16. I believe that to be the case because at that point we will be able to grasp responder rates, and we will have a full 3 months' worth of data to consider. However, savvy investors are now beginning to take stock in what the pattern is. We are seeing, right now, is that the analysts' expectation line (depicted in yellow) is in danger of being above actual sales. This knowledge will play into the uncertainty we have been seeing in this equity.
Longer term, with more insurance companies on board, this drug and its equity still carry a great deal of potential. It will simply take time. We have seen Qsymia sales trudge along for months in the environment of little insurance coverage. We now see that same issue will indeed carry an impact on Belviq.
Summary
Weekly IMS numbers are essentially flat week over week
The current pace has now fallen below the $150 hockey stick model
The current pace is showing a flatter trajectory that puts the analyst model in a caution state
Current unadjusted IMS sales are at 21,912
Current 30% adjusted IMS numbers are at 28,486
Estimated YTD gross sales (to consumers) is $5,682,877
Estimated YTD net sales (to consumers) is $2,848,600
Estimated YTD Arena share (from sales to consumers) $897,309
Disclosure: I am long ARNA. I wrote this article myself, and it expresses my own opinions. I am not receiving compensation for it (other than from Seeking Alpha). I have no business relationship with any company whose stock is mentioned in this article.
Additional disclosure: I have no position in Eisai or Vivus