The US Dollar has gained strength against the Brazilian Real and is now approaching the 5-year high as the 'Chart of the Day' below indicates. Brazil has some real problems and the social unrest which came to light recently most certainly did not help matters but one has to wonder about the promise that the country offers. If Petrobras (NYSE:PBR) can develop their offshore reserves and sell enough crude to overseas markets, then the country will have a solid source of funding for development, plus the currency would gain some level of strength based off of the 'Dutch Disease' that usually hits those who begin producing large amounts of crude. We would note that we suspect the move to parity versus the US Dollar would be less dramatic simply because the country already produces so many commodities for export, but we do believe that long-term, Brazil could become similar to a Canada or Australia if they can ever figure out the political issues they have at home.
Today we will look at recent results from the Utica and the big impact the most recent drill results from a company which filed on June 13th the paperwork for a $1 billion IPO might have on everyone in the play.
Chart of the Day: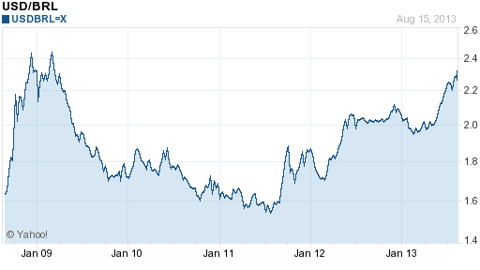 Source: Yahoo Finance
Commodity prices this morning are as follows:
Gold: $1366.30/ounce, up by $5.40/ounce
Silver: $23.01/ounce, up by $0.075/ounce
Oil: $107.33/barrel, UNCH by $0.00/barrel
RBOB Gas: $2.9831/gallon, down by $0.0014/gallon
Natural Gas: $3.366/MMbtu, down by $0.053/MMbtu
Copper: $3.362/pound, up by $0.0245/pound
Platinum: $1527.00/ounce, down by $5.30/ounce
Oil & Natural Gas
We have dedicated a lot of time, effort and energy to researching the Utica and the companies operating within it and came out with a handful of winners and a couple of losers. Even with the setbacks in a few names, the Utica theme has been a huge winner for our portfolios and many of our readers' but recent results from the Utica have us thinking that we may have only seen the tip of the iceberg at this time.
Those with exposure to the Utica have performed very well over the past two years, but there may be even more upside after the results that Antero Resources announced earlier this week.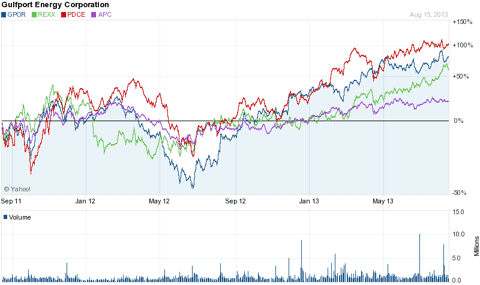 Source: Yahoo Finance
It has been accepted up until this point that Gulfport Energy (NASDAQ:GPOR), a company in which we are shareholders, had the best acreage and was at the epicenter of the core of the Utica play. The company had the best drill results and a large enough sample size to convince everyone of this, plus their results were well above everyone else's. With the results that privately held Antero Resources announced this week (see press release here) all of this has changed though.
Antero Utica Shale Wells - 24-Hour Peak Production Rates(2)

Well Name

County

Oil-
Equivalent

Rate
(Boe/d)(1)

Wellhead Gas

(MMcf/d)

Condensate

(Bbl/d)

Shrunk Gas

(MMcf/d)(1)

NGL

(Bbl/d)(1)

%
Liquids(1)

BTU

Lateral

Length

(Feet)

Yontz 1H

Monroe

8,879

38.9

52

33.9

3,177

36%

1161

5,115

Rubel 1H

Monroe

7,917

31.1

214

25.9

3,391

46%

1231

6,554

Rubel 2H(2)

Monroe

7,816

30.9

232

25.8

3,284

45%

1217

6,571

Rubel 3H(2)

Monroe

7,097

28.4

142

23.7

3,003

44%

1220

6,424

Norman 1H

Monroe

6,181

26.1

45

22.3

2,419

40%

1186

5,498

Wayne 3HA

Noble

5,852

14.7

1,905

11.6

2,018

67%

1272

6,712

Wayne 4H

Noble

5,698

14.2

1,922

11.2

1,907

67%

1265

6,493

Wayne 2H

Noble

4,257

10.9

1,331

8.5

1,503

67%

1281

6,094

Miley 2H

Noble

3,740

8.6

1,450

6.7

1,172

70%

1278

6,153

Miley 5HA

Noble

3,369

7.7

1,285

6.0

1,090

70%

1291

6,296

Sanford 1H

Noble

1,148

1.8

653

1.4

256

79%

1316

7,159

Average - Ethane Recovery

5,632

19.4

839

16.1

2,111

57%

1247

6,279

Average - Ethane Rejection(3)

4,682

19.4

839

18.2

805

42%

1247

6,279
| | |
| --- | --- |
| | |
| (1) | 24-hour peak rates assume full ethane recovery however Antero is currently rejecting ethane due to lack of ethane pipeline and current market prices. |
| (2) | Rubel 2H and 3H peak rates based on 6-hour and 4-hour flow tests, respectively. |
| (3) | Average of Antero's first 11 wells assuming ethane rejection. |
Source: Antero Resources
We looked at some maps we have and it appears that Gulfport does have acreage nearby but so too does Rex Energy (NASDAQ:REXX) and PDC Energy (NASDAQ:PDCE), two companies we have been bullish on because of their exposure to the Utica and the initial results they have released. What is interesting about all of this is that the drilling took place in the southern portion of the Utica in Ohio and many thought that this acreage would be unproductive. That is why PDC Energy has not participated to the upside as much as they should have based on their net acreage position in the Utica; many simply assumed that the southern acreage would end up being worth little to nothing at all. Now these are just 24-hour IP rates, but those are monster numbers and as such they have made us that much more bullish of the Utica and those with acreage either surrounding or near the Antero drilling locations.
We think this news means a lot to Gulfport, Rex and PDC but we should also mention Anadarko Petroleum (NYSE:APC) which has acreage nearby and could benefit. Any positive news will have less of an effect on the company because of its sheer size, but if they were able to mirror what Antero's results were, it would provide a boost to the shares.
We are once again bullish all things Utica as it now appears we have more than one sweet spot in the play and we could see the Utica become like the Bakken where you have a few prime areas rather than just a shale play with one core area and then normalized results from the vast majority of the rest of the acreage.
Disclosure: I am long GPOR. I wrote this article myself, and it expresses my own opinions. I am not receiving compensation for it (other than from Seeking Alpha). I have no business relationship with any company whose stock is mentioned in this article.
Additional disclosure: I also hold a position in EVEP, another Utica player.