Shares of BlackBerry (NASDAQ:BBRY) took a wild ride earlier this week, gaining 27% in less than three trading sessions after Reuters reported early Friday morning that the company was considering a potential sale. On Monday, the company confirmed that it had formed a special committee to explore so-called "strategic alternatives," among them the outright sale of the company.
The takeover rumors are nothing new for BlackBerry, which has been a rumored target of companies such as Lenovo (OTCPK:LNVGY), Amazon.com (NASDAQ:AMZN), IBM (NYSE:IBM) and many others over the past few years, as its market share has eroded and its profits have disappeared. That said, the possibility of a takeover certainly seems stronger than it did in the past, for a number of reasons. To begin with, BlackBerry (formerly known as Research In Motion, or RIM) had in the past rejected several overtures, apparently preferring to fix its problems on its own. The Reuters report and the company's announcement of the special committee shows that BlackBerry is now, at the least, considering a possible outright sale of the company. Meanwhile, the interest from Canadian pension funds, and the resignation of board member Prem Watsa, ostensibly to avoid conflicts of interest, have added a private equity consortium to the long list of potential white knights for the smartphone maker.
Still, it's not at all clear that a deal can, or will, get done; nor is it at all guaranteed that a takeover will be particularly beneficial to shareholders who buy in at current levels. Investors looking to BBRY for a quick score must first consider both BlackBerry's current position, and the travails at fellow former tech titan Dell (NASDAQ:DELL), now locked in a bitter takeover battle of its own. There are a number of factors to keep in mind:
The gains on the rumor may take up much, if not all, of the gains on the news.
Near the end of 2012, Dell shares were languishing near their lows from the 2008-09 financial crisis, as the PC industry struggled and the company itself fell to third place in market share. The stock did see some gains late in the year and into 2013, but at $11 per share the company was still some 75% below its 2005 highs.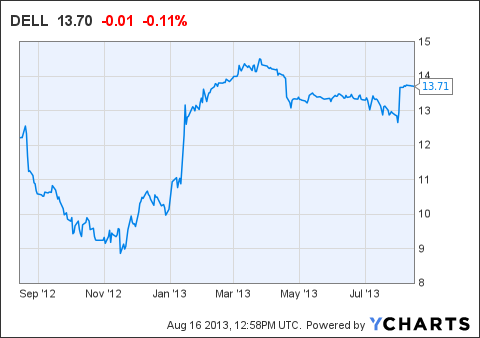 Then, on Jan. 14, Bloomberg reported that the company was in talks with private equity firms about a potential leveraged buyout led by founder Michael Dell. Dell shares soared on the news, gaining 21% in two days to close on the 15th at $13.02.
Dell stock would continue to gain as rumors of a bidding war circulated; it would peak in late March around $14.50 per share, when billionaire Carl Icahn and private equity firm Blackstone (NYSE:BX) were rumored to be preparing formal bids. But shares would soon fall below the Michael Dell group's offer price of $13.65 when Blackstone dropped out a few weeks later. All told, Dell shares have gained a little more than 5% from their close on Jan. 15, the day after the LBO bid was announced; they now trade at a modest discount to the Dell group's upgraded offer of $13.75 per share and a 13-cent-per-share special dividend. In other words, the majority of the LBO-related gains came immediately after the rumors began; since the stock spiked, it has actually underperformed the broad market.
To be fair, BBRY shares have pulled back over the past few sessions; the stock is only about 14% above its levels before the M&A speculation broke. It's also true that a rising share price can modestly boost the offer from a potential acquirer: What is seen as a great deal at $12.50 might still be seen as a good deal at $13.25, for instance. But, for the most part, gains on the rumor are taken away from gains on the news. The premium offered by a potential acquirer, should one arise, will be less than it would have been without BBRY's recent run.
A struggling company gets a cheap valuation.
Like with BlackBerry this week, Dell shares jumped in January on hopes of an even higher price for the shares, not necessarily because the LBO was seen as a done deal. In fact, analysts were largely skeptical of the Dell buyout happening at all; they have been similarly dubious of BlackBerry's prospects to go private.
So, when Dell went to $13, it was likely that many buyers were hopeful of a takeout offer substantially higher, discounted for the apparent likelihood that the deal would fall through. In fact, on the third day after the story of the buyout broke, Dell would tumble by more than 4% after the Wall Street Journal reported the Michael Dell-led group would offer between $13 and $14 per share. That price came in below expectations.
Similarly, BlackBerry investors should realize that a buyer -- whether another company seeking to integrate BlackBerry's enterprise technology or its patent portfolio, or a private equity firm or consortium -- will be looking to buy the company cheap. And, given its current and projected losses, BlackBerry will have little leverage at the negotiating table.
Buyouts are not necessarily beneficial to smaller shareholders.
Shareholders have been, and likely remain, upset about the low offer price for Dell, with Barron's pointing out that "it is unprecedented for a company to go private at such a paltry P/E." But, in the article, Bernstein & Co. analyst Toni Sacconaghi pointed out that the combination of Michael Dell's 15.7% stake, plus shares held by merger arbitrageurs and index funds, would make opposition to the buyout difficult. The group did fail in its recent attempt to change voting rules for shareholders considering its offer, but a recent lawsuit filed by Icahn shows that the Dell-led group may still get its way.
With rumors swirling of a "made in Canada" takeover of BlackBerry, smaller shareholders may again face being squeezed out. Jefferies analyst Peter Misek told Bloomberg he estimates Canadian pension funds and banks own some 17% of BlackBerry shares. Should Watsa -- who owns 10% of the company -- combine with one or several of those funds, their combined holdings, along with those of index funds and merger arbs, could make opposition to any deal they negotiate rather difficult.
In addition, the government of Canada will also need to approve a foreign purchase of the company. Comments from political leaders about a potential BlackBerry sale have been somewhat contradictory in the past, but there is little doubt that the government would rather see BlackBerry remain a Canadian company. This would seem to add to the clout held by Watsa -- often referred to as "Canada's Warren Buffett" -- and pension funds should a formal bid be introduced.
It's also worth noting that most potential acquirers -- whether an operating company or a private equity firm -- would likely look to lower expenses, most immediately through a lower headcount. With BlackBerry already having eliminated over 5,000 jobs, the Canadian government may be loath to approve a sale without some sort of safeguard against future layoffs. Such an agreement would either favor a Watsa-led group -- increasing their leverage and potentially lowering the required offer price -- or force other suitors to adjust their own offer prices accordingly.
All told, the initial euphoria about a BlackBerry sale seemed to overlook a number of roadblocks toward either a leveraged buyout or an acquisition. That is likely one reason shares fell 10% from Tuesday's intraday highs. A deal may still go through; but those who focus on a potential "white knight" for BlackBerry need to remember that knight may do more for the company than he does for its shareholders.
Disclosure: I have no positions in any stocks mentioned, and no plans to initiate any positions within the next 72 hours. I wrote this article myself, and it expresses my own opinions. I am not receiving compensation for it (other than from Seeking Alpha). I have no business relationship with any company whose stock is mentioned in this article.