Long shareholders of Pandora Media (NYSE:P) must be brimming with joy since their investments have already doubled since May. To date, shares of Pandora Media continue to soar and now achieved 119.7% YTD growth, and the trend is still pointing upward. The chart shows the rally started in the middle of November 2012, and the nine-month streak already creates an air of concerns of a looming correction. However, the rally is backed by fundamentals and the financial figures showed good first-quarter performance that beat analysts.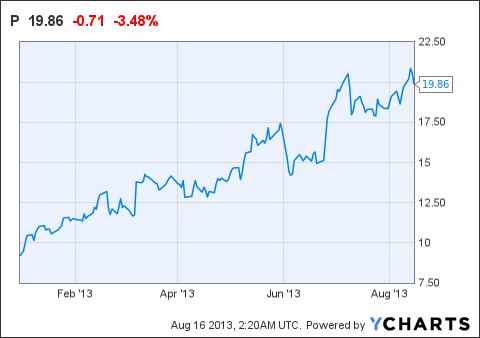 P data by YCharts
Financial performance
During the first quarter, the company posted tremendously improved revenue at $128.5 million, up 58% from $81.50 million during the same period a year ago. This was driven by remarkable growth in subscribers and in mobile advertising. According to Joe Kennedy, CEO of Pandora, mobile ad revenue and mobile listening hours were seen at record highs during the quarter. This boosted the company's revenue.
On the contrary, Pandora also posted a net loss of $28.6 million, equivalent to $0.16 per share. The loss deteriorated from only 20.2 million, or $0.12 per share, in the year-ago quarter. Earnings were pulled down by increasing costs on product development and content acquisition, as well as sales and marketing. These are investments made to further strengthen the position of the company in the market.
Despite incurring net loss, shares jumped around 9% after hours. This was partly driven by the announcement stating that the firm raised its full-year bottom-line guidance to a net loss of two cents to eight cents earnings per share. The previous full-year projection was a net loss of 5 cents to a profit of 5 cents per share.
For the second quarter, the company is scheduled to release its earnings call on August 22. It previously adjusted its forecasts of bottom-line results to a profit of one cent a share to a loss of 2 cents a share. Revenue, on the other hand, was pegged at $155 million to $160 million. These are the key metrics to watch for in the upcoming earnings call.
Past growth catalysts
In March, the company launched the ads-free version for Windows Phone 8. The one-year ads-free offer will attract more people to use Pandora, and this will also help sustain its growth for the rest of the year.
During the same month, it also announced that its U.S. registered user-base just surpassed the 200 million mark. Within a span of 2 years, it added more than 140 million registered users, or more than half of its total subscribers. Keep in mind that Pandora was launched way back in 2005. Thus, the sudden surge of its user base only showed the recent growing popularity of Pandora.
For this year, Pandora's monthly listener hours, active listening, and percentage share of total U.S. radio listening notably improved year-over-year (check the table below). Growth in the monthly audience metrics over last year is a reflection of the company's increasing grasp of the market as it continues to attract more listeners. This also reflects that this year is a better year for Pandora.
| Month | FY 2013 (million) | FY 2012 (million) | Percentage increase (decrease) |
| --- | --- | --- | --- |
| January | 1390 | 952 | 47% |
| February | 1380 | 975 | 42% |
| March | 1490 | 1070 | 40% |
| April | 1310 | 1060 | 24% |
| May | 1350 | 1100 | 22% |
| June | 1250 | 1080 | 17% |
| July | 1280 | 1120 | 14% |
| Month | FY 2013 (million) | FY 2012 (million) | Percentage increase (decrease) |
| --- | --- | --- | --- |
| January | 65.6 | 47.6 | 38% |
| February | 67.7 | 49.0 | 37% |
| March | 69.5 | 51.2 | 36% |
| April | 70.1 | 51.9 | 35% |
| May | 70.8 | 53.3 | 22% |
| June | 71.1 | 54.5 | 30% |
| July | 71.2 | 54.9 | 30% |
| Month | FY 2013 (%) | FY 2012 (%) |
| --- | --- | --- |
| January | 8.03 | 5.55 |
| February | 8.48 | 5.74 |
| March | 8.05 | 5.73 |
| April | 7.33 | 5.95 |
| May | 7.29 | 5.80 |
| June | 7.04 | 5.98 |
| July | 7.04 | 6.13 |
Competitors
In spite of the remarkable increases in the audience metrics, Pandora is in for a tougher ride ahead as the competition is increasingly intense with the entry of big companies like Google (NASDAQ:GOOG). While it operates differently, Google Play All Access has several competitive advantages despite being a new entrant to the sector. It has a large number of followers that it can easily tap on to quickly grab a significant hold of the market.
Unlike Pandora that mainly earns from ads, Google Play is a subscription-based service that offers ads-free on-demand Internet music streaming. It was launched in the U.S. on May. Just recently it has gone live in 12 countries that include Australia, New Zealand, Austria, Spain, Portugal, Luxembourg, France, Ireland, Italy, Belgium, and in the United Kingdom.
Google Play quickly expanded its global footprint, unlike Pandora that is only available in the U.S. despite being in the market for almost 12 years. Pandora is yet to expand its footprint globally as licensing restrictions continue to haunt the company from expanding.
Google Play directly competes with Spotify. But Sirius XM Radio (NASDAQ:SIRI) is also in serious trouble against a bigger competitor. Just like Google Play, Sirius XM Radio is a subscription-base service that earns from the monthly subscription to on-demand ads-free live streaming music. In terms of monthly subscription fee, Google Play has cheaper plans compared to Sirius. But there are also exciting perks bundled in each Sirius plan that makes it cost-effective and competitive, as well.
Sirius reported strong second-quarter performance that beat estimates. Revenue rose 13% while earnings shot up to 48 cents a share compared with 3 cents earnings a year ago. However, this also includes the $3 billion income tax benefit in relation to its previous net operating losses. Without this item, earnings slightly declined to 2 cents a share.
Final Note
During the first half of the year, Pandora made a steep jump driven by increased audience metrics. However, the metrics also showed declining figures in listener hours. Its share of total U.S. radio listening is declining, as well. On the other hand, its active listeners are increasing month-over-month since January.
This could also mean that the second-quarter figures will be lower than the first quarter. But they are, nevertheless, an improvement over last year based on the trend of the audience metrics. Thus, the rally may persist towards the end of the year as it continues to enjoy market dominance in the U.S. and year-over-year increase in active listeners and listener hours. But its rally may no longer be as steep as during the first quarter of 2013.
Nonetheless, it is still an attractive stock for investment with great potential for short gains. On a long-term basis, the appeal is lesser unless Pandora does something to resolve its licensing problems that inhibit it from expanding globally. Otherwise, it will gradually lose its share in the market, especially with Google now a part of the competitive landscape and very aggressive in expanding its global footprint.
Disclosure: I have no positions in any stocks mentioned, and no plans to initiate any positions within the next 72 hours. I wrote this article myself, and it expresses my own opinions. I am not receiving compensation for it (other than from Seeking Alpha). I have no business relationship with any company whose stock is mentioned in this article.