On Thursday, August 15, GasLog (NYSE:GLOG) announced that it had ordered two new 174K cbm Tri-Fuel Diesel Electric LNG carriers from Samsung Heavy Industries. These carriers are expected to be delivered in 2016 which is the same year the company will begin seven-year charters with BG Group (OTCQX:BRGYY) (OTCQX:BRGXF).
Once delivered, GasLog expects the vessels to generate a combined annualized EBITDA of $46M-$47M in their first year of operation, and I strongly believe EBITDA could surpass $55M by the third full year of operation. That being said, I wanted to take a closer look at not only GasLog's fleet-driven orders but a number of the fundamental catalysts driving my decision to remain long on shares of GasLog.
Performance and Trend Status
Based on Thursday's closing price, shares of GLOG are trading 5.10% below their 20-day simple moving average, 1.56% below their 50-day simple moving average, and 4.63% above their 200-day simple moving average. These numbers indicate a short-term and mid-term downtrend, and long-term uptrend for the stock, which generally translates into a near-term selling mode and longer-term buying mode for most traders. Shares of GLOG, which currently possess a market cap of $859.14 million, a P/E ratio of 164.00, a forward P/E ratio of 12.37, and a forward yield of 3.35% ($0.44), settled Thursday's trading session at a price of $13.12/share.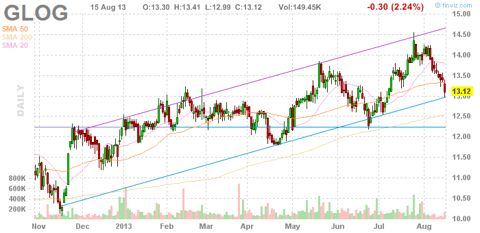 Three Ways GasLog Will Benefit From Its Most Recent Vessel Purchase
After taking a closer look at the company's purchase of its two new 174K cbm Tri-Fuel Diesel Electric LNG carriers from Samsung Heavy Industries, I wanted to highlight three of the ways GasLog would benefit from the transaction.
As a result of the company's transaction the first benefit is clearly the fact that this purchase carries a much lower delivered cost then the transaction which occurred in February (I estimate a delivery cost of between $395M and $405M considering estimations of the February transaction were between $410M and $420M).
The second benefit comes in the form of EBITDA generation, and as I noted earlier, EBITDA should not only exceed $55 million by year three, but potentially exceed $62 million by year five.
What am I basing my calculations on, you ask? By giving a strong consideration to the company's current fleet commitments as well as its ability to consider various options in terms of charter-related scheduling.
As noted in its press release, "The strength of GasLog's existing fleet commitments and the addition of these new fixed rate term charters gives GasLog additional flexibility ... and such factors allow GasLog to be opportunistic in placing these vessels into shorter-term charters if the company determines such charters would be beneficial to the overall profitability."
The last of the three benefits should actually come as a sigh of relief to existing shareholders as the issuance of additional equity will not be needed to fund either of these transactions over the next 12-24 months. The company, in its press release, noted that, "due to the support of Samsung Heavy Industries and the consequently attractive terms achieved, and the recent successful launch of our Norwegian Bond, GasLog does not currently foresee the need to raise new equity within the next couple of years to fund these two new orders."
Conclusion
When it comes to those who may be looking to establish a position in GasLog Ltd., I'd continue to keep a watchful eye on not only the company's dividend behavior over the next 12-24 months (since its IPO it has maintained a quarterly payout of $0.11/share) but what improvements and/or changes the company makes to enhance its long-term EBITDA growth. Natural Gas Transportation revenues will continue to weigh heavily on the company's earnings performance, and if things don't improve, investors may begin to take a cautious approach when it comes to establishing a long-term position in the company's stock.
Disclosure: I am long GLOG. I wrote this article myself, and it expresses my own opinions. I am not receiving compensation for it (other than from Seeking Alpha). I have no business relationship with any company whose stock is mentioned in this article.