Business networking power LinkedIn (NYSE:LNKD) announced robust second quarter results. Total revenue surged 59% year-over-year to $364 million, easily exceeding consensus estimates. Non-GAAP earnings per share swelled 137% year-over-year to $0.38, smashing consensus expectations. Free cash flow totaled $31 million, equal to 9% of total revenue.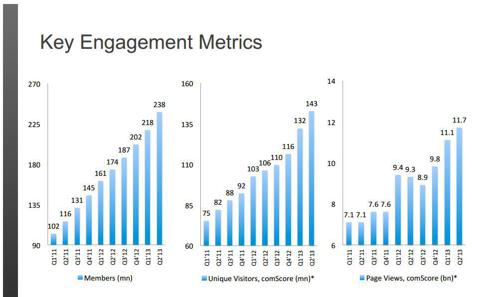 Image Source: LNKD 2Q 2013 Investor Presentation
Above all, membership growth continues to be the contributing factor to LinkedIn's success, in our view. Membership surged 9% sequentially and 37% year-over-year to 238 million users. As a result of membership expansion, LinkedIn is experiencing strong growth in unique visitors and page views. The story is simple: as LinkedIn network swells in membership, we see more advertisers, more employers and more job seekers all approaching LinkedIn with different needs.
This powerful "network effect" played out well in LinkedIn's "Talent Solutions" product, as revenue advanced 69% year-over-year to $205 million. Recruiters and corporate human resources departments are realizing the value of having strong analytical tools and easy access to a database of millions of potential employees. Importantly, we're seeing the firm develop effective new products. CEO Jeff Weiner specifically described one of the new products, saying on the conference call:
"We also launched CheckIn in Q2, used by recruiters primarily at campus job fairs. CheckIn simplifies how recruiters collect and manage candidate information at these events by enabling college students, among the fastest growing member segments on LinkedIn, to use their LinkedIn profile to register with companies that are hiring. CheckIn became available to all Talent Solutions customers in July and we are seeing strong early demand for the mobile product."
"Marketing Solutions" revenue rose 36% year-over-year to $86 million, driven largely by the increased number of eyeballs visiting LinkedIn. In a sense, LinkedIn is mimicking both Facebook (NASDAQ:FB) and Twitter in pursing sponsored stories that blend in as part of the news feed (rather than using only sidebar and banner ads). Such advertisements have proven to be effective (at Facebook), so we suspect the new ads would be fairly valuable to LinkedIn. Of course, the firm will have to maintain the right balance of advertisements and user-generated content in order to retain users.
On the employee side, premium subscriptions revenue jumped 68% year-over-year to $73 million. LinkedIn premium subscriptions generally receive positive reviews, and it appears that the premium subscription gives users more valuable search and contact features not readily available for free users. This rate of growth will likely slow as a greater percentage of the membership base has a premium account.
The cost side of the equation continues to worry some investors. Sales and marketing costs rose 61% year-over-year to $122 million, but they were only up 50 basis points as a percentage of sales to 33.6%. Product development costs increased 59% year-over-year to $96 million, equal to 26.3% of total sales. While we would like to see marketing costs come down as a percentage of revenue, we are seeing the firm's increased spending lead to higher sales. Similarly, we do not mind seeing LinkedIn spend a large amount of money on research and development because we think the company is creating some interesting new products that will inevitably help drive revenue growth.
Looking ahead to the third quarter, LinkedIn expects adjusted EBITDA of $81-$83 million driven by revenue of $367-$373 million. For the full-year, the company raised its revenue range to $1.455-$1.475 billion from the earlier forecast of $1.43-$1.46 billion. The adjusted EBITDA outlook for the full-year was revised upward to $340-$355 million, compared to the prior expectation of $330-$345 million. Neither change has much impact on LinkedIn's valuation, as most of the firm's intrinsic worth rests on how it looks 5-10 years from now.
Valuentum's Take
LinkedIn continues to execute on revenue growth initiatives, though free cash flow generation remains relatively weak. The firm's business model is still relatively untested, and we could see dramatic declines when economic conditions deteriorate. We also believe Facebook translates much better to mobile consumption. We remain on the sidelines in our Best Ideas portfolio at this time.
Disclosure: I have no positions in any stocks mentioned, and no plans to initiate any positions within the next 72 hours. I wrote this article myself, and it expresses my own opinions. I am not receiving compensation for it (other than from Seeking Alpha). I have no business relationship with any company whose stock is mentioned in this article.