Banks to Replenish DIF, but it won't be enough
FDIC insured institutions are required to prepay their estimated quarterly risk-based assessments for the 4th quarter of 2009 and for all of 2010, 2011 and 2012 by the end of 2009. This is FDIC MADNESS!
The assessments will total about $45 billion, but that's not enough to bring the fund back to a ratio of 1.15 versus insured deposits. This alignment must be completed by the end of June 2013 five years after the Deposit Insurance Fund dipped below 1.15 at the end of June 2008. We were at 0.22 at the end of Q2 2009. Right now the DIF is in arrears by $4.7 billion.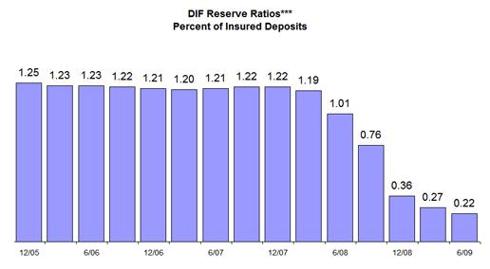 Click to enlarge
It is clear to me that FDIC does not understand all of the problems in the banking system just as they missed the beginning of "The Great Credit Crunch". This tax on 8,145 banks will put a drag on lending, which hurts US tax payers, who wish to refinance mortgages and finance small businesses.
The FDIC projects that bank failures will cost the Deposit Insurance Fund around $100 billion, which sounds too optimistic to me. The $45 billion may cover this if failures total 200 or so. My prediction is that failures will total 500 to 800, and the FDIC does not realize the risks I see.
I predict that to get the DIF back into balance by June 2013, the FDIC will have to tap its $500 billion temporary line of credit with the US Treasury. I say, why not start now and leave the banking system the flexibility to help tax payers and consumers, by making prudent new loans.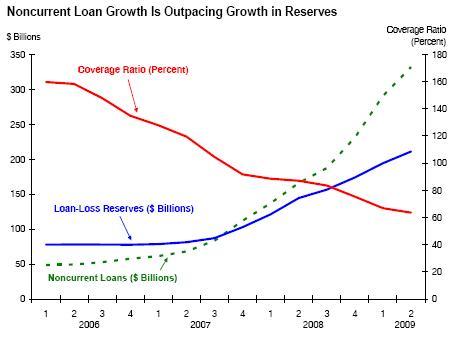 Keep in mind that banks are getting dangerously exposed to additional bad loans and their Reserve for Losses are not keeping pace with noncurrent loans, and by this stat things are getting worse in a hurry.
Case-Shiller Home Price Index
The 20-City Composite Home Price Index declined 13.3% year over year, but all cities showed a sequential rise from June to July. From the June 2006 high to the 2009 trough the index was down 32.6%.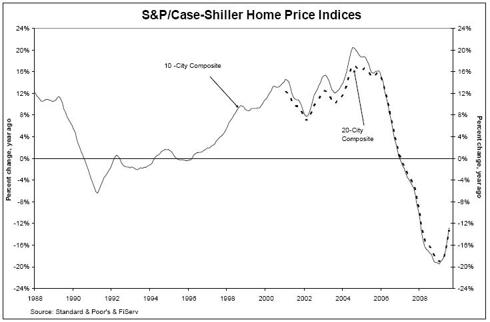 Click to enlarge
The rise for the month of July versus June is not seasonally adjusted and the first time homebuyer tax rebate will expire at the end of November.
In addition, there's an estimated ten million homes that are not yet listed as foreclosures.
Consumer Confidence Weaker Than Expected
The Conference Board reported that Consumer Confidence fell to 53.1 in September when a rise above 56 was expected. That miss really does not matter as the neutral zone for confidence is 90 to 120. The reason for confidence to slip is the fact that Main Street, USA is worried about job losses.
The Bull versus Bear Debate - Chart Courtesy of Thomson / Reuters
The bulls seem to think that the bears missed the huge rally since March 6th, but that's not my story. When 85% disagreed with my call for a Bear Market Rally on March 6th, I called for a 40% to 50% rally for the S&P 500 and with my target from 666.92 to my annual resistances, which are now pivots at 910.8 and 967.1. Since then, I have taken the bearish side of the bull versus bear debate.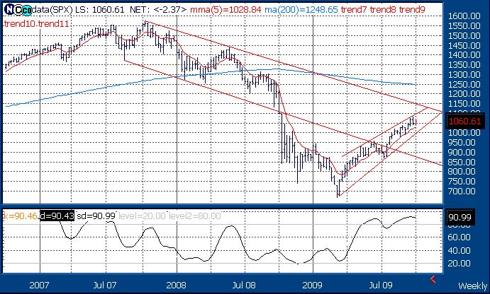 Click to enlarge
Disclosure: I Hold No Positions in the Stocks I Cover.