Billionaire Stephen Mandel of Lone Pine Capital is bulking up on the fast growing retailer Michael Kors (NYSE:KORS), per a 13D filing with the SEC last week. The Lone Pine investment firm has nearly $20 billion in public equity funds and recently upped its stake in Kors by 30% to 10.49 million shares.
Going into 2Q, Mandel had some robust company as big believers of Michael Kors. This includes Viking Global, which owned 12 million shares. Other notable billionaires include Steve Cohen's SAC Capital (3.2 million shares), Ken Griffin's Citadel Investment Group (2.9 million) and John Griffin's Blue Ridge Capital (2.1 million) - collectively owning just over 15% of the company.
Kors IPOed at the end of 2011 and since then has been on a tear, up nearly 200%. The company continues to lead the way in fashion apparel and accessories. Despite the robust run up in Kors' stock and its 35x P/E, the stock is still quite a "buy."
The company has a 50% return on invested capital, generates $330 million in free cash flow, and has no debt. Kors also has a $750 million net current asset value (current assets less total liabilities).
Its business model is simple yet elegant. Design great looking clothes and purses. The company has an impressively diverse product portfolio with not more than 30% of revenues being derived from a single segment: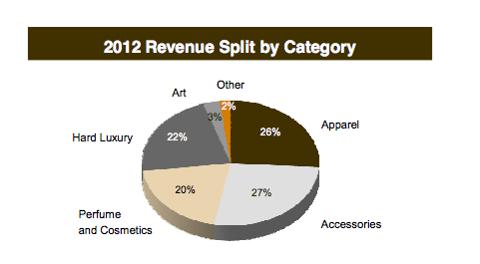 This town ain't big enough for the both of us
Oh but it is. One of Kors' top comps is well known accessory maker Coach (NYSE:COH). The stock has also been a top pick of mine for some time. Coach was down some 10% last week on fears that it is losing market share in North America. And this might be true, where one of the biggest benefactors of Coach's market share loss has been Kors.
And although North America might not be big enough for both Kors and Coach, the world surely is, where both accessory companies are planning to turn their focus to international markets. The Luxury Goods Worldwide Market Study shows that the worldwide luxury goods market could move from $283 billion in 2012 to upwards of $330 billion in 2015.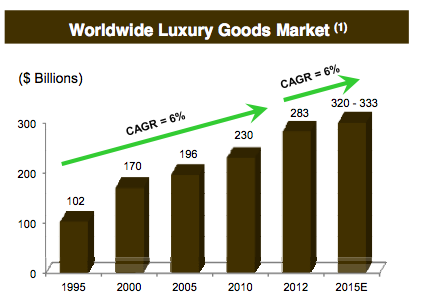 Coach still gets over two thirds of its revenue from North America, meaning the company has a lot more riding on the international expansion. Kors already has an impressive geographical revenue profile, with around a third from the Americas, Europe and Asia, each.
Kors Revenues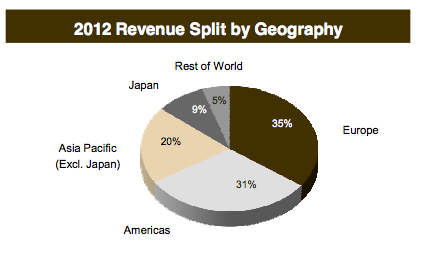 So what's Coach's plan to take the heat off the maturing and saturating North American accessory market? On a global basis, Coach is increasing its retail square footage by 9% in 2013. Coach said the North American premium women's/men's bags and accessories market grew by 15% in fiscal 2013, to $11 billion (a big positive for both Kors and Coach). But Coach's direct sales were up only 6% in the area.
The Chinese murse
Enter the male shopper and return of the male purse ("murse"). Coach's true growth segment lies in the men's segment. The retailer plans to open ten factory stores for men this year in North America. As well, the company plans to open thirteen stores in Japan focused on men. Meanwhile, the Asian market is expected to be a $12 billion market for men's handbags and accessories, with China making up $3.2 billion of that.
The other real beauty is China, where Coach has increased sales over 40% during the trailing twelve months. The accessory company now owns 6% of the Chinese luxury market. As the middle class rises in China, Coach is sure to be a big benefactor. The company caters to both the luxury markets and affordable luxury in China, with goods priced as low as $40, but as high as $10K. What's more is that men make up over 55% of the Chinese luxury market consumers.
Strength in retail
Lone Pine also has another major retailer, Gap (NYSE:GPS), as one of its top holdings. Gap is the fund's 5th largest holding, making up 3.9% of its public equity portfolio. With Kors and Gap, Mandel is betting on a return of the retail shopper.
Gap offers various clothing and accessory products via its flagship brands Gap, Banana Republic and Old Navy.
Back in July, the retailer posted EPS of $0.71, compared to the $.47 for the same period last year. This comes as June same store sales were up 7%. Gap, like Coach, is looking to become less reliant on North America.
Gap plans to open 160 company owned stores this year, with a focus on Cap China and Old Navy Japan, while at the same time closing 80 stores in North America. Longer-term, Gap is planning to generate 30% from international and online sales by 2013 end, compared to 27% in fiscal 2012.
Recent international forays include the fact that Gap has already opened stores in Paraguay, Hungary and Mexico so far this year. What's more is the retailer is planning to enter eight Latin American countries over the next few years, namely Brazil.
Bottom line
Billionaire Stephen Mandel appears to have a real affinity for the retail business. We believe both Kors and Coach are solid bets, especially as the economy rebounds and consumers look to loosen their purse strings, so to speak. Gap has been hitting on all cylinders since the turnaround and has some solid brands to lean on.
Disclosure: I have no positions in any stocks mentioned, and no plans to initiate any positions within the next 72 hours. I wrote this article myself, and it expresses my own opinions. I am not receiving compensation for it (other than from Seeking Alpha). I have no business relationship with any company whose stock is mentioned in this article.