UBS AG (NYSE:UBS) intends to close its relationship with the Swiss government by purchasing its toxic assets back from the bad bank deal and hopes to turnaround by next year. With the recent rebound in the credit markets, the company believes that it could add back its assets to its balance sheets. However, this would not be possible before the second half of 2010.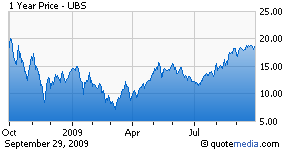 UBS AG is engaged in a fight with FINMA, Switzerland's financial independent supervisory authority over its plan to opt out of the bad bank scheme. Under the bad bank scheme, the company incurs hefty charges for protecting against huge losses on toxic assets. However, FINMA has ruled out such possibilities in the midst of the current unstable market. Though the Swiss government sold its 9% stake in UBS last month, around $23.5 billion of UBS assets are there in the government's bad bank.
Of late, UBS is making headlines for all the wrong reasons. The U.S. officially started gathering account details of 4,450 UBS clients in America who allegedly evaded taxes after Switzerland agreed to provide the relevant facts.
Switzerland recently signed an agreement to share banking information from January 2010 upon request from French tax authorities. This has resulted in large fund outflows as worried investors are eyeing a safe refuge.
Swiss banks have enjoyed large foreign deposits inflows over the years as a result of the country's tax system, which emphasizes extreme secrecy. However, the adoption of the Organization for Economic Co-operation and Development standards for tax cooperation coupled with the US Internal Revenue Service's lawsuit against UBS have led to dilution of secrecy.
The ongoing global economic turmoil severely hurt the Swiss banking major's balance sheet after the subprime crisis led to record losses. In particular, the investment banking arm of UBS experienced large trading losses after significant decreases in commissions and fee income. Its asset quality is beginning to turn negative and is expected to worsen further in the coming quarters. However, we expect the recent signs of economic recovery augur well for UBS.