Cal-Maine Foods Inc. (NASDAQ:CALM) reported weak results for the first quarter of fiscal 2010 with a net loss of 16 cents per share. Results were well below the Zacks Consensus Estimate of a profit of 18 cents per share and were down compared to a profit of 47 cents in the year-earlier period.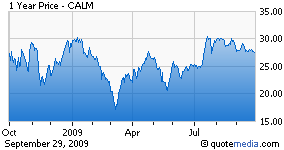 The loss was primarily attributable to the declining selling prices of eggs. Net average selling price of eggs fell 19% to 92 cents per dozen eggs in the quarter.
Net sales for the quarter declined 9.3% year-over-year to $187.7 million due to declining selling prices of eggs and lower sales to restaurants and foodservice customers. This was attributable to the current economic slowdown.
However, the number of eggs sold and produced by Cal-Maine was up year-over-year. In addition, feed costs were also low compared to the prior-year, but these together could not offset the egg-price decline.
The gross margin for the year also contracted 994 basis points to 9.7% versus 19.6% in the comparable prior-year quarter. Further, the company reported an operating loss of $5.3 million compared to a profit of $18 million in the prior-year period.
Cal-Maine Foods has cash and short-term investments of about $90.7 million and has a debt to capitalization ratio of 21.2%.
As part of Cal-Maine's dividend policy, the company does not pay dividends if it reports loss for the quarter.
Cal-Maine Foods, Inc. primarily engages in the production, grading, packing and sale of fresh shell eggs. The company currently is the largest producer and distributor of fresh shell eggs in the United States and sells the majority of its shell eggs in approximately 29 states across the Southwestern, Southeastern, Midwestern and Mid-Atlantic regions of the United States.