In a series of articles I'm calling "Dumpster Diving," I will be examining stocks that have been out of favor in an effort to determine if there is a value play to be had or if the stock is simply a value trap. I will discuss why the stock has been out of favor, the validity of these causes, if anything has changed, and if there is a catalyst for change in the future.
The dry bulk shipping industry has been in a tailspin for five years. The reason is straightforward and well-known. An oversupply of ships and depressed shipping demand has led to lower pricing power, diminished margins, and lower revenue and earnings for the shippers. In most cases today, the shipping charters are actually below operating costs. Not a good formula for an industry requiring significant capital investment on 20-year assets that have high fixed-operating costs.
The Baltic Dry Index (BDI) -- an index of current shipping rates for dry bulk goods such as coal, iron ore, and grains -- has chronicled this tailspin, dropping from over 11,000 in 2008 to just 661 in September 2012. However, the BDI has been on the rise over the last several months, hitting 1,000 this week. During the go-go days of 2007 and 2008, when the global economy was booming and China's appetite for raw materials appeared insatiable, the BDI skyrocketed leading to increased orders for new ships by all the shippers. Unfortunately, ship orders typically have a two- to three-year lead time and entail significant deposits and cancellation penalties. By 2009, the world was facing a financial crisis, a global recession, and a slowdown in China, leading to the collapse in shipping rates.
Click to enlarge images.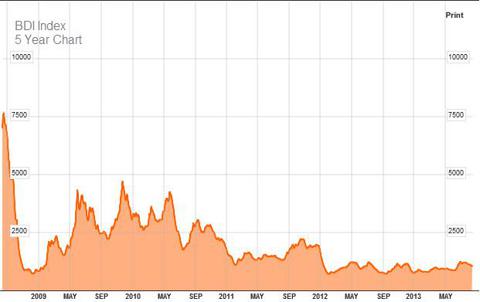 Source: Bloomberg.com.
DryShips' (NASDAQ:DRYS) business prospects and stock price followed suit, spending much of the past five years in decline and in the elevated risk state, according to the SmartStops equity risk signals. A combination of price decline and dilution has erased over $3.5 billion from the market cap, as DryShips fell from a split-adjusted $120.00 share to under $1.50. Today, DryShips trades at around $2.00 per share, wielding a market cap of just $767 million.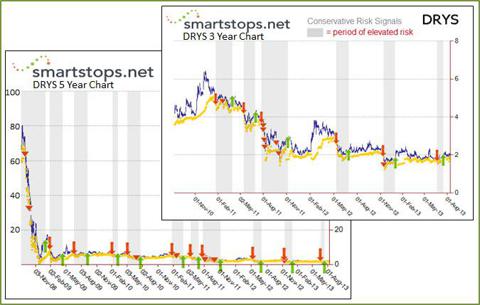 Source: SmartStops.net.
So, Where Do We Go From Here?
DryShips announced second-quarter earnings last week, providing data that the industry may be stabilizing. This has been reflected in the recent stock performance, which appears to have bottomed. And according the SmartStops Conservative Risk Signals, DryShips has returned to a Normal risk state. Is this a sign of things to come?
Business Overview
DryShips operates a fleet of dry bulk shippers, a fleet of tankers and has a major investment in Ocean Rig (NASDAQ:ORIG), which owns and operates a fleet of deep water oil drilling ships. The ORIG investment is often seen as Dryship's ace in the hole.
DryShips Primary Assets
Dry Bulk Ships -- Operating

Cape Size: 12

Panamax: 24

Supramax: 2

Dry Bulk Ships -- On Order for 2014 Delivery

Panamax Ice Class: 4

Tankers - Operating

Suezmax: 4

Aframax: 6

Ocean Rig Investment

78.4 million Shares

59% Ownership

Current Market Value: $1.4 billion
The Negatives
The current operating environment remains challenging. Shipping rates remain at depressed levels and new ships continue to come online.
Average C4TC rate during Q2 was $6,214 per day (down 2% year over year)
Average P4TC rage during Q2 was $7,055 per day (down 19% year over year)
World dry bulk fleet is expected to grow by 9.3% in 2013
Per the Dryship's conference call, seven Panamax, both Supramax as well as all of their tankers are currently off charters and earning spot market rates, which have been running below breakeven levels.
Liquidity Risk Is High
The Shipping Segment cash balance stands at $83.1 million with an additional $90.0 million in restricted cash. DryShips does not have access to Ocean Rig's capital and resources. The dry bulk and tanker shipping operations combined carry $1.6 billion in debt. Debt payments have averaged around $80 million per quarter. As with many of the shippers, DryShips is currently in breach of some of its debt covenants and is actively renegotiating terms. DryShips is offering its stake in Ocean Rig as collateral as part of these negotiations.
Management Team

CEO George Economou has been accused of self-dealing and entering into deals where a conflict of interest exists in the past. Many investors fear there is a risk of value being siphoned out of DryShips and into other family-owned entities. For example, Economou and his sister, through other entities, own a controlling interest in Cardiff, the company contracted by DryShips to manage the fleet. Also, in 2011 DryShips purchased OceanFreight, which was controlled by Economou's nephew. It was argued at the time that DryShips may have overpaid, thus bailing the nephew out. These are not trivial issues.
The Positives
Shipping demand growth is rebounding. Demand for coal imports in China and India remain strong, and improved grain harvests are expected to result in increased grain shipping demand this fall.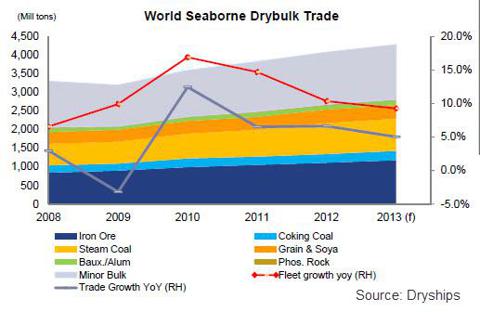 New build deliveries are falling and the scrapping of older ships has increased. Growth in shipping demand is expected to pass growth in fleet size by 2014.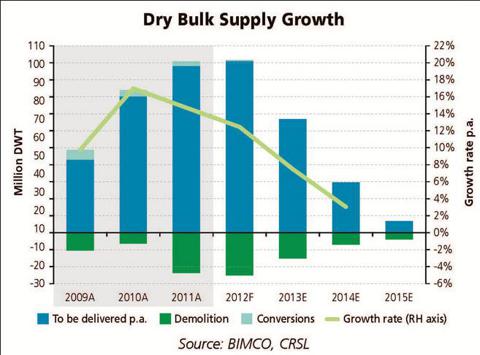 Fleet Assets

The DryShips fleet is young and diversified. The average age of the Drybulk fleet stands at 7.43 years. The tanker fleet is brand new. The four new builds scheduled for delivery in 2014 are specialized ice class ships. Demand for ice class ships should continue to grow as Russia further develops and promotes their Northern Sea Route, which links Europe to the Pacific.
Maintaining Liquidity

DryShips has shifted its strategy to maintain liquidity and stay within its debt covenants from one of selling shares of Ocean Rig to raise capital to one of leveraging Ocean Rig as collateral. However, DryShips remains aggressive and continues to pursue growth through the remaining four Panamax Ice ships currently on order, which will require further financing. If DryShips can maintain liquidity and avoid defaulting on its loans, this strategy will enable them to keep their ownership in Ocean Rig, thus participating in any future upside in the drilling company. Currently, 19% of their Ocean Rig shares have been pledged as collateral with 81% remaining available for use in future debt negotiations.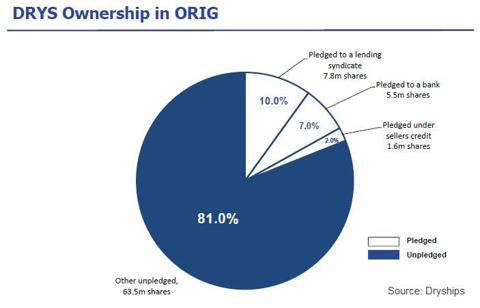 Related Party Dealings

Even if we accept the fact that the CEO of DryShips has a history of entering into deals with entities owned or controlled by himself or other family members and where a conflict of interest clearly exists, it is not in his interest to have DryShips go belly up. Not only does he maintain a substantial equity investment in DryShips, he would loose the benefits of such inter party dealings in the future and his reputation would be tarnished. I believe he has significant incentive to make DryShips a success.
Valuation

DryShips has a current active dry bulk fleet capacity of 4.07 million tons and an active tanker fleet capacity of 1.3 million tons for a combined shipping capacity of 5.40 million tons. At the current depressed market cap of $811 million, you are only paying $150 per ton of shipping capacity. This ratio is historically low. However, many shippers have been similarly impacted and are likewise on sale.

Bottom Forming

DryShips appears to have formed a bottom, hovering primarily between $1.7 and $2.2 for the last eight months. It closed Wednesday at $2.09 per share. Assuming it can manage its liquidity issues, the downside risk appears to be limited to around $1.70 while the upside potential could be several multiples. A rise in the BDI to the historically moderate level of 2,000 could result in DRYS being a multi-bagger.
Competition Declining Due to Industry Bankruptcies

Excel Maritime Carriers has filed for bankruptcy, and many believe Genco Shipping and Trading (NYSE:GNK) might be next. For those companies that do survive this industry recession, the competition will be greatly reduced.
Value of Ocean Rig Collateral Increasing

Ocean Rig has been executing well and growing rapidly. It appears their investments in deepwater drill rigs was well-timed. Three additional drill rigs are expected to be delivered in the second half of 2013, all of which already have drilling contracts signed. This performance should lower the risk and increase the value of the ORIG shares, which DryShips owns, making them a more effective tool when used as collateral with DryShips creditors.
Value Trap or Value Opportunity?
I believe DryShips represents a value opportunity. I expect a slow but stead recovery in the BDI over the next 12 months as shipping capacity growth slows and shipping demand continues its steady climb. With much of their fleet operating on spot, DryShips will be in a good position to capitalize as shipping rates rise. Furthermore, with ORIG performing, the strategy of leveraging that asset as collateral becomes more effective, thus further diminishing the risk of bankruptcy.
Conclusion
The low valuation was justified due to fleet overcapacity, pricing pressure, high debt levels, and bankruptcy concerns.
Catalysts do exist that are changing the picture, including a slowdown in capacity growth, continued shipping demand growth, stabilized and growing BDI, and performance of the Ocean Rig asset.
If you decide to make a speculative bet on a recovery in the dry bulk shipping industry, you may want to diversify by spreading your investment over several players such as Paragon Shipping (PRGN), Diana shipping (NYSE:DSX), and Navios Maritime Holdings (NYSE:NM). Andres Rueda recently wrote an excellent analysis on Paragon that may interest you. As always, monitor your investments, know what risk state your equities are in, and be prepared to take action to sidestep periods of elevated risk.
Disclosure: I am long DRYS. I wrote this article myself, and it expresses my own opinions. I am not receiving compensation for it (other than from Seeking Alpha). I have no business relationship with any company whose stock is mentioned in this article.