After an independent board investigation, Sequenom (NASDAQ:SQNM) has fired arguably the three most important people in a biotech outfit - its CEO, CFO, and head of Research & Development. At the bottom of this piece is a look at attempts to peg a fair value for these shares in the middle of a crisis - always a difficult endeavor considering the possibilites of legal action.

The review concluded that there was misconduct at multiple levels of the development of its prenatal diagnostic test Trisonomy 21, to be used for detection of Down syndrome:
Based on the special committee's work and recommendations, the independent members of the company's board of directors have concluded that as a result of the company's attempted transition from researching potential molecular diagnostic tests to developing and commercializing those tests, the company failed to put in place adequate protocols and controls for the conduct of studies in the Trisomy 21 program at the company. Certain of the company's employees also failed to provide adequate supervision. In the absence of such protocols, controls and supervision, the test data and results in the company's Trisomy 21 program included inadequately substantiated claims, inconsistencies and errors. Due to deficiencies in the company's disclosure controls and procedures, in a number of instances such test data and results were reported to the public in the company's press releases and other public statements.
None of the fired employees admitted any wrongdoing. Worth noting is that back in April of this year, Sequenom announced a delay in in this program, due to "discovery by company officials of employee mishandling of R&D test data and results." The stock was promptly thrashed, falling 70% on 4/29 to $4.75 per share. Tuesday's news is even worse, since the inappropriate behavior appears not to be limited to a small group of employees.

Just as important as this awful news is what to do with shares if you own them. The i-banks are out this morning advising clients on what the downside may be. It's always interesting, and incredibly difficult, to figure out the downside for a stock in "crisis mode." The headlines here are so bad that this could be a candidate for liquidation, in which case there does appear to be value on the balance sheet for shareholders: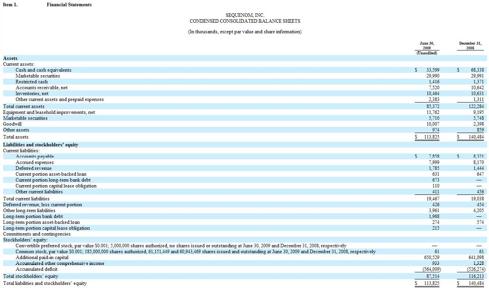 That said, the company is FLYING through cash: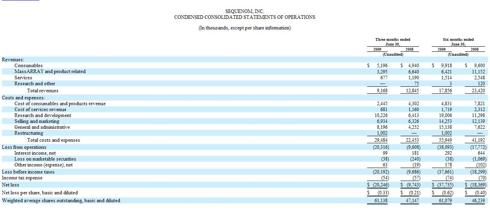 On to the price targets. The sell-side analysts were blindsided by the April announcement, so have been very cautious with targets and ratings since then. Still, this is pretty much a worse-case scenario.

-->> Hapoalim downgrades to Underperform from Neutral (give them credit for not rating it a Buy), and their target goes to $1.50. They see a long road to recovery.

-->> Caris & Co. lowers their target to 50cents from $3.00, as they see investors "in the dark," and were less than impressed with the detail of the explanation.

-->> Rodman & Renshaw sees the company's core business of genetic analysis worth $1.75, and the stock bottoming no lower than $2.00.

-->> Auriga already had a Sell rating on the stock, and keeps their price target at $3.00

-->> Leerink Swan says to hell with this, and drops coverage of the stock. Their last rating was a Neutral, with a target of $5-6.

Disclosure: no position