Pfizer (NYSE:PFE) has filed a new clinical trial this week for its drug candidate PF-00345439. We believe a long position in DRRX or PTIE may be warranted based on this development as outlined herein.
A quick check of previous clinical trials shows that this internal identifier refers to Remoxy, the abuse-resistant oxycodone formulation developed originally by Durect Corporation (NASDAQ:DRRX), licensed to Pain Therapeutics (NASDAQ:PTIE) and partnered to PFE ((see image below).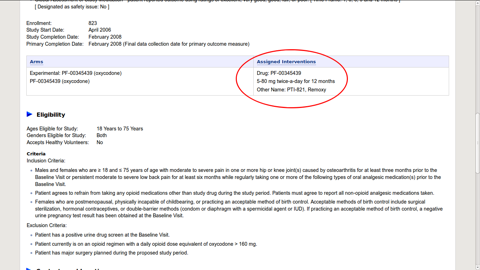 While there is no official word yet on whether this means Pfizer is definitely moving forward with Remoxy, this is the first positive sign the market has seen that the Remoxy program may continue.
Recall that on May 10th, in a their Q1 quarterly report , Pfizer indicated that:
"In 2005, King Pharmaceuticals, Inc. (King) entered into an agreement with Pain Therapeutics, Inc. (PT) to develop and commercialize Remoxy. In August 2008, the FDA accepted the NDA for Remoxy that had been submitted by King and PT. In December 2008, the FDA issued a "complete response" letter. In March 2009, King exercised its right under the agreement with PT to assume sole control and responsibility for the development of Remoxy. In December 2010, King resubmitted the NDA for Remoxy with the FDA. In June 2011, we and PT announced that a "complete response" letter was received from the FDA with regard to the resubmission of the NDA. We have been working to address the issues raised in the letter, which primarily relate to manufacturing. We met with the FDA in March 2013 to discuss our plan to address the June 2011 "complete response" letter. We received written guidance from the FDA in May regarding required next steps, including additional clinical studies, to address the letter. Based on this guidance, we are considering our options with respect to Remoxy. If we elect to continue development of Remoxy, we would not expect to submit a response to the "complete response" letter before mid-2015."
At the same time, Pfizer sent a latter to PTIE indicating, in part, that
You may recall Pfizer's statement during our 3Q 2012 earnings call that a go/no go decision will be forthcoming after the FDA meeting. That go/no go decision has not been made...
Today's development suggests that Pfizer is indeed going forward with development of Remoxy. However, one possible caveat is that this relatively small (18 patient) study could be part of work PFE is doing as part of its decision making process on whether or not to continue development of Remoxy. Until official word from PFE, PTIE or DRRX is received, the exact status and nature of these studies is unknown and thus the interpretation is a bit speculative.
While this is still speculative we believe a long position in DRRX or PTIE is warranted.
(DRRX 3-yr daily chart - data from TD Ameritrade - click to enlarge)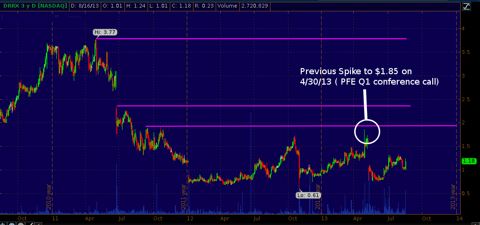 (PTIE 3-yr daily chart - data from TD Ameritrade - click to enlarge)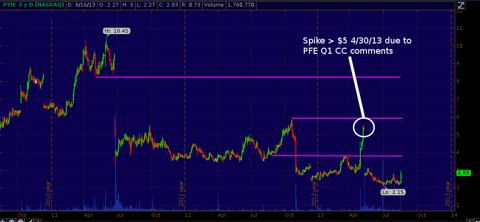 If news of a positive go-forward decision is announced, PTIE could return to the $4 - $5 range while DRRX could return to the $1.80 - $2 range as indicated in the charts above. DRRX is the more attractive of the two in our view because a positive development for Remoxy will add to the possible run-up in DRRX later this year due to the Posidur new drug application which is under review by the FDA.
Disclosure: I am long DRRX. I wrote this article myself, and it expresses my own opinions. I am not receiving compensation for it (other than from Seeking Alpha). I have no business relationship with any company whose stock is mentioned in this article.
Additional disclosure: This article was written by Rajesh Patel, Ph.D. Red Acre's Managing Director for Equities