How often can we invest in a company that delivers profits and revenues whether interest rates rise or fall, and just about with every move the Federal Reserve decides to make? Not only that, but the share price of the stock keeps moving up, and dividends have been dramatically increased over the last 12 months or so as well.
Suffice it to say, Wells Fargo (NYSE:WFC) has delivered wonderful shareholder value through many market cycles. I firmly believe that this stock will continue doing just that, no matter what the interest rate and Fed environment wind up being, as long as the Fed maintains one key element of its policy intact - ZIRP.
By keeping a zero interest rate policy for the shortest term rates, the Fed can employ the so called tapering of QE that has been bandied about, and most of the big banks will do just fine thank you, and Wells Fargo is positioned to outperform all the rest.
The Facts Investors Need To Know
WFC: Price: $42.76/share, Dividend Yield: 2.90%, ESS Rating: Very Bullish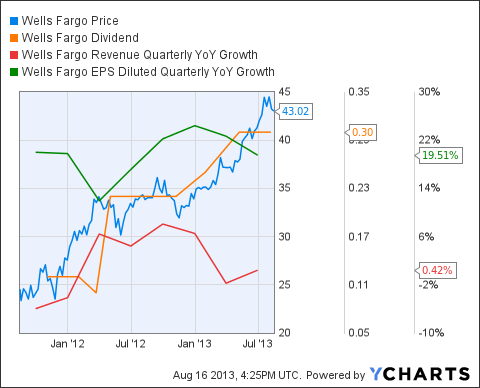 The key elements from this very basic chart are the most compelling facts about the stock.
Dividends have been increased from $.10/share to $.30/share in less than two years, an increase of 200%
The share price has just about doubled, or has risen by nearly 100% in less than 2 years.
Both revenues and profits, although somewhat choppy, have delivered enormous amounts of cash the in company coffers.
Keep in mind that these are very basic facts that some investors minimize by looking all over the place for the boogie-man. Of course Warren Buffett chooses to look at the facts the way I do because right now it is his number one stock holding with more than 460 million shares, now worth more than $19 billion.
Just do a quick calculation of just the dividends Buffett receives (and does not pay out, by the way), and anyone can tell that he is a happy camper with this investment.
Here are a few more quick facts for us mere mortals to chew on:
The price to book value is a mere 1.52.
The current dividend payout ratio is only 27%. Smells like even more dividend hikes are not far off.
An enterprise value over $185 billion makes WFC one of the largest companies on earth.
Total cash on hand is a staggering $225 billion.
An operating margin of over 41%. Phenomenal for any bank.
How is all of this possible when other companies are getting tossed around like a good Greek salad? Two words; ZIRP and liquidity.
A Peek Behind The Curtains
Any prudent investor, whether it be for growth or income, should know the above facts I noted as well as the back of their hand, especially when owning, or deciding to own, shares of WFC.
What many individual investors might overlook are a few of the reasons why this stock is more than just a compelling buy right now, but a must own stock in just about any type of portfolio.
As reported by the Mortgage Bankers Association, mortgage applications dropped yet again, and have dipped rather steadily since mortgage, and interest rates, have popped up from all time lows.
Mortgage applications decreased 4.7 percent from one week earlier, according to data from the Mortgage Bankers Association's (MBA) Weekly Mortgage Applications Survey for the week ending August 9, 2013.

The Market Composite Index, a measure of mortgage loan application volume, decreased 4.7 percent on a seasonally adjusted basis from one week earlier. On an unadjusted basis, the Index decreased 5 percent compared with the previous week. The Refinance Index decreased 4 percent from the previous week. The seasonally adjusted Purchase Index decreased 5 percent from one week earlier. The unadjusted Purchase Index decreased 6 percent compared with the previous week and was 4 percent higher than the same week one year ago.
This might not mean much overall, but in terms of the banks with the largest mortgage lending business it could impact both revenues and profits. In the case of WFC (and other major lenders) however, just the opposite has occurred. Instead of letting this lucrative business dry up, lenders have been easing their lending standards to keep the ball rolling. WFC just happens to be the biggest.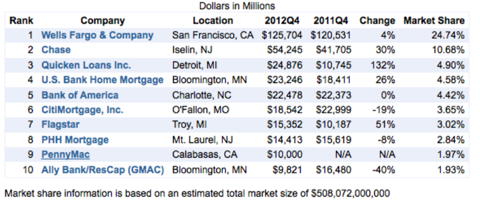 Click to enlarge
According to the survey, a net 3.1 percent of lenders responding said demand for "non-traditional" residential loans increased from the survey released three months ago and a net 25 percent of respondents said demand for loans from sub-prime borrowers was higher.......Almost half (49.3 percent) of lenders surveyed said demand for loans from prime borrowers had increased, up from 39.1 percent in the second quarter survey.
How could WFC, and other major banks, do this in the face of rising interest and mortgage rates, and declining mortgage applications? ZIRP and liquidity. WFC can still profit very well as long as it has access to cheap money.
I believe that it will for a very long time. Why?
The housing recovery IS the economic recovery, in terms of GDP and employment. It always has been, and might always will.
The fed might taper QE but WFC can tinker with its lending business to roll with the punches. That being said, I would bet everything that the Fed will not to anything to derail our tepid recovery.
Now as we look at rising interest rates outside of the mortgage business, ZIRP and liquidity play vital roles in other forms of lending as well. WFC is not only the largest servicer of commercial and single/multi-family mortgages to the tune of $431 billion, but it also has a huge lending business in non-mortgage loans.
Just by visiting the company website, anyone can view the massive loan business that WFC offers. From personal, to auto, to student, to home improvement, to credit cards. WFC is also one of the giant lenders of all types of loans.
Here is a breakdown of where all the money goes to, and comes from, on a percentage basis: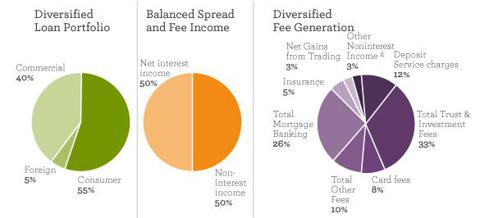 Click to enlarge
It is also interesting to note, that WFC is very adept at "cross selling" to existing consumers, as detailed very nicely in this article as well as the company website:
"The core of our vision-based strategy is 'cross-selling'- the process of offering customers the products and services they need, when they need them, to help them succeed financially. The more we give our customers what they need, the more we know about them. The more we know about their financial needs, the easier it is for us to work together for them to bring us more of their business. The more business they do with us, the better value they receive and the more loyal they become. The longer they stay with us, the more opportunities we have to satisfy even more of their financial needs. That's the mutual benefit of cross-sell."
With this focus in mind, and a quick look at one more graphic showing lending of all types in percentage rates, an investor can gain greater insight as to the power of the WFC business model.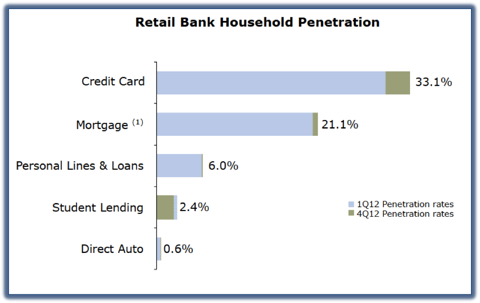 Click to enlarge
Do you think that Warren Buffett is the only investor who knows about all of this? Well, not any more, because now YOU do also.
One Final Very Interesting Chart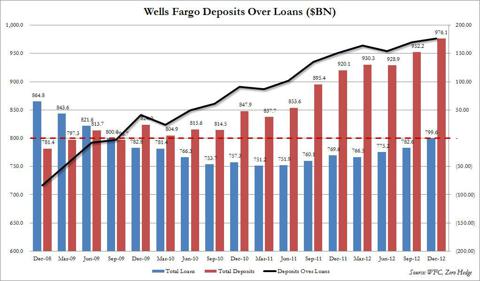 Click to enlarge
Not only is the lending business growing, but so are regular bank deposits. The fact that the interest paid on these deposits is so low gives even MORE money available to lend at significantly higher rates, and the fees that customers are charged by WFC all continue to go straight to the bottom line.
My Opinion
If this is Warren Buffett's largest stock holding, and it is, then who am I to say that any investor should skip this stock as a core holding. That being said, I am wondering why the Team Alpha Retirement Portfolio has only a 3% allocation.
The shares are on sale today, I am doubling down on WFC.
Disclaimer: The opinions of this author are not a recommendation to either buy or sell any security. Please remember to do your own research prior to making any investment decisions.
Disclosure: I am long WFC. I wrote this article myself, and it expresses my own opinions. I am not receiving compensation for it (other than from Seeking Alpha). I have no business relationship with any company whose stock is mentioned in this article.