Concerns about the strength of US consumer demand (after a downside surprise on the consumer confidence number) unsettled equity markets on both sides of the Atlantic yesterday as merger and acquisition optimism fade. Could it be that investors are starting to question how sustainable the US recovery actually is following the disappointing slew of data? First there was the weaker durable goods number, then the Chicago Fed National Activity Index showing contraction in August and of course both existing and new homes ales reports disappointed. Is a post cash for clunkers slump imminent? How many more "downside surprises" before we see an appropriate correction?
But with quarter end upon us, the markets started today in self congratulatory auto pilot mode with talk of the FTSE having the best quarter in 25 years and the Dax on its best run since 2003.
Today we've had a surprisingly muted response to the fairly dire ADP jobs losses report at 13.15 which came in with a –254k print (against expectations of a 200k read). This is a warning shot across the bows of the bulls though one must stress that there is strangely very little correlation between the monthly ADP report (which is meant to measure job losses / gains in the private sector) and the biggie official Non Farm payrolls report (which measures job losses / gains in the public and private sector). The Commerce Department's third estimate of GDP was positive with personal consumption and final sales being revised upward. Also worth noting is that corporate profits in non financial firms returned to the black with 4.7% gain. But the Chicago Purchasing Managers survey shocker of 46.1 (implying CONTRACTION) has sent the market into bit of a tailspin and continues the theme of a weak series of data over the last week. We may be into a triple digit down day on the Dow Jones.
Stocks which may be active this afternoon include Nike after better than expected results and chip maker Micron after coming in with a narrower than expected loss. Saks may see some renewed selling after news of a $100m rights issue.
Today's Market Moving Stories
US economic news that slipped under the radar or most of the media. US States tax revenue in the second quarter plunged 17% from a year earlier as rising unemployment and falling consumption dragged down sales and income taxes.
Top chief executives in the US see sales increases over the next six months, but that demand won't lead to hiring, a quarterly Business Roundtable survey of corporate heads said. The jobless "recovery" continues.
The International Monetary Fund lowered its estimate for global writedowns for banks and other financial institutions to $3.4trn but warns that loan losses are set to rise as unemployment grows. However, it notes that Eurozone and UK banks have recognised just 40% of their expected writedowns. It also says that its estimates show that the UK is most susceptible to credit constraints.
The latest US mutual fund data released overnight for August shows US investors keeping the proportion of foreign assets in their portfolios at historically high levels. From 2002 to H1 2008 US mutual funds sharply increased the share of their assets overseas from 12.5% to 26%. Once investors became extremely risk averse following Lehman's demise, US mutual funds cut that share back down to 23% in H2 2008. This year US mutual funds have raised the proportion of their portfolios held in foreign assets back to 25.2% in July and the same again for August. For now this will keep the USD negatively correlated with stocks and other risky assets.
It's not often The Sun gets a mention in my ramblings but the UK's top selling Red Top grabs its own headlines today for declaring its backing for the Conservative Party at the next election. The Sun had previously backed Labour since the 1997 win of Tony Blair. Sterling's rally on FX markets this morning doubtless captures some renewed sense of optimism that UK election will deliver a government with a sufficiently large majority to 'do' fiscal austerity. There are other reasons why the pound will enjoy periods of respite – it's weakened significantly already in trade weighted terms and is 'cheap' to the Euro in particular on long term fair value criteria. But I anticipate more torrid days for sterling ahead. That's partly on the still-unsettling global macro discussion. It's also because markets will tend to under-price risks that either (a) no single party wins an overall majority at the next election and/or (b) that even if it does, the path to repairing the fiscal accounts will still be perilous.
Clusterstock has picked up on an excellent research piece by Amherst Securities who have produced a scary analysis of this "shadow inventory" overhang, which Amherst estimates is a shocking 7 million houses in the US. (The consensus is only 2-3 million). 7 million represents 1.4 times the number of houses currently sold in the country each year. So this represents a massive overhang. As these houses hit the market in future years, they will keep pressure on house prices. This will likely either lead to further declines in prices or delay the recovery.
Japanese manufacturing activity PMI hit a three-year high of 54.5 in September from 53.6 in August as growing signs of an economic recovery helped boost new orders at home and abroad.
Japanese industrial output rose in August but the pace of gain slowed for the fourth straight month and manufacturers expect a further slowdown in September, a sign the impact of government stimulus spending is starting to fade. Is it self sustaining? The government is unlikely to welcome the data as it tries to balance its drive to cut spending with demands for an extra budget. A rising yen would also hamper the outlook for industrial production as that would make Japanese goods more expensive overseas.
British consumer morale enjoyed its biggest monthly boost in more than 14 years in September as people grew more optimistic about the economic outlook than at any time in the past decade. The GfK/NOP consumer confidence index leapt to -16 from -25 in August, beating the consensus forecast for -24 by a wide margin. The nine-point jump was the biggest since January 1995 and took the index to its highest level since the start of 2008. Consumer morale is often one of the first indicators of economic recovery and the results will provide some cheer to Prime Minister Gordon Brown who is struggling to boost his popularity before an election next Spring.
The economic glass more than half full argument is made by Bespoke Investment Group "earnings revisions are at a 2-year high", Byron Wien "S&P 1,200 target" the New York Times "job seekers exceed openings by record ratio" and Smart Money "7 pieces of good news about the economy".
"Debtors' Revolt" message resonates.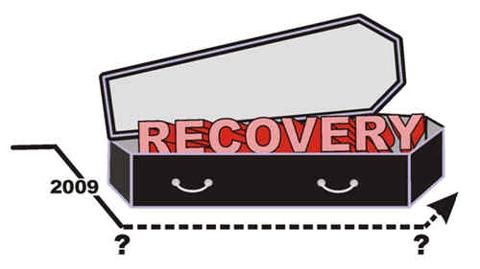 Click to enlarge
Currency Wise
The US dollar is down across the board overnight despite flat-to-weaker equities in Asia. Month-end selling may explain part of the move, but solid economic releases in the region are also boosting local currencies. The stronger-than-consensus Australian retail sales (+0.9% mom v.s. consensus +0.5%), which strengthens the call for a rate hike next week, and a decade high NBNZ business confidence in New Zealand lifted AUD and NZD more than 1%.
Currencywise the AUD and NOK have both performed strongly again this morning as data from both countries supports market expectations that the RBA (Aussie Central Bank) and Norges Bank will be first out of the blocks in the monetary tightening game (the race away from Zero as it will no doubt be called). The EUR has also received a boost following the latest ECB 1-year tender. The allocation was only €75bn compared to estimates of €100-€150bn. This has been taken as a bearish signal.
UK Commercial Property Prices Rising On Foreign Deals
South Korea's $200 billion state pension fund would be "interested" in buying the Canary Wharf headquarters of HSBC (HBC) if the bank was to put the skyscraper up for sale. The fund has already declared plans for a global property-buying spree and said that the tower was among a number of trophy assets that it was considering buying in London, Paris, New York, Hong Kong and Tokyo. The 42-storey tower was bought for more than £1 billion by Metrovacesa of Spain in 2007 and was bought back by HSBC last year. It is thought that if the bank decides to sell the building, it would be looking for more than £800 million. Deals with foreign companies have boosted valuations in the British commercial property sector in recent weeks. Land Securities completed the sale of a 33% stake in its Bullring shopping centre in Birmingham last week after agreeing a deal with Australia Future Fund for £210 million. The Australian government fund had to increase its bid to secure the purchase, reflecting an increase in the asset's valuation since the start of the year. British Land (OTCPK:BTLCY) also concluded the sale of a 50% stake in Broadgate Estates near Liverpool Street in London to Blackstone, the American private equity group, a deal that valued the asset at £2.1 billion. Qatar's sovereign wealth fund has increased its stake in Songbird, the Canary Wharf property company. The deals suggest that the British commercial property market is set to rebound. JPMorgan is forecasting a 10% increase in property values between June this year and June 2010.
Companies In The News
And Finally… How Foreclosures Get Stripped

Disclosures = None