BlackBerry (NASDAQ:BBRY) is in the midst of a seemingly unending effort to find a buyer or a partner as it struggles to survive in the brutally competitive smartphone market. Or, at least that is the conventional wisdom.
A while ago, disappointed with the tone of the management earnings conference following BlackBerry's June quarter, I joined the bears in the BlackBerry bush in an article I wrote for SA at that time. Nonetheless, I continued to follow the stock.
One data source I have used in the past is StatCounter, a site that tracks Internet usage by mobile vendor, operating system, browser type and so on and publishes its data in a very chart friendly form. I log on to StatCounter every now and then to see if there is an emerging trend that might lead the market's understanding of how the competitive environment is shaping up.
StatCounter has worldwide data, but it can be parsed by area and by country. A key market is, of course, the United States. BlackBerry has been shedding share in the United States for quite some time, almost as fast as Apple is losing share worldwide today.
The most recent StatCounter data for the United States show an interesting trend.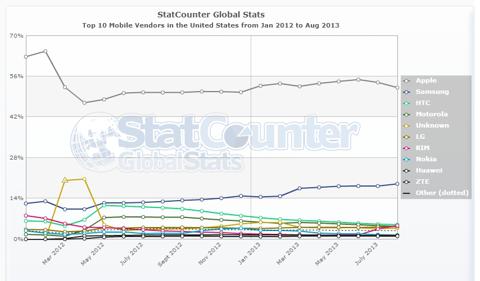 They show Samsung continuing to gain steadily and Apple (which held or even increased share from January through May) starting to see its share slip in June and July. Buried at the bottom in red is the BlackBerry share. It is lost in the noise so I extracted the data (StatCounter is good enough to permit the data to be downloaded) and prepared a chart of just the BlackBerry share of traffic data.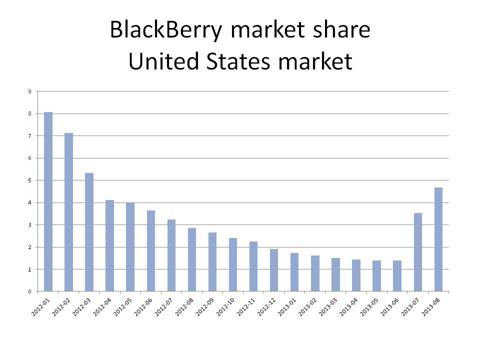 The data are compelling. BlackBerry's share of Internet mobile traffic as measured by StatCounter has tripled in just 2 months and now stands at over 4%.
It occurred to me that maybe the desire to take BlackBerry private inferred from Prem Watsa's resignation from the board of directors is not a desperate step to save a dying company and try to preserve some value from the 50 million odd BlackBerry shares held by Fairfax Financial, of which Watsa is CEO. Maybe the "Canadian Warren Buffett" is seeing the emergence of a new BlackBerry with a strong and vibrant offering not only of devices but also of device management (BES 10.1) and communications applications (BBM) with a suite of products unparalleled for security in a world where data security is growing in importance daily.
I don't want to make too much of one set of data but the company has been so quiet about sales and the rumors of weakness proliferate the Internet suggesting an air of quiet desperation - yet the hard data from an independent source suggest perhaps, and I stress perhaps, the opposite is taking place.
I am going to buy a few thousands calls on BlackBerry in the high teens and low $20s with expiry towards the end of the year and into next year. More than likely I will be throwing good money after bad, but my instincts are occasionally right and I would rather hold the calls and be wrong than eschew them and find the stock at $30 in a takeover bid.
I am long BBRY calls and will add to the holding.
Disclosure: I am long BBRY. I wrote this article myself, and it expresses my own opinions. I am not receiving compensation for it (other than from Seeking Alpha). I have no business relationship with any company whose stock is mentioned in this article.