In a previous article "2 Brazilian Gold Miners with Enormous Upside" I argued that Colossus Minerals (OTC:COLUF), along with Luna Gold (OTCPK:LGCUF), are two gold (NYSEARCA:GLD) mining companies that offer investors a very attractive risk vs. reward scenario at present prices. Please view that article for a more in-depth analysis of Colossus if you are unfamiliar with the company.
Here is a brief description of Colossus:
"Colossus Minerals Inc., a development stage mining and exploration company, primarily holds a 75% interest in the Serra Pelada Mine, a gold-platinum-palladium project, which covers an area of approximately 100 hectares and is located in Pará, Brazil. Colossus Minerals Inc. was founded in 2006 and is headquartered in Toronto, Canada."
Serra Pelada was host to the largest ever gold rush in Latin America history in the 1980s. Roughly 80,000 artisanal miners produced 2 million ounces of gold, platinum and palladium - from a hand dug open pit.
Since 2007, Colossus has worked hard in getting the Serra Pelada mine back into production. This mine is expected to be one of the lowest cost gold mines in the world.
Unfortunately, almost immediately after writing the Brazilian gold miners article, Colossus reported the following issues at its Serra Pelada project in a July 15 news release:
Mining has progressed through the CMZ with both water and ground conditions being managed. However, recently some dewatering wells and pumps have not performed to design specifications. As a result, the Company has determined that additional dewatering capacity, which is currently being brought online, is required to mine the CMZ in a sustainable, effective and efficient manner.

As a result, mining activity through the Central Mineralized Zone ("CMZ") has been delayed and resources have been re-deployed to focus on infrastructure development and additional dewatering in order to keep the Company's plans of achieving 1,000 tonnes per day ("tpd") in the first quarter of 2014 intact. Infrastructure development in the red and gray siltstone is not impacted.

The Company now anticipates a delay in gold production from the mine until late in the fourth quarter of 2013.
This is a common issue when bringing mines into production and I don't believe it will be a lingering issue for the company, in my opinion.
It was uncertain how much money the company would need to fix this issue and if it would even be able to come up with the funds. This doubt combined with a truly unforgiving market resulted in a 50 percent haircut in the share price.
You'll see that the price went from $1.50 to $.80 cents or so and then as low as .60 cents. It appears that this was a great buying opportunity with the share price recently recovering, as you'll see below.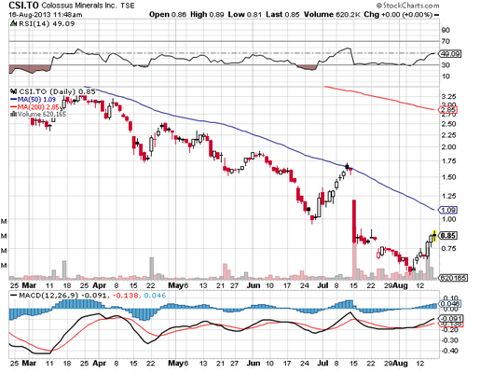 Investors like myself are in this company for the long-haul and believe that it will produce a substantial amount of cash flow for many years to come. I believe this water issue was just a small speed bump on the way to getting there.
So what has changed with Colossus?
- The company was in fact able to raise the money needed: it announced a financing and just recently closed that financing for proceeds of $37,950,000:
"The net proceeds of the Offering are intended to be used to fund development expenditures at the Serra Pelada gold-PGM project including the completion of the process plant, to fund operating losses up to and including production ramp-up, and for working capital and for general corporate purposes."
According to CanadianInsider.com, Director Alberto Arias purchased 9.93 million shares and 5 million warrants in the public market on August 15 (however it's likely he participated in the private placement, although that was not disclosed in the releases).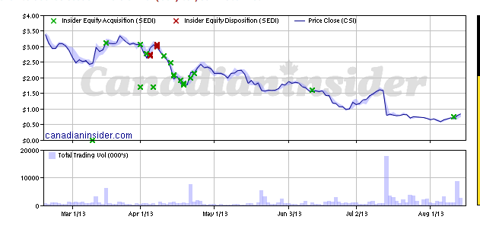 - Shares outstanding: After the financing, the company now has 166 million shares outstanding and nearly 200 million fully diluted. What this means is that there is less upside going forward.
I previously thought the company had the potential to be a $8 stock in a few years at best case, which would have given the company a market cap of $976 million at the previous share count.
With 166 million shares outstanding after the financing, a share price of about $5.80 would equal the same market cap.
- On the bright side, it's not like the company is just giving away shares for free - this recent financing netted Colossus $37.9 million. I believe this puts the company well on track to complete construction and will allow it to achieve 1,000 TPD commercial production in the first quarter of 2014.
- At a current share price of .84 cents and 166 million shares outstanding the company has a market cap of $139 million. After the financing, it roughly has that in cash which the majority of will be used to complete the development of Serra Pelada.
- I believe it also makes it more likely that Colossus will buy back half of the precious metals stream with Sandstorm Gold (NYSEMKT:SAND).
I had previously speculated that the money Colossus needed could come from Sandstorm, potentially increasing the size of the gold stream for more money. However, this was not the case as it opted for an equity raise. Here are the details on the stream with Sandstorm.
"Sandstorm has a precious metals stream agreement to purchase 1.5% of the gold and 35% of the platinum produced from Serra Pelada at a per ounce price of US$400 per ounce of gold and US$200 per ounce of platinum. Sandstorm made an upfront payment of US$60 million to acquire the stream in September 2012.
Until April 1, 2015, Colossus has the option to repurchase up to 50% of the agreement by making a US$48.75 million payment to Sandstorm Gold, upon receipt of which, the percentage of gold and platinum that Sandstorm is entitled to purchase shall be decreased to 0.75% and 17.5% respectively."
If it successfully completes construction and gets into production in 1Q 2014 without any major problems, I believe the company should be able to bring in enough cash flow to pay off half of the stream by that date.
Still Some Risks
I said it in a previous article and I'll say it again - investing in this company is a great way to gain leverage to the price of gold (along with platinum and palladium) but with that leverage comes some risks.
- The company is going to have to regain the trust of many shareholders, especially those who got in around $1.60 before the news was announced.
- There are other risks associated with bringing a precious metals mine into production. If you follow this sector, you'll know that there are plenty and many things can go wrong when bringing a mine into production.
- The risk of owning a stock that operates a single mine. I own several stocks that fit this description but I like each company enough and believe in its operations to take on this risk.
- No resource estimate. This is not common for a mining company to bring a deposit into production without having any NI 43-101 resource. However, this Serra Pelada deposit is not your average project as it is a past-producing mine with super-high grades.
So, the question is, is Colossus still worth the risk?
At my age, it's a risk I'm willing to take. If you are someone who doesn't want the risk, I would recommend other gold miners that have multiple producing mines and a solid balance sheet with little debt.
For me, I still believe the risk is worth the reward for Colossus and I will continue to buy shares on any dips. The amount of platinum ($1,500 an ounce) and palladium ($700+ an ounce) produced from this mine will be quite significant, leading to a super low-cost operation.
Disclosure: I am long OTC:COLUF, SAND. I wrote this article myself, and it expresses my own opinions. I am not receiving compensation for it (other than from Seeking Alpha). I have no business relationship with any company whose stock is mentioned in this article.