[Author's Note, 8/16: The original article had a major error in the tables. This revised version fixes that error (and the resulting analysis). The conclusions remain the same.]
Disclaimer
Translating relative data from adduplex into unit sales data for Nokia (NYSE:NOK) is nontrivial. Previous authors who have attempted it have often forecast sales numbers that turned out to be far more optimistic than what was eventually reported. Others have reported that adduplex data tend to be skewed to favor Windows Phones.
So I encourage you to take the numbers presented here and do your own analysis. To help you in that regard, I am, as an experiment, making my spreadsheet model for the analysis presented in this article available to anyone interested on Google Docs by clicking here. Feel free to make a copy of this model and change my assumptions listed at the top as you like.
Starting Assumption: How Many Lumia Phones Installed Before 06/30/13?
Other models I have seen suggest that there are between 20 MM and 30 MM WP8 phones in operation as of the end of June 2013. My model (shown below) shows a more conservative estimate of 14.4 MM in the WP8 installed base:
WP8 Installed Base (Estimated)
Nokia Historical Sales WP8
Sales (Millions)
4Q12
3
1Q13
5
2Q13
7
Total Sold by Nokia
15
Total Sold by Other Manufacturers
(20% share)
3
Total Sold WP8
(all manufacturers)
18
Windows Phones Obsolete
3.6
Total WP8 Installed Base (June 30, 2013)
14.4
Most other models assume all WP8 phones ever sold are still in operation. Though the OS is relatively new, my more conservative assumption is that 20% of all WP8 phones that have ever been sold have already been mothballed (broken, worn out, drowned, etc.). This is a conservative but important assumption for this analysis. You can change this assumption if you choose to download my model. The larger you decide to make this percentage, the lower the L520 sales figures you will end up with. The final 14.4 MM installed base estimate for WP8 is important because it provides the base for all calculations in the model.
Here is the adduplex data for the month of July:
(click to enlarge)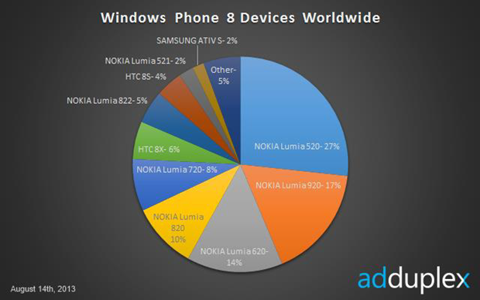 Click to enlargeSource: adduplex
This pie chart shows that the Lumia 520 now comprises 27% of the WP8 installed base. What is amazing about that statistic is that in the previous month, Lumia 520 only comprised 18% of the installed base: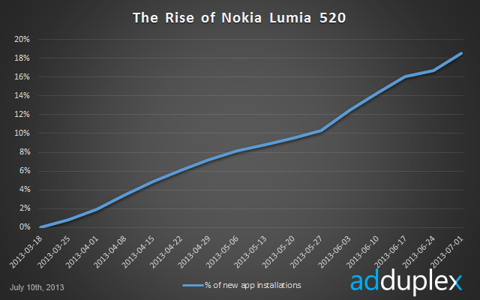 Click to enlarge
Source: adduplex
That means that the L520's installed base market share went from 18% to 27% in one month! My model suggests that through the end of June, there were 2.7 MM L520s in the wild (18.5% x 14.4 MM). The implication is that over 2.2 MM units must have been sold in the month of July to drive the installed base up to 4.9 MM units. (4.9MM divided by 18 MM equals 27%, where 18 MM is the new installed base of WP8 on July 31, 2013. Please see spreadsheet for more details).
Though not shown here, adduplex released an additional chart suggesting that of all geographies, India is experiencing the most rapid growth for this new handset. While ASPs for L520 in India are surprisingly higher than in the US, most of that is probably due to tariffs.
Even if we conservatively assume that a small number of units of all other models were sold during the month, we get to a run rate of 3.5 MM units for July, or over 10 MM units for the September quarter.
The sell side appears to be expecting approximately 9 MM units of Lumia sales for 3Q13 so there appears to be upside to this number based solely on this adduplex data. But the news is not all good. It looks as though the quarter is going to have a disproportionate number of Lumia 520 units (well more than half). If that turns out to be the case, there is going to be a corresponding decline in ASPs and perhaps gross margins.
Lumia 520 Gross Margins
So if the quarterly results do show a huge skew towards L520, what are the gross margin implications? Some sell side analysts have suggested that Nokia has approximately the same gross margins across all of its Lumia product line. However, given how deeply the company has been discounting the L520 recently (with the US being perhaps the most extreme example), my guess is that the margin profile of this phone is now significantly below that of the average Lumia sale.
The major downside of the lower gross margin profile for the company is the potential increase in the breakeven rate for units sold. Recently, two SA authors independently concluded that 11 MM smartphone units per quarter were required to reach breakeven. But with a lower GM profile, this number will probably increase.
L520 Shift: Market Share Will Drive App Development
It is unclear how the Street would react were the company to report a blowout on the units mixed in with a disappointing gross margin. As a long-term shareholder, I realize that Nokia must win share almost at any cost near term to get more developers to build apps in a timely manner for WP8. Only then will the app gap close, thus allowing the high end to take off.
Implications for US Market
With respect to this app gap, a solid performance in the US is critical to establishing mind share. Given the aggressive pricing of the L520 and L521 here, my expectation now, after seeing this adduplex data, is that Nokia will probably report at least 1 MM units for the US market compared to 500K in the last quarter.
Conclusion
Based on these data, my expectation for 3Q13 is for a Lumia unit sales number in excess of 10MM but a likely drop in ASP and gross margins relative to current Street estimates. Overall, a solid increase in market share is probably in the company's best interests, even if it means sacrificing some gross margins near term.
Disclosure: I am long NOK. I wrote this article myself, and it expresses my own opinions. I am not receiving compensation for it (other than from Seeking Alpha). I have no business relationship with any company whose stock is mentioned in this article.