The Dow Jones US Homebuilder stock index rose from 176 on October 4, 2011 to a top of 550 on May 14, 2013. This was a spectacular move that gives the illusion that the housing market is in a recovery. However, as of yesterday's close (August 15) the Dow Jones Homebuilder stock index (DJUSHB) is down 24.5% from its May 14 peak. Notwithstanding the small 2-day bounce fueled by a homebuilder "sentiment" index report yesterday and the housing starts report today, the housing market has resumed its multi-year bear market. This being the case, every small bounce in the housing stocks can be used to unload long positions and establish short positions, as I fully anticipate that the DJUSHB will ultimately drop below the post-bubble crash low of 143 on November 21, 2008.
As you can see from this 3-yr daily trading chart of the DJUSHB, the homebuilder stocks are clearly back in bear market mode: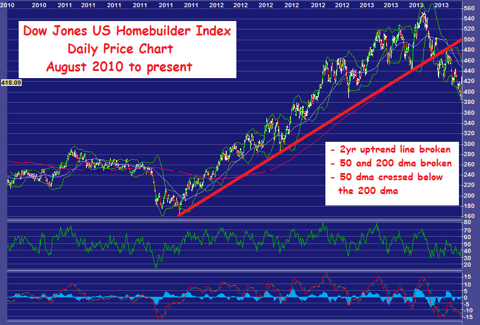 Click to enlarge
The 2-yr uptrend has completely broken down, as the index has fallen below both the 50 and 200 day moving averages, the 50 dma has crossed below the 200 dma -- the nefarious "Death Cross" -- and both the RSI (green line) and the MACD (red line) indicate that the selling far outweighs the buying. As I explain below, this extremely bearish trading action is supported strongly by a breakdown in fundamentals.
The DJUSHB had a big bounce yesterday (August 15) on the back of the National Association of Homebuilders (NAHB) Housing Market Index report for August, which was reported as being much stronger than the market expected. But what exactly does this index measure? This index is a "touchy-feely" sentiment index "designed to take the pulse of the single-family housing market" -- NAHB Housing Market Index. Essentially the survey asks homebuilders to give their view of market conditions and rate the level "foot traffic" of prospective buyers. Although the index rose from July, the sub-index that measures the traffic of prospective buyers was unchanged from month to month. Overall this index is not based on any hard economic measures or monetary transactions. In my view, buying a homebuilder stock on this survey is nothing but a donation to the counter-party who is selling.
On the heels of yesterday's bounce in the DJUSHB, the homebuilder stocks rallied again after the today's (August 16) housing start and building permit report from the Census Bureau. The report actually slightly missed expectations but the homebuilder stocks jumped at the open of trading. Interestingly, the DJUSHB ran up 14 points from yesterday's close to 429 and has retraced the entire move and is now red on the day as I write this. The reason for this is that, as you can see from the linked report, the housing starts number for single-family homes -- the backbone of the housing market -- dropped below June's level and actually fell to its lowest level since November 2012. Clearly this actual datapoint belies the optimism reflected in yesterday's sentiment report. The smart money saw this and sold into today's homebuilder stock bounce.
Other data released this week suggests that the foundation of the housing market is starting to seriously deteriorate. On Wednesday, the Mortgage Bankers Association weekly mortgage applications index registered yet another big decline, and has declined 12 of the past 14 weeks. The mortgage purchase applications index - the critical datapoint in assessing the strength of actual home sales -- dropped 5%. Keep in mind that August is historically the second or third strongest month seasonally for home sales (May and June are the other two, with June the seasonal peak). Seasonally, mortgage purchase applications should be increasing on a weekly basis from early spring to mid-August. In fact, as you can see from the chart embedded in this report, Bloomberg.com, purchase applications have been in a steep downtrend since mid-February.
Another fundamentally bearish data report that was released this week was this foreclosure report from RealtyTrac. This report showed that foreclosure filings -- default notices, auctions and bank repossessions -- increased 2% in July, fueled by a 6% jump in foreclosure starts. As I have shown in previous articles on this sector, banks have been deferring their foreclosure activity in an attempt to create a market for their existing owned real estate (REO). But part of the true "shadow" inventory of homes that is not counted in published inventory reports from the National Association of Realtors is the large percentage of mortgages that are delinquent, in default or in some stage of foreclosure. As I've shown in previous articles, in many states, a defaulted homeowner can remain in his home for over three years before the bank takes possession. This latest report from RealtyTrac suggests to me that a new wave of foreclosures is about to hit the system.
Finally, the big mortgage banks are starting to announce widespread layoffs in their mortgage finance units. Wells Fargo recently announced a series of over 1400 layoffs over a three week period in its regional mortgage units: Wells Fargo Fargo Mortgage Layoffs. And JPMorgan Chase announced over 1100 layoffs in Denver, southern California and South Carolina. Wells Fargo and JPMorgan Chase are by far the largest mortgage originators in the country. To put this in context, in Q1 2013, WFC and JPM represented 33% of the mortgage origination business (WFC 22% and JPM 11%). If these two banks are starting to cut payroll in this area, there is no question that they are expecting a big slowdown in mortgage applications, which would translate into a big slowdown in home sales.
In summary, based on both the trading action of the DJUSHB and on the deteriorating fundamentals of the industry, the bear has firmly sunk its claws into the housing market and the housing stocks. My recommendation is to use any bounces in the homebuilders to unload longs positions, if you still have any, and establish short positions. You can short the homebuilder sector as a whole by shorting or buying puts on SPDR S&P Homebuilders (NYSEARCA:XHB) or iShares Dow Jones Home Construction (NYSEARCA:ITB). I prefer to short the individual homebuilders, which is a little more risky but, commensurately, can be more rewarding. My personal favorite to short is D.R. Horton Inc (NYSE:DHI). I started shorting it at the end of January just below $24 and added to the short just below $27 in May. I'm up 25% on my position and will consider adding to it on any significant price bounces over $20. DHI has been issuing debt and using up its cash to load up on land positions and build up its inventory of homes just in time for the market to collapse. I expect to cover my short around $5 at some point in the next 18 months.
With interest rates clearly rising almost daily now, I expect the homebuilder stock sell-off to accelerate this fall and into the end of the year as more investors come to the conclusion that the housing market is headed south once again.
Disclosure: I am short DHI. I wrote this article myself, and it expresses my own opinions. I am not receiving compensation for it (other than from Seeking Alpha). I have no business relationship with any company whose stock is mentioned in this article.