Sometimes the market's reaction to an earnings report is downright baffling. Stocks are often thrown up or down based on the results relative to some arbitrary set of expectations, with reality and reason taking a back seat to impulse and fear. A single quarter means nothing in the grand scheme of things, and overreactions like we saw with Cisco (NASDAQ:CSCO) last week create opportunities that long-term investors can exploit.
A strong quarter
Cisco has stated that its long-term goal is to achieve 5-7% annual revenue growth, and the company delivered in its fourth quarter. Revenue rose by 6.2% year-over year, and for the full year, revenue jumped by 5.5%. GAAP EPS increased to $0.42 for the quarter, up from $0.36 in the same period last year, driven by both rising revenue and declining operating expenses. Cisco has made an effort over the past few years to cut costs, and with GAAP operating expenses falling by 3.8% year-over-year, those efforts are clearly paying off.
For the full year, operating expenses rose slightly, but as a percentage of revenue OPEX declined by about two percentage points. This more than balanced a slight decline in the gross margin, causing EPS to jump by nearly 25% compared to last year.
Cisco's core businesses, which include switching, routing, and services, grew slowly as expected. The company's data center and wireless businesses grew at a rapid pace, and although they make up a small portion of the total revenue, each quarter they become increasingly important.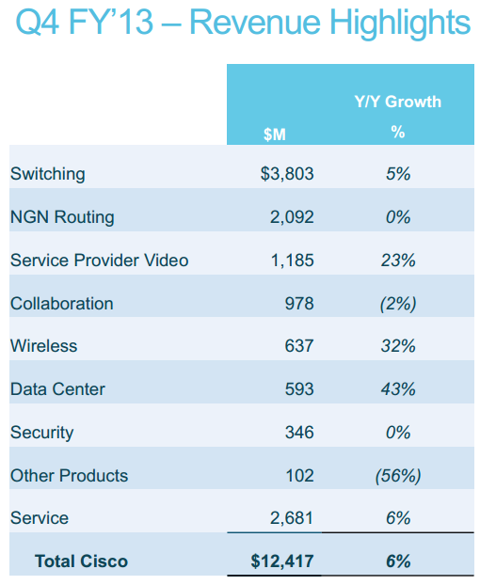 Source: Cisco earnings slides
These results beat analyst estimates, but the stock still fell after-hours. Then, in the company's conference call, CEO John Chambers guided for 3-5% revenue growth next quarter. The stock plummeted. The next day Cisco shares fell around 7.5% to around $24.50, erasing part of the gains that the stock has enjoyed so far this year.
Value that jumps right out at you
Cisco is a slow-growing company. Expecting anything more than that is overly optimistic. Expectations were high going into earnings, and even an earnings beat caused the stock to fall. But Cisco is such an inexpensive stock that it almost doesn't matter if the company grows at all.
Let's start with the balance sheet. Cisco has a tremendous amount of cash on the books, and that number continues to grow with each passing quarter. At the end of the fourth quarter, Cisco was sitting on $50.6 billion in cash and only $16.2 billion in debt. That's a net cash position of $34.4 billion, or $6.32 per share. A full 26% of the current market cap is represented by cash.
Cisco has been using this cash, along with its strong cash flow, to fund both dividends and significant buybacks. The stock currently yields 2.78%, and with a payout ratio of just 37%, there is plenty of room for dividend growth in the future.
Backing out the cash, the market is valuing all of Cisco's future profits at about $18 per share. EPS was $1.86 in fiscal 2013, putting the adjusted P/E ratio at an extremely low 9.7. However, for valuation purposes, I prefer to look at the owner earnings instead of net income or even free cash flow. Owner earnings provide a clearer picture of the true operational profitability of a company, and I believe that it is the best number to use for valuation purposes. For the full year, Cisco recorded owner earnings of about $11.47 billion, or $2.11 per share.
After the post-earnings decline, Cisco's enterprise value is just 8.5 times the owner earnings, an absurd valuation for a company as dominant as Cisco. How much is Cisco actually worth? I'll do a simple discounted cash flow calculation to find out. In terms of growth, I'll look at three different scenarios:
Inflation only - Owner earnings grow by 3% per year in perpetuity.
Slow growth - Owner earnings grow by 6% per year for the next 10 years, and by 3% per year after that.
Modest growth - Owner earnings grow by 9% per year for the next 10 years, and by 3% per year after that.
For a discount rate, I like to use both 12% and 15% and use these values to define a fair value range. For a deeper discussion of discount rates, go here.
Using the above parameters and adding in the net cash, here are the results of the calculation for the fair value of a share of Cisco:
| Scenario | Low-end | High-end |
| --- | --- | --- |
| Inflation only | $24.43 | $30.47 |
| Slow growth | $28.19 | $36.03 |
| Modest growth | $32.82 | $42.95 |
The market is pricing Cisco like it's never going to grow again. In fact, the stock is very nearly undervalued assuming only inflation-like growth. Cisco could easily be a $35 stock today, nearly 50% above the current market price.
Conclusion
I bought Cisco almost exactly one year ago for $16.61 per share, and the stock has done extremely well since then. But I believe that Cisco is still outrageously undervalued, and the stock offers a fantastic bargain to long-term investors. In the short term the stock price could very well do anything, but I suspect that a few years from now, Cisco will be worth far more than it is today.
Disclosure: I am long CSCO. I wrote this article myself, and it expresses my own opinions. I am not receiving compensation for it (other than from Seeking Alpha). I have no business relationship with any company whose stock is mentioned in this article.