In the past few weeks, we have read articles and studies describing the delayed household formation of younger Americans. I covered them in "The Housing Recovery Will Proceed Even With The Changing Preferences For Living At Home" and "The Pent-Up Housing Demand Of Young People Could Support 'Selling Seniors'." This week, Prudential Real Estate released a study with a provocative title declaring that young people are "increasingly positive about real estate." It is a short press release, and I recommend you scan it for yourself and/or review a compact infographic summarizing the results. Here are the highlights (mostly direct quotes), only the first one is directed specifically at the attitudes of younger people:
Respondents aged 25-34: 80% perceive the housing market as "favorable" or "somewhat favorable." This is a 9 percentage point increase from Q1.
83% confident in real estate and home values. This is a 6 percentage point increase from Q1.
57% said securing a mortgage is more difficult than it ever was prior to the market crisis.
71% said they are encouraged to buy a home now rather than later.
78% indicated that homeownership is valuable regardless of shifting rates.
The overwhelming share of younger people who have a favorable or somewhat favorable attitude toward housing is an encouraging supplement to the news of young people delaying home purchases and choosing to live longer with their parents. It underlines my earlier conclusions that these delays represent pent-up demand and not entrenched hopelessness.
Another intriguing highlight reveals some strange confusion about mortgage rates. Of the respondents, 65% claimed they closely watch rates. However, 43% of those people closely watching rates think that rates are "holding steady or falling." Rates have of course been increasing: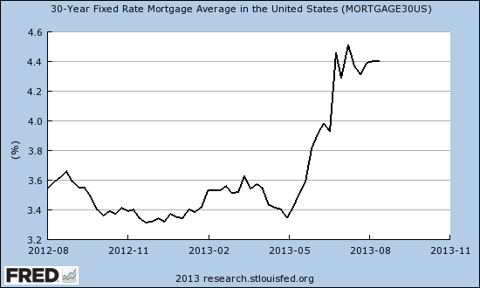 30-Year Fixed Rate Mortgage Average in the U.S. Since August, 2012
Source: St. Louis Federal Reserve
It is possible that these respondents stopped watching closely after rates started shooting skyward, but the respondents are supposed to be people who are "in the market" to buy or sell a home (they are also aged 25-64 and have a minimum household income of $50,000). If these results are indicative, I can imagine that the moment of realization could cool some feet. It is also surprising that 35% of these respondents do not watch rates closely while they are home shopping and/or selling. Perhaps their determination to buy a home will offset those who balk when the final cost comes home to roost. This is of course all speculation on my part. I have requested a copy of the complete results in order to go beyond the headlines and the cherry-picked best points. Stay tuned for more…
Be careful out there!
Disclosure: I have no positions in any stocks mentioned, and no plans to initiate any positions within the next 72 hours. I wrote this article myself, and it expresses my own opinions. I am not receiving compensation for it (other than from Seeking Alpha). I have no business relationship with any company whose stock is mentioned in this article.