Apple (NASDAQ:AAPL) spent $18 billion on its own shares in the June quarter - enough to buy Netflix (NASDAQ:NFLX) with a few billion left over. So how effective has Apple's strategy been? The answer appears to be an apathetic: "Eh, comme ci comme ça."
Buyback Program
The dollars and cents of Apple's super-massive share repurchase program are spelled out on pg. 33 of the company's most recent 10-Q filing:
Dividend and Share Repurchase Program
In 2012, the Company's Board of Directors authorized a program to repurchase up to $10 billion of the Company's common stock. In April 2013, the Company's Board of Directors increased the share repurchase program authorization from $10 billion to $60 billion, of which $18 billion had been utilized as of June 29, 2013. The share repurchase program is expected to be completed by December 2015. The Company's share repurchase program does not obligate it to acquire any specific number of shares...[emphasis mine]

Beginning in August 2012 through December 2015, the Company anticipates it will utilize approximately $100 billion to pay dividends, repurchase shares, and to remit withheld taxes related to net share settlement of restricted stock units, of which $29 billion had been utilized through June 29, 2013.
Impact
Even for a company with a $450 billion + market cap, $18 billion over a period of 3 months is a lot of buying. We would therefore expect to see these purchases show up in Apple's trading volume - and indeed they do. However, the impact is nowhere near what one would expect from the largest buying program in corporate history.
AAPL Price/Volume, 3/13-6/13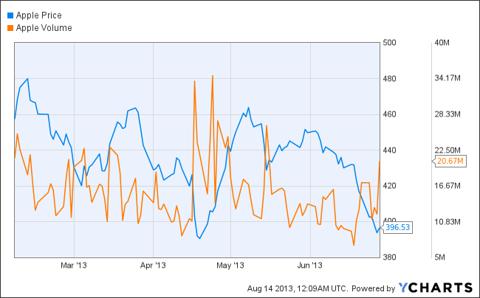 Click to enlarge
(Source: Ycharts)
After all, the Federal Reserve's $85 billion a month bond buying spree --aided and abetted by a swarm of corporate buybacks and merger activity that hasn't been seen since the 1980s- is re-inflating the entire U.S. market.
So, did retiring all those shares really do anything other than allow Apple to turn in an earnings beat instead of a miss? The evidence on this score is equivocal. Keep in mind that not all of Apple's repurchases were retired in fiscal Q3 - there's still about 11 million shares to shred. Nevertheless, it's hard to see how the current rate of purchases can support the stock for another 9 months, much less 2 years.
That's where Carl Icahn comes in.
Free Lunch?
In a nutshell, Icahn's pitch is that Apple will actually save money by borrowing at historically low interest rates to increase both the size and rate of its buyback program, as the company will no longer have to shell out dividends for those shares.
Icahn is also counting on the fact that a bull run in the stock will squeeze short sellers by forcing them to cover their positions. Finally, a price run up may very well reverse the bearish narrative and hand the consensus back to the bulls. If you believe in free lunches, it's a win-win all around.
On the other hand, the success of the Icahn Proposal will ultimately depend on Apple having new, exciting products in the pipeline. Such tactics also make Apple relatively less attractive as a buying opportunity. (Exhibit A is the spike in Apple's PEG ratio, see chart below.) With the bottom-feeders out, Apple's future is back in the hands of momentum traders and brand name hedge funds, neither of which is renowned for either their loyalty or long-term perspective.
Fig. 2: Apple's PEG Ratio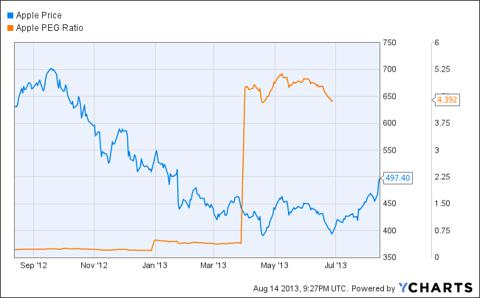 Click to enlarge
(Source: Ycharts)
Anyone late to the party would wind up paying more money for a company with more debt, less market share, less liquidity and fewer tactical options only to have their heart ripped out as Team Hedge Fund shorts the stock all the way back to $450.
Conclusion
Apple's undervalued stock price, fortress balance sheet, and historically low interest rates fueled by QE make Icahn's gambit a smart move, provided you're either:
a) approaching the stock as a short-term trade, or
b) looking to liquidate your long position after taking a bath on the stock at $700.
In the first instance, the Icahn Proposal has the potential to make you rich; in the second, to make you whole.
What jiggering with the stock does NOT do is benefit long-and-hold Apple investors, many of whom have already been burned once by the momentum bandwagon. Barring a revolutionary product roll-out from Cupertino, such innovation is not only likely to be short-lived, but detrimental to the long-term financial health of the company.
Disclosure: I have no positions in any stocks mentioned, and no plans to initiate any positions within the next 72 hours. I wrote this article myself, and it expresses my own opinions. I am not receiving compensation for it (other than from Seeking Alpha). I have no business relationship with any company whose stock is mentioned in this article.