By David Russell
Someone's apparently calling a top on Medicis Pharmaceuticals (MRX).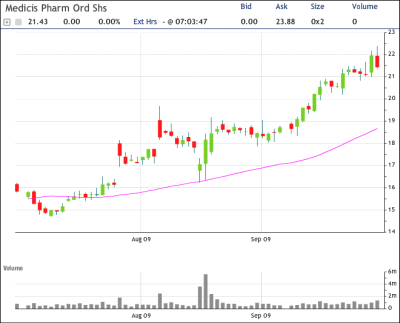 With the shares tracking just $0.05 below of a new 52-week high yesterday, a trader sold 3,000 January 20 calls for $3.45. Another 100 contracts were written shortly after as the stock declined. Volume was almost twice open interest in the strike.

MRX fell 2.41 percent yesterday to $21.43 but is up 34 percent in the last three months despite bearish options activity in August. The maker of cosmetic medical products settled a patent lawsuit in August and presented at three conferences this month. It last reported earnings on Aug. 5.

Four minutes after the block of calls were sold, optionMONSTER's tracking systems detected the purchase of about 1,100 January 22.50 puts for $2.25 to $2.35 against open interest of 96 contracts. About the same time, another block of 1,000 October 17.50 calls were sold for $4.70.

The trades may result from an investor looking to protect a long position in the shares or to place an outright bearish bet. With MRX slightly above an old peak from August 2008, some chart watchers may expect a pullback.

The burst of trading, which occurred over a 17-minute interval, pushed total options volume in the name to 15 times average.
(Chart courtesy of tradeMONSTER)