In my recent article I delivered a clearer picture on where 3D Systems Corporation (NYSE:DDD) currently stands. However, there are still the under-covered areas on 3D Systems that are worthy of investor's attention. This article aims to help you see possible potential and risks associated you may face in the future.
Reducing competition through vertical and horizontal integration and R&D
In my estimation, the company enjoys the status as being a market leader with a 25% market share followed by Stratasys (NASDAQ:SSYS) with a 13% market share.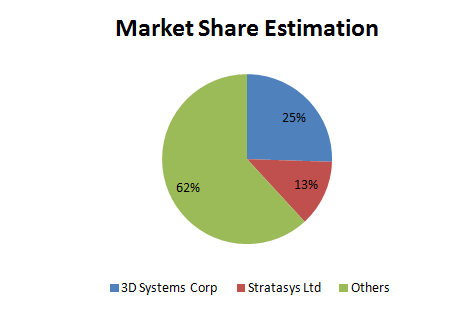 Source: Bloomberg and Company Financials
The 3D Systems growth strategy focuses on faster product development and acquisition of small businesses striving to make perfect synergies, thus reducing competition and industry fragmentations.
During the past year, 3D Systems faced macro headwinds in Europe and Asia Pacific which led the company to slash prices on high margin products. In anticipation of an economic slowdown, 3D Systems may not be able to meet its full-year target of $1.05 to $1.20 per share.
Revenue by Geographic Region
All geographic regions experienced higher levels of revenue in 2013 compared to 2012.
In millions of U.S. Dollar
Source: Company's Financials
This was principally due to continued global R&D spending which led to higher levels of printer sales and print materials sales. Revenue from its U.S. operations increased as a percentage of total revenue due to increasing acquisition activity in the U.S., including the acquisitions of Quickparts, Z Corp and Vidar.
The banking crisis combined with the economic crisis in several European countries led to an increase in the negative impact of foreign currency translation for the European region, while a strengthening the Japanese Yen for most of 2013 resulted in a favorable foreign currency translation for the Asia-Pacific region.
Income Statement comparison from June-12 to June-13 QoQ

June-12

Sep-12

Dec-12

Mar-13

Jun-13

Total revenue

83.6

90.5

101.6

102.1

120.8

Net Income (M/USD)

8.3

13.51

10.9

5.83

9.3

Profit Margin %

10%

15%

11%

6%

8%
Source: Company's financials
DDD posted total revenue of $120.8 million in 2QCY13 that grew by 44% year to year. However, the growth in topline revenue did not reflect in profit margins, which declined by 2% due to slashing of prices and increases in operating expenses, which increased by 41%.
The important aspect to note is that the company entered into an acquisition of Rapidform scan-to-CAD reverse engineering and inspection software tools and ProJet-3510 model with a capability of remote touch-screen PC tablet and smart-phone integrated software, which would augment the company's position as a market leader in the industry. The company is capitalizing on its core competencies and this will have a positive impact on the company's bottom line.
3D Systems Stock Grew by 75%
A DDD share has almost doubled in price from $26 to $46 due to high margins on printing products and a strong research and development arm catering efficiently to the market's needs.
As analysts anticipate that the 3D printing industry has a capacity to flourish in the coming years from $1.7billion to $2.1billion and can grow three-fold until 2019, investors have taken a positive view of the stock in anticipation of the growth potential in the industry as reflected by the doubling of price despite an unfavorable P/E ratio compared to its industry average.
Make or Break for Investors
3D Systems is also focusing on developing a software and integrated tools segment that would eventually have a positive impact on revenues from services apart from hardware products.
| | | | |
| --- | --- | --- | --- |
| Financial Highlight | | | |
| | Dec13E | Dec12A | YoY |
| Net Revenue | 446,732 | 353,633 | 26% |
| Gross Profit | 232,100 | 181,196 | 28% |
| Operating Expense | 163,490 | 120,625 | 36% |
| Other Income | 53,965 | 43,279 | 25% |
| Net Income | 48,676 | 38,941 | 25% |
| Earnings Per Share | 1.01 | 0.72 | 40% |
| Dividends Per Share | - | - | - |
Data in thousands U.S. Dollar
In light of the above facts, in my opinion, the company has more room to grow in the industry on the back of a strong research and development arm and a healthy range of product lines and after sales service. The company backed its adjusted earnings forecast of $1.05 to $1.20 per share on revenue of $460 million to $510 million for the year that I expect will be tough to achieve in CY13.
My forecast on the Dec13 EPS is $1.01 based upon projected revenues adjusted for the economic slowdown in Europe and Asia-Pacific. Analysts still expect the industry to grow by 25% this year, as witnessed in 3D Systems last 6-month revenues, due to which I have revised upwards 3D Systems other income portion by another 25% with respect for its competitive advantage for introducing new software technology. With this state-of-the art technology, 3D System would generate more revenue to support its bottom line.
Final Verdict
I maintain a "BUY" stance on DDD, owing to the fact that it is in a growing industry and has more room to introduce new products in the industrial, professional and consumer segments. Moreover, the company stands to benefit from any revival in the European and Asian Pacific economies. Also, the demand for some of its new innovative products is inelastic, which enables the company to skim high margins before the competition forces the margins to come down.
Disclosure: I have no positions in any stocks mentioned, and no plans to initiate any positions within the next 72 hours. I wrote this article myself, and it expresses my own opinions. I am not receiving compensation for it (other than from Seeking Alpha). I have no business relationship with any company whose stock is mentioned in this article.