Actionable Items:
Highest Positive Spread: Neuberger Berman Inter Muni Fund (NYSEMKT:NBH)
Focus Stock: Nuveen Preferred & Income Term Fund (NYSE:JPI)
Last Week's Focus Stock: First Trust Energy Infrastructure (NYSE:FIF)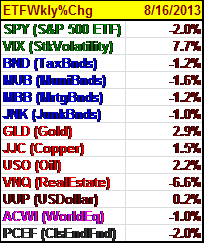 Markets Struggled: Both the equity markets and bond markets were a wreck this week. S&P 500 was a negative -2.1% (SPY was a negative -2.0%) and the U.S. bond markets were a negative -1.3%. The real estate markets collapsed -6.6% under the weight of rising rates. The commodities advanced: Gold (NYSEARCA:GLD) was +2.9%, Copper (NYSEARCA:JJC) was +1.5%, and Oil (NYSEARCA:USO) was +2.2%. Also, ETFs Foreign, Pacific/Asia and Natural Resources stocks were positive for the week as a whole.
The "Last Picture Show": We have been privileged to provide you the CEF Weekly reports. This array of weekly ETFs data (from Equity, Bonds, Precious Metals, Oil, World Markets, US Dollar, Real Estate, and CEFs), 21 weekly averages advance and decline of ETFs stock prices, and weekly CEF asset prices of 13 sectors has alerted you to revision in the markets.
Also: We have also provided you the CEF "Focus Stock", the "Highest Positive Spread" (likely to go down) and the Focus Stock of the previous week. From the looks of this data, it has been extremely helpful.
On the Website: The "CEFs Week" will be carried at our website. We will continue to produce critical CEF reports, and a limited number of the reports will be produced here for you to read.
Retirement: Our critical response is for the retirement experience. The retirees will be faced with Social Security, Medicare, Senior Health, Financial Planning, Investments, Benefits Plan, Estate Planning and Investments. To the extent that CEFs can play a role for yield investments for your retirement (as well as ETFs and Dividend Aristocrats), we will plan to implement it here. However, this is just a small part of retirement planning and its implementation.
ETFs' % Change Week-to-Week: Foreign (+1.8%), Pacific/Asia (+0.8%) and Natural Resrc (+0.6%) were the leaders this week over the previous week. AssetAlloc (-5.4%), Energy (-4.0%) and Real Estate (-3.7%) were laggards for the week.
Foreign, Pacific/Asia and Natural Resrc were leaders in the ETF weekly space. Pacific/Asia was the second-to-last for YTD percentage gains; while Foreign and Natural Resrc were less than below mid-tier.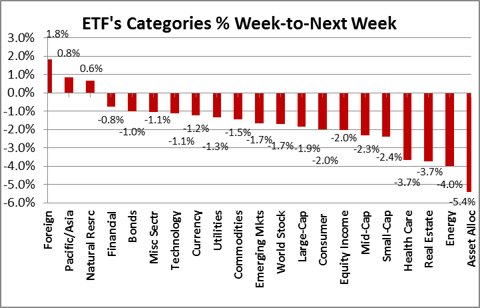 Click to enlarge
CEF Weekly Fund Type Performance: This week saw price rises for InvGrdBndFnds (-0.5%), WrldEqFnds (-1.0%) and LoanPartFnds (-1.3%). The laggards were PrefStkFnds (-3.4%), NatlMuniBndFnds (-2.7%) and SpecEqFnds (-2.4%). All categories of PrcNAVSprds for CEFs headed down except for InvGrdBndFnds (+0.7%) and GenEqFnds (+0.4%).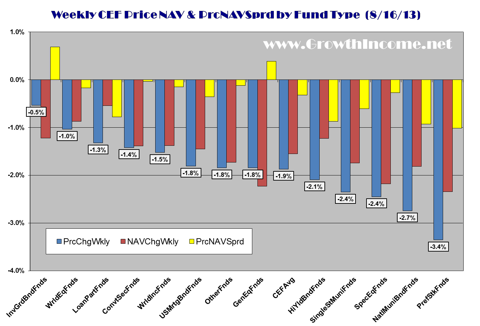 Click to enlarge
"Highest Spread" for the Week: Our "Highest Spread" for the week was Neuberger Berman Inter Muni Fund. NBH had a positive share price of +2.1% and a negative NAV of -1.3%. The PrcNAVSprd was +3.7% (A positive number may mean a future decline in share price).
NBH, a NatlMuniBndFnds, has a discount of 7.8% which is almost below its 52 week discount of 8.53%. The total assets were $447.3 million with a 37.3% in auction rate preferred share. The monthly ex-distribution date ($0.07 per share) is payable on September 16, 2013, has a record date of August 30, 2013 and an ex-date of August 28, 2013.
The annualized monthly yield is 6.3% and a taxable equivalent of 9.7%. At November of last year, the high was $17.50 per share. Today (Friday) the stock is at $13.55-an decrease of 2.34% on Friday's close.
Lowest Spread and "Focus Stock" for the Week: Nuveen Preferred & Income Term Fund was our "Focus" Stock" for the week. JPI's share price was negative -5.2% and its NAV per share was a negative -1.0%. Its PrcNAVSprd decline was -3.8%. (Stock prices typically go up.)
This JPI's stock is about Banking (49.3%) and Insurance (40.6%). It seeks a high level of current income and total return through investing at least 80% of its Managed Assets in preferred securities and other income producing securities issued by US and non US companies.
JPI has total assets of $787 million while 28.3% is total bankable debt. Its management fee is 0.25% (less than the 1.5% of CEFs). The total monthly ex-distribution was 8/13/13 payable 9/3/13. It has plunges to a $22.23 per share level capping a two year low.
Focus Stock & High Price for Last Week: Last week's "Focus Stock" was First Trust Energy Infrastructure. FIF shares were down -2.7% this week from last week. The "Highest Spread" for the week is BlackRock MuniHoldings Quality II (NYSE:MUE) ("Highest Spread" seems to go down) where it went down a negative -3.4% (with a $0.07 distribution on August 13, low was 2.9%).
Disclosure: I have no positions in any stocks mentioned, and no plans to initiate any positions within the next 72 hours. I wrote this article myself, and it expresses my own opinions. I am not receiving compensation for it. I have no business relationship with any company whose stock is mentioned in this article.