Typically missing earnings estimates on every report as a public company would cause a stock to plunge. In the case of industrial 3D printer manufacturer ExOne (NASDAQ:XONE), the market has surprisingly overlooked every misstep. Naturally lots of potential exists in the sector and of a stock that reported 97% growth, but the company mentioned some disturbing issues in the earnings call that questions the 200% gain in the stock and sky-high valuation.
ExOne is a 3D industrial printer company focused on manufacturing and selling 3D printing machines and parts via printing service centers (PSCs) around the world. It sells machines such as the S-Max pictured below that cost up to $1.5 million causing lumpy sales and unpredictable results. Investors though don't appear concerned by less than expected numbers.
S-Max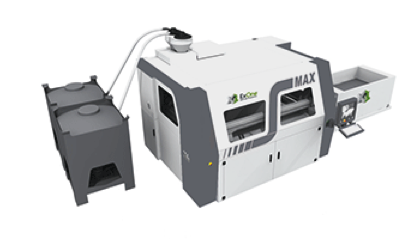 Impressive Q2 Results
From a relative basis, the Q2 results were impressive as revenues surged 97% based on selling four S-Max machines this quarter compared to only one last year. The Q2 highlights are as follows:
Revenue increased by $4.5 million, or 97%, over prior-year second quarter
Gross margin improved to 45%, from 33% in the second quarter of the prior year
Second quarter net loss attributable to ExOne reduced to $1.1 million from last year's second quarter $3.6 million net loss
Company confirms 2013 guidance at lower end of revenue range and higher end of gross margin range
As a business, ExOne is hitting on all cylinders with revenue surging and gross margins jumping higher. All signs that the company has an excellent future in the fast growing 3D printing sector. Unfortunately as an investment concerns exist with a company that only has total revenues of $9.2 million for the quarter and a valuation of nearly $880 million.
Yet Another Miss
The company suggested currency was the issue for slightly missing earnings estimates, but this makes three out of three estimates missed. Part of the issue is the minute amount of machines involved each quarter. One machine slipping in delivery date or pricing and the company can quickly come up short of expectations. On the flip side though, selling an additional machine would solve the problems in a heartbeat. ExOne hasn't been able to deliver on that opportunity nor has it even met the suggested estimates.
Table - Earnings History

Click to enlarge
* data provided by Yahoo! Finance
Guidance is for revenues of roughly $50 million for the full year. From a fundamental business standpoint that would be a solid move to grow revenues by over 70%, but from an investor point of view it should question why one is willing to pay up for a stock that has risen from an opening price below $25 to one that surged to over $75. Sure vast potential exists in the 3D printing sector, but the company has only sold nine machines this year. Is it really worth 100x forward earnings if it hasn't even hit expectations once as a public company? Not to mention again, the stock is worth $880 million or over 17x the expected revenue for the year.
Concerning Comments
Some statements on the earnings call were slightly shocking. Clearly nobody expects ExOne or any of the other 3D printing stocks to not hit growing pains, but it was surprising to hear the company run into industrial customers that couldn't even utilize their printers due to a lack of digital design tools. In essence, these potential clients can't even convert to 3D printing. Guess in this day and age it's a tad surprising that some clients still aren't in the digital design age, but its probably even more concerning that ExOne appeared caught off guard by this scenario. Obviously the sales department called on customers that aren't even workable so that's wasted time and money.
COO David Burns made the following statement on the earnings call:
So while we walk in and we say here is a great digital tool we can use to help improve your business, some of the response is but we don't even use the computer-aided design to start with. We don't even have digital designs to begin with.

On the back end, some of the more designs that we're capable of creating for the foundry industries can make lighter castings, they can make stronger castings. But some foundries we have found don't even have the capabilities to pour the casting more that we can create.
Ultimately the company sees this as an opportunity to develop a pre-print design phase and a post-print processing system. Developing a full solution for customers still in the Stone Age could provide other revenue streams for the company, but it won't be a quick solution.
Stock Chart
The chart had been impressive since going public back in February, but the recent price action suggests a top formed in early August. See the chart below: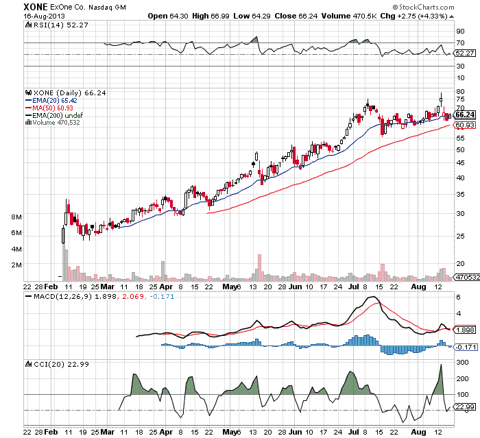 Click to enlarge
Conclusion
The company is set up for a huge future as industrial manufacturing shifts to 3D printing, but the valuation of the stock leaves current investors with plenty of concerns. Sure new locations to the PSC network along with machine sales growth will generate fast growth in the second half of 2013, but the volumes hardly justify a stock surging close to a valuation of $1 billion. At some point, investors are going to get tired of buying a stock that constantly misses earnings estimates and it will cause the stock to plunge.
Disclosure: I have no positions in any stocks mentioned, and no plans to initiate any positions within the next 72 hours. I wrote this article myself, and it expresses my own opinions. I am not receiving compensation for it (other than from Seeking Alpha). I have no business relationship with any company whose stock is mentioned in this article.
Additional disclosure: The information contained herein is for informational purposes only. Nothing in this article should be taken as a solicitation to purchase or sell securities. Before buying or selling any stock you should do your own research and reach your own conclusion or consult a financial advisor. Investing includes risks, including loss of principal.