If you read my articles, then you know that while I have strong opinions, I'll readily admit when I was wrong either tactically or strategically. In this case, I believe that while my long term strategic thesis on Intel (NASDAQ:INTC) is intact, I was completely off in the near-term.
I tend tell it like I see it (whether it's positive or negative), and while I of course am long the stock, I am not unaware of the challenges that Intel, and by extension its shareholders, have faced and continue to face with this particular investment. Following what appeared to be a pretty good run during the first half of the year (from $21 to $26), the stock has taken a quite negative turn, erasing the majority of its gains for the year, and generally bringing back that feeling of disappointment and even hopelessness that Intel, the stock, has put investors through over the last couple of years. I'd like to share my thoughts on what happened during the first half of the year, and then go into what I expect to see as we exit 2013.
2013 Started Off With Hope, But The PC Market Continued To Crumble
By this point, everyone should be familiar with the fact that 2H 2012 was a disaster for Intel, and the PC industry as a whole. It started when Intel guided down for Q3 just ahead of its Fall developer's forum, stating that it expected revenues of $13.2B +/- $300M, which was significantly down from expectations of $14.2B +/- $500M. This was largely due to the fact that the "back to school" PC spending did not materialize, coupled with weaker-than-expected enterprise spending, negatively impacting the growth in the datacenter business.
In addition, the full year wasn't great either, with Q4 coming in, once again, at $13.5B (just shy of the midpoint of the guide at $13.6B). While people had hoped that the weakness during Q3 was largely attributable to odd timing of the Windows 8 launch (which many believed to have driven consumers to hold off on their PC purchases until the Fall/Winter), Windows 8 proved to bring no respite, as PC sales have continued to decline.
Some now say that weak PC sales may now have been attributable to a weak Windows 8 offering, but I don't really buy this explanation. While a poor Windows 8 may have made a bad situation worse, the reality of the situation is that there has been a broad form factor shift - at least for what were traditionally incremental consumption devices - towards tablets. The world no longer wanted bulky, malware-filled, laptops with 3 hours of battery life and a terrible screen. The Apple (NASDAQ:AAPL) iPad, and the slew of Android tablets, were simply much more pleasant to use, and came at price points that seriously threatened the low to mid-range of the PC market.
Intel tried to counter this by marketing "Ultrabooks" - that is, MacBook Air-like machines that offered a dramatically improved user experience over the traditional "craptops" that were commonplace. Intel succeeded in some sense; laptops did become thinner and lighter, and with the recent "Haswell" launch, they sported battery life on-par with the best of the tablet world.
However, there are two problems with the strategy as it stands today:
Ultrabooks are high end machines, and the high end is the least susceptible to cannibalization by tablets. While the Ultrabooks are largely solid machines, they merely keep the smaller volume high end of the PC market (Core i3/i5/i7) alive and kicking. Tablets are replacing the mainstream PCs, not the $999+ ones. The low end of the PC market is still largely saturated with unattractive and low battery life designs. It also didn't help that all of the new Ultrabook designs based on Haswell are not going to roll out until Q4 2013, which probably hurt PC sell-through.
Tablets push into price points below even the cheapest-of-the-cheap PCs. A decently performing mainstream 7" tablet costs in the range of $150 - $200, which is still above the cheapest Windows notebook which comes in at $300 (and had a terrible screen, mechanical hard disk, and low battery life).
So, here we are, two quarters down without Intel shipping a competitive tablet part (Clover Trail+ was not a competitive part and thus failed to gain any traction on Android outside of Samsung's low end Galaxy Tab 3), and with Q3 likely to see only initial quantities of Bay Trail for the launch, Q4 will largely be made or broken by how well both Android and Windows tablet designs based on Bay Trail sell. While initial commentary from the sell-side, as well as the various technical details available, tell me that Bay Trail is likely to be very competitive with the best stuff from Qualcomm (NASDAQ:QCOM) and Nvidia (NASDAQ:NVDA), success here still depends on sell-through of these designs (from the likes of ASUS, Acer, Dell, Samsung, HP, etc.) in the marketplace.
So, the client story is certainly a bit uncertain, and while I remain hopeful that Intel can gain meaningful share in tablets with Bay Trail, that's not going to be enough to give investors confidence that Intel can post flat Y/Y numbers during Q3 in the face of falling PC revenue. That being said, there is one factor that if oft-mentioned and one that I believe will allow Intel to hit Q3 guide despite the weakness in PCs: the datacenter.
The Tricky Datacenter Story
Dr. Stacy Rasgon of Sanford Bernstein asked the following question on the most recent call,
And as my follow-up, if I could carve into the data center a little bit. So you are still - looks like it's still looking for low double digits growth in this business that seems to be unchanged from the last couple of quarters. Does that not imply a very significant ramp both quarter-over-quarter and year-over-year? I mean in the ballpark of 15% to 20% sequentially as well as year-over-year in the second half.
So, during the six months ended on June 29 2013, Intel's data center group turned in $5.328B in net revenue, against $5.139B in the prior period during 2012, which suggests Y/Y growth of 3.67% - yikes! Although this actually looks rather damning, it is important to note that during the first half of 2012, Intel was just beginning to ramp its "Sandy Bridge-EP" product, but during the first half of 2013, Intel's product line had largely become stale and is due for a refresh during 2H 2013. But interestingly enough, during 2H 2013, Intel not only refreshes its workstation/server oriented "Sandy Bridge-EP" with the 22nm "Ivy Bridge-EP", but it also launches "Avoton" for micro-servers ("Silvermont" based SoC) and "Rangeley" for networking/comms. Further, Intel's big-iron, "Westmere-EX" part (based on the very old "Westmere" processor core - we are talking 32nm "tick") finally sees a refresh with "Ivy Bridge-EX".
Now, for Intel to grow its data-center business by "low double digits" Y/Y (let's call this 10%), Intel needs to grow its combined Q3 and Q4 revenues from $5.6B to $6.47B, or ~16% sequential growth combined. This isn't farfetched given that 1H 2013 was at the tail end of the previous product cycle and 2H 2013 should see the ramp of significantly better/newer products, but a good chunk of this does depend on the macroeconomic environment. While the large cloud players such as Facebook (NASDAQ:FB) will be investing no matter what as their businesses continue to boom, the traditional enterprise space (which is largely tied to GDP) is under serious threat. Indeed, Cisco's (NASDAQ:CSCO) results the other day did not instill confidence that the broad environment is getting any better. It's not clear if Intel saw the same thing that Cisco is seeing with respect to enterprise spending when it issued its most recent guidance.
So, What Do We Do?
While I'm not too fazed about the lowered guide, I am more concerned that there may not be any near-term catalysts to buoy shares: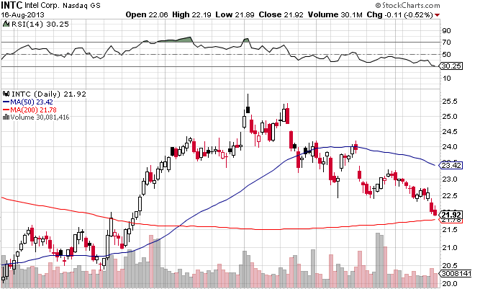 While Intel appears to be holding just over the 200DMA, if it crosses below it, then there will likely be further sellers, despite the fairly generous 4.1% yield. While I am a long term holder of the shares (and will continue to take my lumps), I realize that it is important to point out that in light of this technical weakness that further downside risk remains.
As far as near term catalysts go, the only one that I see on the horizon is the upcoming Intel Developer Forum (follow my articles for coverage of the event), at which Intel is likely to launch its "Bay Trail" products along with a number of design wins to go along with it. This could drive positive sentiment, particularly if the announced products are both compelling and at price points that could meaningfully drive volume (Intel has indicated that Bay Trail tablets that cost as low at $150 will be available). While I believe that the flat Y/Y guide already bakes in weak PC sales, I remain cautious about assuming that Intel has baked it in thoroughly enough as PC environment as a whole as it has had a tendency to degrade faster than anybody really expects.
If you are willing to hold the shares long-term, then I believe that once the shares show signs of perking up technically, the >4% yield makes it a compelling buy as I do believe that once the 2013 "transition year" is behind us, 2014 should be much stronger with a full year of tablet sales, continued datacenter momentum, as well as the contribution from an LTE-enabled smartphone platform working to offset what will likely to be a still-weak PC environment.
Conclusion - Bad Timing, But Thesis Still Intact
Despite my conviction in the long-term story and the company's technological leadership, shares have underperformed, up just 6.28% YTD, trailing the 15.9% YTD return of the Nasdaq (NASDAQ:QQQ), as well as the 21% return of the Philadelphia Semiconductor Index (NASDAQ:SOXX).
I remain optimistic that Q3 and Q4 can finally begin to rebuild investor sentiment and allow for meaningful outperformance and have no plans to sell my shares. However, do realize that the second half story is largely dependent on the data-center business growth materializing as expected (it did not during 2012), the tablet story proving to meaningfully impact the top line, and the PC story not getting any worse than what the company has currently baked into its estimates. There's a lot of money to be made if Intel can deliver a solid Q3 and even a gangbuster Q4, but I think that the story doesn't really get interesting until 2014, when Intel will be ramping smartphone and tablet parts in full force for the entirety of the year.
Disclosure: I am long INTC, NVDA. I wrote this article myself, and it expresses my own opinions. I am not receiving compensation for it (other than from Seeking Alpha). I have no business relationship with any company whose stock is mentioned in this article.