Tortoise Energy Infrastructure Corp (NYSE:TYG) is a closed-end fund that invests primarily in equity securities of MLPs that transport, gather, process or store natural gas, natural gas liquids (NGLS), crude oil and refined petroleum products. The fund's holdings are biased toward mature and well established MLPs. While the fund's current 5% yield isn't as flashy as investing directly in a high-yielding MLP, its diversified holdings are rock solid and are a somewhat less risky approach to owning MLPs. The need for additional critical infrastructure to support increased domestic energy production due to the shale revolution is a positive catalyst for capital appreciation. The potential for significant LNG exports will also be a tailwind for MLPs due to increased capacity requirements. As a result, the mix of income and growth offers TYG shareholders a potential ~15-20% annualized total return for the next several years.
TYG is designed to provide:
Exposure to midstream MLPs
Investment objective seeks high level of total return, emphasizing current distributions

One 1099 (no K-1s)
No Unrelated Business Taxable Income (UBTI)
IRA and tax-exempt suitability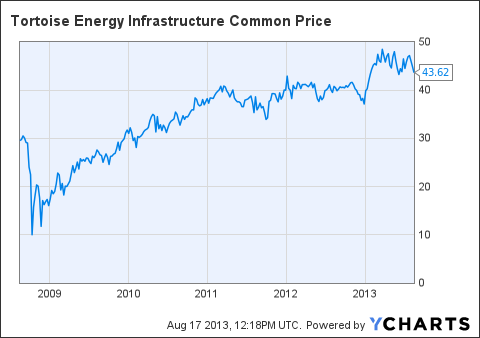 Fund facts (7/31/13):
Total Assets: $2.09 billion
Shares Outstanding: 28.5 million
Avg trading volume: 64,950 shares
52 week range: $37.13-$50.10
NAV: $42.91
Premium/Discount: +1.4%
Management Fee: 0.95%
Historical Returns
The YTD total return is 25.75%. The 3-year total return is 17.34% and the 5-year total return is 18.42% (annualized). In the crisis year of 2008, the fund was down -49.87% according to YCharts. Yet distributions in 2008 were $2.23 and grew ~12% compared to 2007.
Operating Costs & Distributions
As indicated above, the management fee for TYG is 0.95%. However, a truer indicator for investor returns is the fund's total operating costs. For full-year 2012, total operating expenses, including leverage costs and current taxes, reduced shareholder distributions by 3.36%. As a percent of assets, total distributions from investments in 2012 were 10.21%. Distributed cash flow to shareholders was therefore 10.21%-3.36% = 6.85%.
Holdings
The top-5 holdings of the fund are listed below along with the percentage of total of the portfolio (as of 7/31/13):
Magellan Midstream Partners, L.P. (NYSE:MMP): 8.5%
Enterprise Products Partners, L.P. (NYSE:EPD): 7.1%
Plains All American Pipeline, L.P. (NYSE:PAA): 6.8%
Sunoco Logistics Partners, L.P. (NYSE:SXL): 6.0%
Boardwalk Pipeline Partners, L.P. (NYSE:BWP): 4.6%
These are all well established MLPs with excellent long-term records. The fund is broadly diversified: the top-10 holdings account for only 55.2% of total assets. Total distributions YTD have been $1.71/share and the last quarterly distribution was $0.57.
Competition
An alternative to the Tortoise Energy Infrastructure closed-end fund would be the Alerian MLP ETF (NYSEARCA:AMLP). ALMP is over 3x the size of TYG with total assets of $6.67 billion. It is currently trading at a 0.6% premium to NAV and yields . The management fee is 0.85% and total operating expenses are 4.85%. Through 7/31/13 the YTD market return was 15.28%. Trailing 12-month paid distributions were $1.05 for a current yield of 6.1%.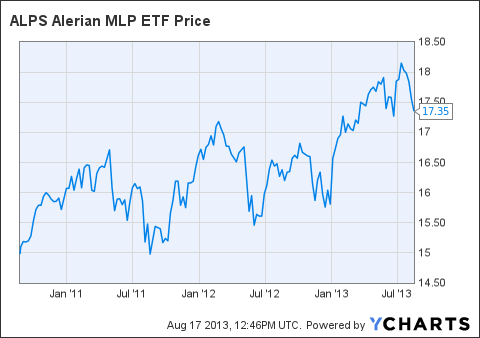 Comparing the two options, one can see that TYG not only has better returns than the Alerian ETF, but operating expenses are significantly lower. Investors may also want to read Seeking Alpha contributor Ron Howard's cautionary 2010 article on the Alerian MLP ETF here.
Risks
The rising interest rate environment currently being experienced poses risks to high yield investments due to investor migration toward supposedly safer investments like US treasuries. Indeed, the 10-year Treasury has recently risen substantially while equities have contracted. TYG is not immune to such changes in investor sentiment. That said, the solid yield provided by the fund's core holdings should be a safe and reliable income stream. Additionally, the fundamental growth story in the domestic midstream market due to increased energy production is a positive catalyst for growth and provides the opportunity for capital appreciation - regardless of an increase in interest rates so long as they are gradual and relatively benign. However, a large and fast increase in interest rates would likely have an adverse affect on energy demand, and thus on MLP distribution rates. This would negatively affect a fund like TYG. That said, my guess is the Fed will do its best to control interest rates such that employment and the US economy continues to mildly improve. In such an environment, TYG should continue to trade on its mostly bullish fundamentals: domestic energy infrastructure growth and a stable ~5% distribution rate.
Summary & Conclusion
The dramatic growth in domestic oil and natural gas production is a positive catalyst for the midstream energy value chain and for pipeline MLPs. Major projects continue at a brisk pace as pipeline infrastructure build-out is critical to support expanding production. In the next three years Tortoise Advisors expects more than $40 billion in midstream MLP capital investment. LNG exports could prove to be another positive catalyst for the midstream sector due to the requirement for increased production and transport capacity.
The Tortoise Energy Infrastructure Corporation is a good way to participate in the MLP market for a combination of income and growth. Since TYG is a structured C-corp, the fund can be held in IRAs and retirement accounts and there are no pesky K-1 forms to deal with at tax time - just one 1099 form at the end of the year. While some investors prefer investing directly in individual MLPs, others may find the management, diversification, and lack of tax preparation headaches worth the fees charged. Total operating costs (including management fees) reduced TYG shareholder distributions by 3.36% in 2012, which was significantly lower than the Alerian MLP ETF's 4.85%. TYP also has a longer track record than does AMLP and has an impressive 5-year total annualized return of 18.42%. Barring another financial crisis ala 2008-9, I see no reason why TYG will not return 15-20% annually for the next several years as the domestic energy infrastructure build-out continues. TYG is a BUY under $44.
Disclosure: I have no positions in any stocks mentioned, but may initiate a long position in TYG over the next 72 hours. I wrote this article myself, and it expresses my own opinions. I am not receiving compensation for it (other than from Seeking Alpha). I have no business relationship with any company whose stock is mentioned in this article.
Additional disclosure: I am an engineer, not a CFA. The information and data presented in this article was obtained from company documents and/or sources believed to be reliable, but has not been independently verified. Therefore, the author cannot guarantee its accuracy. Please do your own research and contact a qualified investment advisor. I am not responsible for investment decisions you make. Thanks for reading and good luck!