In my continuing love affair with uranium I've been searching for a relationship with more substance. I had to break it off with my former sweetheart Ur-Energy (NYSEMKT:URG) due to a serious condition called "funds imbalance". This is a condition which I discussed in my previous article whereby the funds available to pay the bills are seriously short of being able to pay the bills. Paladin Energy (OTCPK:PALAF) is in the same pickle with one important difference: they have some time to strengthen the piggy bank. With the recent death of a minority interest sale in their Langer Heinrich mine and subsequent completion of an $80 million equity placement, the immediate cash urgency has subsided. Investors were not too thrilled with this dilution, driving the share price down about 24% to $.59, a penny off its 52 week low. I doubt Warren Buffett is having a look at Paladin right now, but for those investors who are willing to take on substantial risk with the potential for a fat payoff, Paladin is certainly worth considering.
Company Profile
Revenue of US $408 mil for FY 2013, with sales of 8 mil pounds of uranium according to their recent activities update. This is about a third of Cameco's (NYSE:CCJ) output but still puts Paladin in the big leagues of pure play miners
26.9 mil pounds of Measured & Indicated resources at Kayelekera in Malawi and 123.93 mil pounds at Langer Heinrich in Namibia for a total of 150 mil pounds. Another 31 mil pounds are in the inferred category. That's a lot of yellocake.
African operations are subject to political risk. The Kayelekera mine deal is being re-negotiated, for instance. A worker protest occurred at Langer Heinrich in July of this year. Namibia seems to embrace mining much more than Malawi as it represents a significant chunk of their GDP.
Shares outstanding after the recent 125 mil share offering total about 1.14 billion, giving a market cap of $672 mil.
Cash on hand estimated at $158 mil including the recent equity funds and reported cash as at June 30. With recent improvements in efficiency, reductions in operating costs and modest capital expenditures for FY 2014, the miner is in no immediate danger.
Potential washouts lie ahead. These bond payments are what analysts are fretting over: There is $300 mil coming due in Nov 2015 and $274 mil in April 2017. Debt repayments through March 2014 total $86 mil, which is not an issue given the company's liquidity and cash flow for the coming year ($216.9 mil from operations for the 9 months ended March 31, 2013, net $.5 mil for the same period including repayment of a $134 mil bond)
Going Concern (Note 2, March 31 Financial Statement). The company recognizes that the manure could hit the fan. They cite mitigating factors of: 1) Strategic initiative discussions that apparently didn't go well. No deal on the 20% minority interest sale. 2) A history of re-financing some of its debt. If crunch time comes, we'll see. 3) Successful equity deals. Yes, the last deal was great, just not from a shareholder viewpoint
Bluebirds Are Coming?
If spot (at $35.75 today) and contract ($57 estimated by Paladin as at June 30) prices remain at these dismal levels, "somebody's gonna get hurt real bad" (Russell Peters). But many factors could boost the price of uranium in the next year or so. The Megatons to Megwatts program is ending this year, potentially removing 24 million pounds from supply. Japan may have no choice but to turn those reactors back on. New mine production is virtually zero. There are over 60 new reactors under construction around the globe. With Paladin's cost of producing a pound of uranium coming down, a price increase would fill its coffers. Financing risk would be off the table.
Risk and Reward
If uranium starts to take off, the speculative crowd will be there with wallets open. Remember 2007?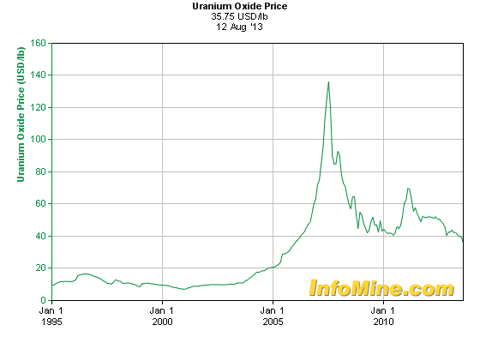 The Horses have left the building
In their usual better-late-than-never fashion, brokers have revised their expectations downward. The recommendations have been downgraded by US brokers to, in Citigroup's case, sell. Others have changed to underperform from market perform or outperform. There are 3 holds, 2 sells and only 1 buy. The consensus target price has dropped to $.97 from $1.11. That's a 39% move from the current price, if you can trust these learned observers. A couple of Canadian brokers have even lower price estimates: TD Securities-$.90 Cdn, BMO Capital Markets-$.80 Cdn. I guess these folks don't share my enthusiasm for uranium.
Will the Fat Lady Show Up?
There isn't much doubt that uranium will rise in price. The question of course is when and how high. Will the timing and magnitude favour Paladin? No one knows, of course, that's why buying this stock is high-risk speculation, gambling with an edge. The risk is $.59 per share. The reward could be two to three times the entry price. PALAF has been as high as $5.88 in January 2011 with a 52 week high of $1.53. If it hit that level again, factoring in the recent 12% dilution, we still might see $1.35, a gain of 128%. Crunching some numbers to arrive at a sensitivity table for the uranium price would be interesting but beside the point. If the spot price starts a newsworthy move up, the troubled producers like Paladin, Ur-Energy and Uranerz (NYSEMKT:URZ) will see big moves in their stock. Paladin seems like the best bet, given its superior financial position and production volume.
Watch It!
Investing in miners such as PALAF carries a high degree of risk including the loss of all of your investment. This article is not intended as an investment recommendation but as food for thought. The thesis is based on predictions of the outcomes of certain events. Basing investment decisions on short-term predictions contains a large element of gambling. Only a small portion of available funds should be used for this sort of speculation, i.e., no more than 5% in total for all such positions.
Disclosure: I am long CCJ. I wrote this article myself, and it expresses my own opinions. I am not receiving compensation for it (other than from Seeking Alpha). I have no business relationship with any company whose stock is mentioned in this article.