In my last article on Novavax Inc. (NASDAQ:NVAX), I pointed readers toward a coming catalyst in the stock that didn't present itself on the FDA calendar but rather on Novavax's own schedule: the 1st Annual Analyst Day to be held September 24, 2013.
While I had hoped this might be a presentation fast tracking Novavax's RSV-F vaccine, their Wedbush presentation on August 14 ruled out that possibility - at least in two of the three population groups - RSV in the elderly remains a fast-track possibility. Then came Lazard.
On August 15th, Lazard Capital Markets through analyst William Tanner who was quoted in my article reiterated their buy position and raised the target price to $11 from $4.
Question: What caused their reappraisal of Novavax's worth? Answer: Their reassessment of the value of Novavax RSV-F vaccine.
In Lazard's own words through the aforementioned William Tanner:
Novavax RSV-F vaccine is potentially one of the most under appreciated assets in the industry.
While that may be true for industry leaders and the larger investing public outside of Seeking Alpha, it hasn't been true for readers here who have been apprised of the enormous potential value of this asset in several stories including my last two iterations providing RSV insights.
Big pharma has been trying for years to perfect an RSV vaccine but with no success. You can see some of the big names who have thrown up their hands in frustration including Novartis and Merck from the graphic below provided by Novavax' partner, PATH.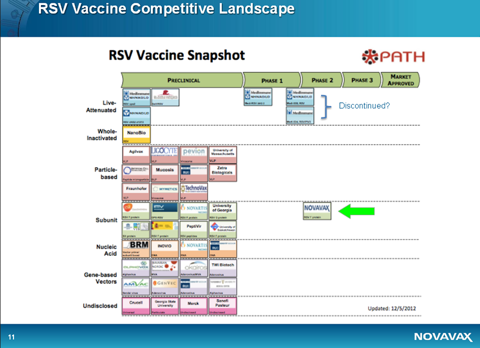 Click to enlarge
Suffice it to say that RSV-F enters a field of preventative care all to itself with a comparator in Pfizer's Prevnar 13 that rakes in a cool $3.7B a year. Though RSV-F is several years away from commercialization its Phase 1 & 2 trial results thus far have been outstanding.
Some other items you may or may not be aware of with respect to Novavax' RSV-F are as follows.
RSV-F vaccine creates Palivizumab equivalent antibodies in host individuals. Palivizumab is the active antigen in Medimmune's Synagis a $1B per year RSV drug used predominantly in premature infants whose exposure to RSV is extremely life threatening.
Novavax staff is increasingly composed of former Medimmune personnel including its former president of 20 years - James Young.
Here is President and CEO Stanley Erck speaking at the Wedbush Conference this past Wednesday.
"I think we have really benefited from what Medimmune did in measuring the amount of antibody that's required."

"So I'm the CEO. I brought on as chairman Jim Young who's the founder of Medimmune, was president of Medimmune for twenty years, R&D for twenty years - and we have probably a third of our company is ex-Medimmune people. So, we have a lot of depth in the company in terms of RSV knowledge."
The Phase 2a trial now completed in women of childbearing age revealed Palivizumab equivalent antibodies that were 10x what Medimmune determined to be immunogenic at both dose levels, with or without adjuvant.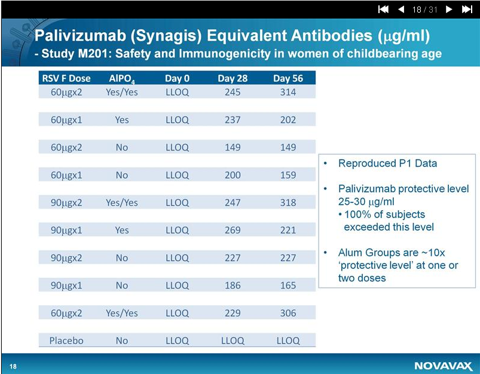 Click to enlarge
The following is a calendar of upcoming RSV-F events drawn from a slide presented at the Wedbush conference referenced above.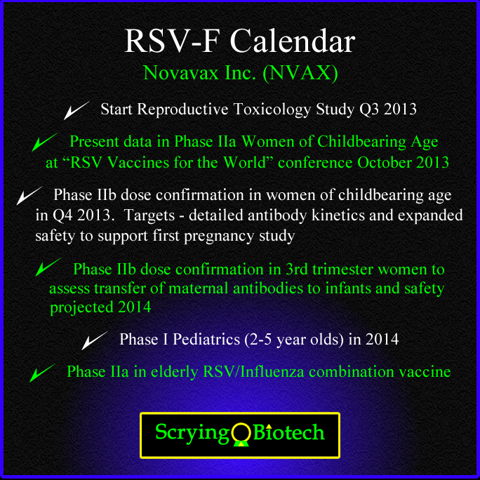 Click to enlarge
As you can see, RSV-F development will contribute to a host of events that will catalyze the stock over the coming several months. That said, we don't necessarily see the explosive event I referred to in my last article.
So, am I willing to throw in the towel on rapid appreciation in advance of September 24th? Hardly! Since my article was published after market close on August 13th, we've already seen the stock climb 13.9%. Lazard's endorsement alone raised in 7.57% in a single day.
As I established in that article, September 24th is a unique event in the history of the company since its reformulation as a vaccine maker in 2005. The day could be a mere formality but the stage suggests it isn't. The inaugural incidence of an annual occurrence rarely is - think weddings and the like. It was William Tanner himself of Lazard Capital Markets that didn't want to "jump the gun" on just what was to be revealed on this special day.
As a result, I'm led to believe there's a surprise coming on September 24th and it will contribute to the value of this company and growth of this stock. In the interim, we'll be left to speculate on just what that might be.
Be aware that fast track status for RSV in the elderly remains a distinct possibility, albeit not a strong one. Novavax' Quadrivalent seasonal flu vaccine has passed Phase II with efficacy in all four strains. It was noticeably absent from the discussion of being modified with the new Matrix-M adjuvant acquired from Isconova that will be applied to the pandemic mixture.
This is important because Novavax established in its Phase 1 trial in RSV in the elderly that its RSV-F vaccine had no deleterious effect on the performance of an established flu vaccine and has since indicated it will market both together in one formulation.
Therefore, fast track status for RSV-F in the elderly population cannot be ruled out as a possible announcement on September 24th. I also want to establish here and now that fast track status for RSV in the remaining two populations - infants and women of childbearing age - remains an open possibility down the line just not within the time frame specified here.
Other possibilities include enhancement of the government's contribution to the pandemic program. BARDA has already committed to seeing both influenza programs through to licensure in terms of reimbursement of all trial costs. Perhaps they'll offer to do more in light of the phenomenal speed and efficacy demonstrated by Novavax in their H7N9 development that occurred in a record 91 days.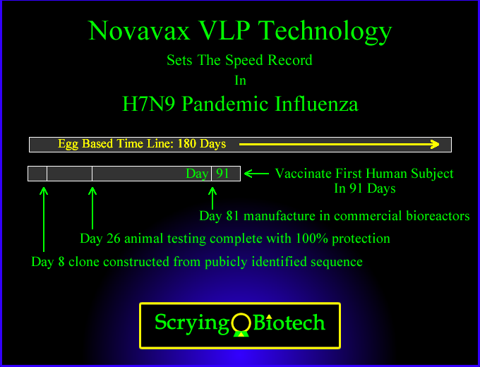 Click to enlarge
Bill and Melinda Gates, through PATH, have generously supported RSV-F in women of childbearing age. Perhaps they've offered additional support as the program advances toward completion.
And then in addition to tamping out the fire of fast track status for RSV in the infant and women of childbearing age populations at Wedbush, Stanley Erck stirred the brewing pot of investor interest speaking for the first time in my memory of partnership discussions that included marketing territories for its entire pipeline of drug candidates.
The possibilities are as numerous and varied as Novavax's growing list of institutional supporters that include...
| Institution | # of Shares | Market Value |
| --- | --- | --- |
| Vanguard | 4.15M | $9.47M |
| Ayer Capital Mgmt | 2.77M | $5.24M |
| State Street Corp | 1.99M | $4.54M |
| Abingworth | 1.50M | $1.91M |
| Ironwood Investment | 1.49M | $1.87M |
There were 21 more on that list including such brick and mortar staples as Charles Schwab, RA Capital Management and Goldman Sachs.
Oh, and try not to forget the Stifel Nicolaus Healthcare Conference on September 11th and 12th where President Erck will once again take the podium and move our imagination.
In conclusion, this article and the previous two pointed to a bright future for Novavax and indicated that the company was extremely undervalued. This past week, William Tanner of Lazard Capital Markets agreed with that position.
It's always satisfying to have one's work validated by so-called "experts" but investment in this sector carries considerable risk regardless.
Please, consult a financial advisor before making any investment decision and always be well.
Disclosure: I am long NVAX. I wrote this article myself, and it expresses my own opinions. I am not receiving compensation for it (other than from Seeking Alpha). I have no business relationship with any company whose stock is mentioned in this article.
Additional disclosure: The purpose of my article is to provide information the accuracy of which is as good as the public sources it was derived from. If providing my opinions on matters related to any investment has entertained you then I have accomplished my only goal. Do not act on anything I have written. Rather, do your own due diligence and consult an investment professional before making any investment decision. Acting on what any one writer, including me has imparted to you is foolish at best. I have no better access to resources or gift of opinion formulation than you do. There are a myriad of things which can happen in lieu of any forward looking statement I have made. Any stock featured in an article I compose is subject to all manner of influences which can change its value in dramatic fashion upwards or downwards. Invest at your own risk and attain the reward your efforts have wrought.