Investment thesis/theme:
World Point Terminals, LP (NYSE:WPT) is a limited partnership formed in April 2013 to own and operate the certain hydrocarbon storage assets. The Partnership agreement requires the company to distribute all of its available cash quarterly. The company holds limited growth opportunities and is "high risk regular return" investment option due to:
Aging assets.
No clarity over existing contracts.
High dependence on Apex (an affiliate).
Very limited pricing power.
No long-term visibility.
Term/things to know:
MBbls: One thousand barrels.
Cash distributions. The company intends to distribute $9.90 million per quarter and $39.57 million per year to its unit holders. Its ability to pay the minimum quarterly distribution is subject to various restrictions and some other factors.
Business overview:
The company owns, operates, develops and acquires terminals and other assets relating to the storage of light refined products, heavy refined products and crude oil. Its storage terminals are strategically located in the East Coast, Gulf Coast and Midwest regions of the United States and had a combined available storage capacity of 12.8 million. The company's primary business objectives are to generate stable cash flows to enable it to pay quarterly cash distributions to its unitholders.
Most of its terminal facilities are strategically located on major waterways, providing easy ship or barge access for the movement of petroleum products, and have truck racks with efficient loading logistics. The table below shows the details of its terminal assets: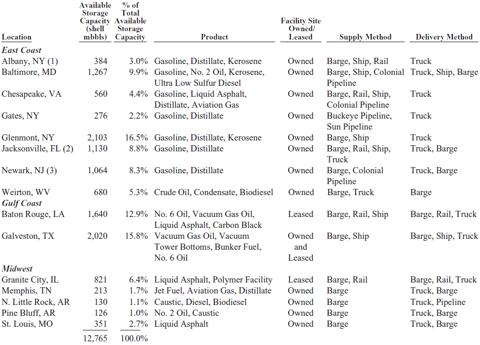 Partnership structure and commercial relationships with affiliates: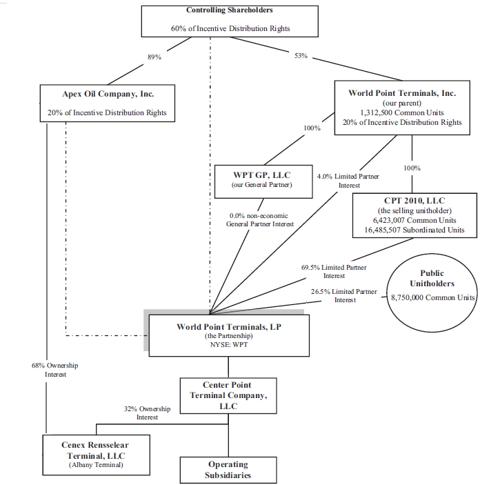 Apex relationship:
Apex is a distribution and marketing company, controlled by the common controlling shareholders (see the chart above) that supplies, distributes and markets refined petroleum products throughout the United States and international markets. For the three years ended September 30, 2012, Apex averaged annual revenue in excess of $5.0 billion and sales in excess of 50 million barrels of refined products.
For the year ended December 31, 2012 and the three months ended March 31, 2013, approximately 28% and 34%, respectively, of the company's revenues were derived from Apex.
Services agreements with Apex (contracts):
The company and Apex entered into the agreement under which Apex and its subsidiary will have the right to use about 5.7 million (from nine terminals) barrels of its capacity. Apex will pay base storage services fees, whether or not Apex uses the storage. The company will also charge Apex separate services fees for providing ancillary and additive services such as ethanol blending and additive injection. Its terminal services agreements with Apex are expected to generate $25.9 million of base storage services fees during the twelve months ending June 30, 2014, which will be about 30% of the total revenues that the company expects to generate during the said period. (See the table below)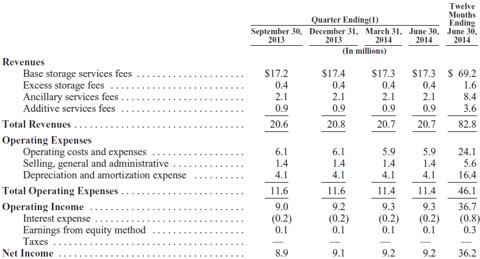 Growth Strategies:
Capitalize on organic growth opportunities by expanding and developing the owned assets.
Grow its business by acquisitions of fee-based terminal and related assets from Apex and third parties.
Financials:
Revenue Generation:
The company generates revenue primarily from the fee-based storage and terminal services. For the year ended December 31, 2012, the company generated approximately 86% of its revenues from storage services fees, and for the three months ended March 31, 2013, the company generated approximately 84% of its revenues from these fees. All others income sources are also based on the storage related activities.
The company represents its revenue under three types of services fees:
1. Storage Services Fees: Its customers pay base storage services fees, which are fixed monthly fees paid at the beginning of each month to reserve storage capacity in its tanks and to compensate it for receiving up to a base product volume on their behalf.
2. Ancillary Services Fees: These services include:
Heating, mixing and blending the products that are stored in the tanks,
Transferring the products between the tanks,
Rail car loading and dock operations.
3. Additive Services Fees: These services include injecting certain additives to its customers' products. Certain of these additives are mandated by applicable federal, state and local regulations.
Income statement analysis (Pro-forma):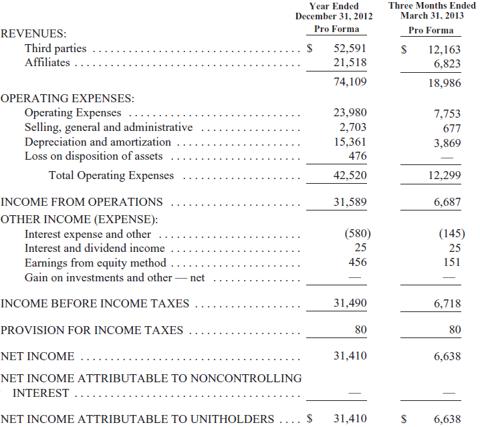 Key points from income statement analysis:
Net income is not enough to pay the intended payout to unit-holders.
The company will be able to pay the intended payouts from operational cash flow which includes items like depreciation and amortization.
Balance-sheet analysis: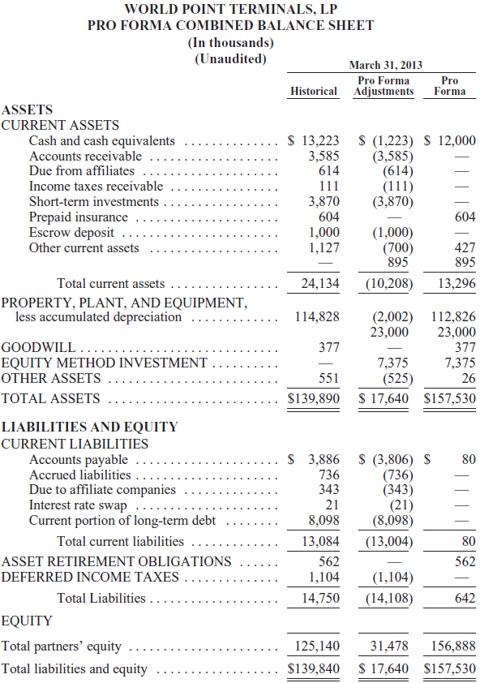 Balance sheet is very strong and carries almost nil debt.
Operating data:

Healthy rise in year on year average daily terminal throughput. Higher daily throughput normally leads to higher Ancillary Services Fees/income.
Contracts:
As of May 31, 2013, approximately 93% of its available storage capacity was under contract. Its top ten customers (including Apex), which represented over 84% of its revenue for 2012 and for the first three months of 2013, have used its services for an average of approximately ten years. Its top ten customers include several major oil and natural gas companies, including Phillips 66 (NYSE:PSX), Exxon Mobil (NYSE:XOM), etc.
Key points:
Negatives:
1. Aging assets:
Some of the company's assets have been in service for many decades. The age and condition of these assets could result in increased maintenance or remediation expenditures. Moreover, the replacement cost of such assets, whenever accrues, will be very high.
2. Contract(s) termination risk:
Many of the company's contracts provide for a termination right after the expiration of the initial contract period. This means, there will be an uncertainty over its future performance and will make it very difficult for anyone to take a long-term stand for the company.
3. No clarity over existing contracts:
There is no clarity or details of its existing contracts except for the Apex contract.
4. High dependence on Apex:
The company during the past and also in the future expects to generate significant part of its revenues from Apex. Any disturbance in the relationship can significantly affect the company's financials. Moreover, any financial uncertainty for Apex (if ever) can also affect the long-run financial outlook of the company (in a negative way).
5. Very limited pricing power:
Most of the company's customers are much bigger than the company and also hold the capability, resources and experience to create similar assets to meet their needs. This to much extent limits the pricing power of the company in the long-run. Almost all the big hydrocarbon companies (e.g. Phillips 66) are seeing the logistics-management as a major area to improve costs and are making significant investments in logistic asset creation. This will not only increase the competition but also further reduce the business opportunities for the company.
6. Seasonality:
The refined product and crude oil throughput in its terminals is directly affected by the level of supply and demand for refined products and crude oil, which can fluctuate seasonally, particularly due to seasonal shutdowns of refineries during the spring months.
Tax risk/issues/treatment/complication for the unit-holders: (Source: IPO prospectus, page 175.)
"We will not pay any federal income tax. Instead, each unitholder will be required to report on his income tax return his share of our income, gains, losses and deductions without regard to whether we make cash distributions to him. Consequently, we may allocate income to a unitholder even if he has not received a cash distribution. The income we allocate to unitholders will generally be taxable as ordinary income. Each unitholder will be required to include in income his allocable share of our income, gains, losses and deductions for our taxable year ending with or within his taxable year. Our taxable year ends on December 31."
Key positive:
Well spread asset base; not concentrated on single location (see the graph below).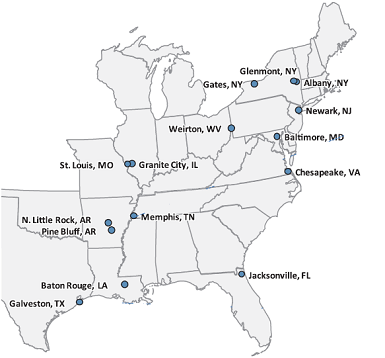 Established relationships with longstanding customers (discussed above).
Its relationship with Apex (discussed above).
Valuations:
Dividend yield:
The company intends to pay minimum quarterly distribution of $0.30 per unit ($1.20 per annum i.e. 6.19% taxable return at current price of $19.37).
PE ratio:
At $19.37 per unit, the company's valuations stand at $638 million. This means the company is available at PE of about 20.5 x (FY 2014 income of $36 million with no tax payable by the company).
Conclusion:
The company essentially is an industrial asset ownership and management company. Though the company is offering a very attractive dividend yield, the future growth opportunities are limited. The yield is very attractive, but unfortunately, the future doesn't look that much attractive for the company and holds lots of uncertainties as discussed above.
Disclaimer: Investments in stock markets carry significant risk, stock prices can rise or fall without any understandable or fundamental reasons. Enter only if one has the appetite to take risk and heart to withstand the volatile nature of the stock markets.
This article reflects the personal views of the author about the company and one must read offer prospectus and consult its financial adviser before making any investment.
Disclosure: I have no positions in any stocks mentioned, and no plans to initiate any positions within the next 72 hours. I wrote this article myself, and it expresses my own opinions. I am not receiving compensation for it (other than from Seeking Alpha). I have no business relationship with any company whose stock is mentioned in this article.