Sandstorm Gold (NYSEMKT:SAND) has been a long favorite of mine even prior to any articles I've published here and here on SA regarding the company. One thing they've had a very good eye for are streaming interests with significant exploration upside potential. This has already been seen in Aurizona (initially forecast when acquired to produce 60,000 oz. per annum at capacity, which just a few years later will produce 120,000 oz. (in 2014) with mgmt. also planning a phase II expansion likely to begin in 2015). This has also been seen in its 20% streaming interest in Silvercrest's Santa Elena, which was initially projected to produce 33,000 oz. per annum (currently undergoing a multiphase expansion including a new CCD processing facility, heap leach reprocessing and completion of the underground mine in Q3 2014), increasing annual production to 65,000-70,000 oz. annually. These, however, are well known by the market. This article will focus on what has been overlooked by the market.
1) Bachelor Lake: Bachelor Lake has ramped up on schedule and as planned. Some critics like to cite the fact that Bachelor lake will just begin to generate positive cash flow in September, which will make Metanor not viable financially as more capital investment is needed to reach capacity. Those same critics also miss the fact that Sandstorm has retained its $100m in net cash to ensure its stream operators don't run into trouble. Given the recent rise in the gold price and the fact it will likely remain at least above $1,300/oz., following the Philly Fed Index, Metanor is unlikely to need any additional capital, but if they do need a cash inflow, Sandstorm would gladly loan it to them.
Metanor plans on a mill expansion for very minimal capital investment in late 2014, increasing 2015 production 50% to between 80-90,000 oz. per annum.
2) Ming: Ming has once again began to focus on the 1806 gold rich zone, at least for a few months. Although not explicitly stated, this is likely because it will be expanding the mill from 600 tpd to 1,000 tpd. In other words, base gold production from 13k oz. Au per annum to 21k oz. per annum. The reason why this is worth mentioning is that Sandstorm will continue to receive 25%+ of the gold produced for the next 6+ years at no ongoing per oz. cost.
3) ROFRs: Most Sandstorm investors have likely forgotten about the NSR royalty acquisitions with Magellan and Solitario. The rationale for those purchases was to convert those into streams once everything else was in order except the part of the financing (Yes, Sandstorm likes to be the last money in, however, due to the low capital investment required on these projects, Sandstorm's upfront payment will account for the vast majority of the funds needed, i.e. Coringa needs just $65m to bring into production). Mt. Hamilton and Coringa will begin putting together financing and soon thereafter commence production in 2H 2014. It is highly likely Sandstorm will exercise these ROFRs as the operating companies don't have enough capital available for investment in addition to the cost of equity being extremely high.
4) Bracemac-Mcleod: Donner still hasn't run out of financing options. Sandstorm has agreed to make a $2m loan (none of which has been drawn). For those who aren't familiar with the situation, Donner still has outstanding monthly payments it must make to Glencore-Xstrata. Subsequent to that Sandstorm has allowed Donner to defer all metal payments in order to help Donner meet its obligations. At this point in time, given the metal payment deferrals plus the $2m loan, Donner will likely only need to raise minimal additional capital. Cash flow generation to Donner has just recently began from copper/zinc, which will continue to increase month/month. Additionally, Sandstorm has the right to acquire the entire JV should Donner default by remedying the payments due to Glencore-Xstrata.
5) Cash costs will start to decline next quarter and for the next several years (the degree to which has yet to be seen). This is due to Sandstorm now being able to record production from Premier at $0/oz. cash costs, which will be followed by a further decrease when platinum production from Serra Pelada commences as each oz. of platinum will be purchased at $200/oz. Additionally, with the completion of mill expansion at the Ming mine, costs will have further downside pressure as that stream has no ongoing per oz. costs.
6) Now that Sandstorm has acquired Premier Royalties in full, G&A expenses will decrease significantly at least relative to the last two quarters (as SAND had to record Premier's full SG&A expense). Sandstorm will be laying off most of the Premier staff, likely keeping 2-4 individuals. It is rumored SG&A expenses will see a 30-40% reduction relative to Q2 2013.
7) Oyu Tolgoi is going far better than expected in regards to interference from the Mongolian government. While this is 6-7 years away from production (at least on the portion Sandstorm holds a stream on, only a portion of Entree Gold's JV), this will undoubtedly look like a great investment at some point in time.
The following production profile looks significantly different from that provided by Sandstorm but keep in mind, Sandstorm uses the base case scenario with 0 of the 4 planned expansions.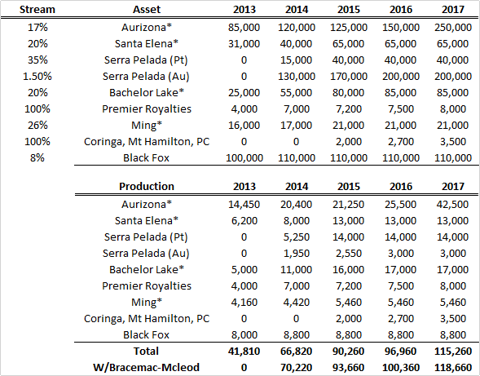 I would include a valuation, however, if you click on previous articles, you can find them.
Disclosure: I am long SAND. I wrote this article myself, and it expresses my own opinions. I am not receiving compensation for it (other than from Seeking Alpha). I have no business relationship with any company whose stock is mentioned in this article.