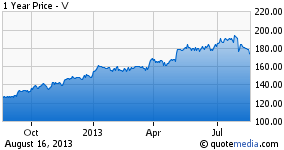 Looking at the statistics, the global volume of money spent using mobile phones rose from $106 billion in 2011 to $171 billion in 2012. Further, it is expected to grow to about $617 billion by 2016. Based on these growing numbers, Visa (NYSE:V) is aiming to increase its mobile payment services. In contrast to this potential, a change in the exclusivity law is expected to have an adverse effect on its market share. Henceforth, it needs to strategize well in order to minimize the impact from the recent court ruling that could have a dramatic effect on its signature debit market share. Let's find out how things look for the company going ahead.
Contraction of debit fee, and expansion of signature exclusivity
On July 31, 2013, the U.S. District Judge Richard Leon announced his ruling in the lawsuit of the National Retail Federation against the U.S. Federal Reserve. This was regarding the U.S. debit interchange fee levels and non-exclusivity provisions. The judge declared that the debit fee cap should drop from $0.21 to $0.12 per transaction. The reason for this proposed deduction is that, these interchange fees are higher in the U.S. compared to the other markets. It is a huge burden for merchants since these fees cost some of them around $800 per month in usage fees.
Secondly, there should be two networks like Visa and MasterCard (MA) for each issuer, like banks or financial institutions, offering debit signature service. This will indirectly expand the prior non-exclusivity rule. This means all issuers should have at least two debit network relationships. Also, there is no distinction between signature and PIN authentication with respect to the two-network-path requirement for debit cards. The two networks simply must not be affiliated in terms of ownership. For example, a bank or financial institution cannot meet the exclusivity requirement by using only "VisaCheck" signature and Visa's "Interlink" PIN for its debit service. Even in such cases, affiliation with at least two networks is a must.
Presently, Visa's U.S. signature debit market share is 67%, while Master Card holds the remaining 33%. Based on this exclusivity decision, Visa is expected to lose its market share to Master Card, and eventually both will enjoy an equal 50-50 market split. This will negatively impact Visa's EPS for fiscal year 2014 since this segment generates a high single digit percentage of its global revenue. It may experience a decline of $0.25-$0.30 representing a 3% fall in EPS in this year.
On the other side, Master Card will benefit; it is anticipated to experience a rise in market share and a positive impact of $1.80-$2.00 on its EPS in fiscal year 2014. The companies will duke it out of to achieve maximum market share by paying merchants increased incentives. Visa will be focusing on sustaining market share, and Master Card will push signature debit transactions over its network. It is estimated that every $100 million paid in incentives will lead to a negative impact on the EPS of these companies equating to a drop of $0.10-$0.11 for Visa, and $0.55-$0.60 for Master Card.
Companies aiming to expand hand-in-hand
When it comes to credit cards, Visa's peer from the credit service industry, American Express (AXP), recently joined hands with Wells Fargo (WFC) in order to expand their credit card business. The latter will issue new credit cards that all American Express merchants will accept. These will be issued to about 70 million customers, representing only one-third of present Wells Fargo credit card holders. It has the largest branch network in the U.S. and is the country's biggest home lender, but it is trying to improve its credit cards portfolio. Wells Fargo issued credit cards worth $33.6 billion last year, while JP Morgan (JPM), the biggest issuer in the country, issued credit cards worth $126.5 billion according to the Nelson report. As per the past quarter results, the credit card's segment represented about 4% of Wells Fargo's total revenue at $234 million, and it will be able to easily sustain this growth in the coming quarters also.
Strategy to improve cards in circulation
Presently, Visa has double the number of cards in circulation compared to Master Card. In order to grow and sustain in this field, Visa plans to capitalize on the recent mobile payment technology revolution. It launched the "Visa Ready Partners Program" to allow mobile manufacturers and network operators to access its network and license to accept payments from their customers through mobile devices. Along with this, the company has collaborated with Samsung (OTC:SSNLF) to develop near field communication, or NFC, mobile payment technology. Through this technology, payments can be accepted just by tapping the NFC-enabled phone or tablet to a card machine. With more than 70% mobile phone penetration in countries like India and China, and almost 100% in the developed countries like the U.S. and the U.K., Visa has fantastic growth potential with this technology.
Overall, this will help Visa increase its service revenue approximately 12%, from $4.87 billion in fiscal year 2012 to $5.45 billion in fiscal year 2013.
Conclusion
Overall, Visa has a great futuristic outlook. But, it will have to fight hard in the coming period to sustain and protect its large market share due to the ongoing debit signature exclusivity issue, which will likely benefit its rival greatly. Seeing the headwinds from the court rulings, I would advise the investors to be patient on this stock, and not make any new position.
Disclosure: I have no positions in any stocks mentioned, and no plans to initiate any positions within the next 72 hours. I wrote this article myself, and it expresses my own opinions. I am not receiving compensation for it (other than from Seeking Alpha). I have no business relationship with any company whose stock is mentioned in this article.